Main content
Seven reasons why funerals are getting quirkier
For centuries British funerals have followed a familiar format, but things are changing. Now, people are seeking more unique and personalised ways to celebrate their loved ones' lives. As The Funeral Singer explores the growing demand for live memorial music, we investigate the new trends inspiring some increasingly unusual funerals.
1. Colourful clothing and fancy dress
Black or dark clothing has long been the typical attire for a British funeral. In the Victorian era, women who had lost their husbands wore 'widow's weeds' (a set of heavy black clothes, along with a hat or veil and special jewellery) for two years, while siblings of the deceased were often expected to dress in dark colours for up to six months.
Today though, a quarter of people say they'd like guests at their funeral to dress in colourful clothing, according to a 2015 survey by Cooperative Funeralcare. A few take things even further than that, with fancy dress funerals becoming an increasingly popular way to celebrate a person's interests and humour.
At the request of relatives, one funeral director recently led the cortege dressed as Darth Vader, while other funerals have included superhero costumes, leopard print clothing and sports team kits.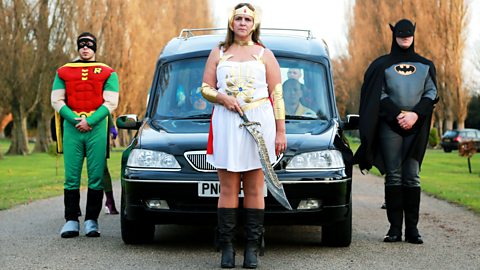 More and more of us are shunning the traditional funeral for a personalised send-off.
2. Themed hearses and unusual transport
The personalisation of modern funerals even extends to transport. Coffins can now be carried to the crematorium in a pink Cadillac, a motorbike sidecar, a tank or a lorry. Sitcom lovers can even opt for an Only Fools and Horses-themed funeral where the hearse is a specially adapted yellow Reliant Robin.
3. A more celebratory ceremony
Funerals and memorials are now often framed as a celebration of life, where the shape of the service is decided by friends and family. This more relaxed format enables speakers to share photos, videos and amusing anecdotes in a way that formal funerals of the past didn't allow. Sometimes, the person who has died contributes too, choosing songs and readings in advance.
One in three people would like their funeral to take place somewhere outdoors or unusual, such as the countryside, by a lake or river, or on a beach. There's even a growing interest in home funerals, where the service takes place in the person's house or garden. Sometimes, the person's body is cared for at home and prepared for the funeral by relatives. This can be a calming, cathartic experience that helps people to come to terms with the reality of their loved one's death.
4. Memorable music choices
In classical music there's a whole genre of pieces composed specifically to assist with mourning. Written in a minor key to be played at a slow tempo, funeral laments were designed to calm people's grief or help them attune their feelings to the moment. But today, people are rejecting these sombre dirges in favour of upbeat hymns, pop songs and even TV theme music that better reflects the life of their loved one.
Crematoria are now equipped to play almost any song ever written, from R 'n' B to country, rock and jazz. The most frequently chosen track in 2016 was Frank Sinatra's 'My Way'. Surprisingly, Queen's 'Another One Bites the Dust', Johnny Cash's 'Ring of Fire' and the Match of the Day theme tune also featured near the top of the charts.
Funeral musicians are becoming more common too, with families requesting specific songs associated with the person who has died. Singers say that the emotional intensity of a live performance can help people connect with the event and their own grief in a way that recorded music might not.
5. Painted coffins and eco-caskets
In the 17th century, coffins were too costly to be used just once. Churches would often have just one that they loaned out for the funeral itself, before the person's body was buried wrapped in fabric.
Coffins aren't obligatory today either – it's legal to be interred under a burial shroud. Other eco-friendly ideas are growing in popularity as well, with biodegradable cardboard, willow, bamboo and banana leaf caskets all available. Some funeral companies can also provide customised coffins painted to illustrate the person's interests. Designs on offer include animals, flowers, landscapes, planets, musical instruments and Vikings.
Creative options exist for people who are cremated too. Relatives can arrange to have their ashes sent skywards in a firework, turned into commemorative objects such as diamonds or sculptures, or mixed with paint to be used in a work of art.
6. Making it an online event
If you can't be there in person to pay your respects, there's now another option for friends and family who live far away: watching the ceremony live online. In a fast-growing trend, 50% of funeral venues can now broadcast the event to be viewed via a private site.
Although live-streaming can offer an important opportunity for people who can't attend to feel part of proceedings, it's not popular with everyone. Recent research by Royal London suggests that millennials are more open to the idea than older people, who are more likely to see online viewing as morbid or insensitive.
7. Throwing a party
Traditionally, the wake that's held after the funeral itself is a sombre opportunity for quiet conversation and condolences. However, in keeping with the move towards more celebratory services, 30% of people now say they would prefer their funeral to be followed by a party.