Main content
Five massive reasons you should join Dara and Ed on their Great Big Adventure
Comedians – and longtime friends – Dara O Briain and Ed Byrne recreated the 1940s expedition from Arizona, down through Central America to Panama that inspired the Pan-American highway. We catch up with them following their epic road trip.
1. They're following in the footsteps of three fools history forgot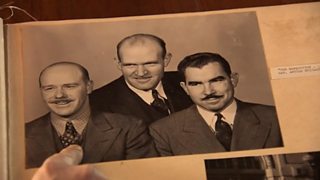 We drove past a road sign and it was riddled with bullet holes!

Dara O Briain
"Dara and I had been on the lookout to do a show for some time," Ed Byrne says about the project, "a lot of the time when we do a TV show and we make each other laugh, people say 'these two guys should do a show'."
During discussions for a televised road trip, a production team member discovered a book and a documentary film created by the 'Three Damn Fools', a trio led by journalist Sullivan Richardson who, in 1941, decided to travel the Pan-American highway. "They took a car from Detroit and over nine months drove it all the way to Tierra del Fuelgo," Dara O Briain explains. "It was a very well-meaning political statement about pan-Americanism; being a better neighbour, but there was no road – they had horses drive the cars over mountains … it was insane!"
The culmination of the journey was the week before the attack on Pearl Harbour, and so the Three Fools' epic voyage faded into the background. "History forgot them," Dara reflects.
2. It's got more tension than your average road trip
Despite their best intentions to complete the entire journey, the pair were told that some areas were simply too dangerous to access – especially at night – due to the likelihood of witnessing drug cartels at work. "We drove past a road sign and it was riddled with bullet holes!" Dara exclaims.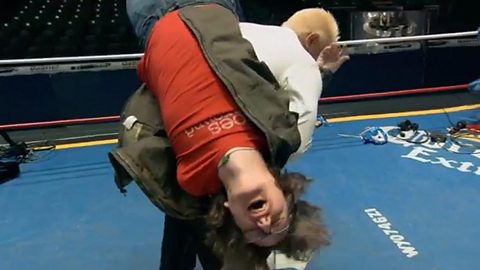 Dara and Ed meet Luche Libre wrestler José Luis Jair Soria, who is best known as Shocker.
3. You get an insight into what their holidays together are like
"Comedians travel all the time," according to Dara "and it's great that Ed and I know each other so well, because we didn't fall out". "I'm happier driving," begins Ed, but Dara interrupts. "You backed the car into a ditch!"
"I barely dipped into a storm drain next to the road and I knew I'd get it back out again," Ed explains. "We had one flat tyre, because Dara drove us into a pothole, although, admittedly, there were a lot of potholes … "
4. They sample some of Mexico's more unusual delicacies (so you don't have to)
Mexicans are very proud of their food, but Dara wasn't impressed by the traditional dish of iguana. "It's not particularly tasty. The woman at the stall just scooped out iguana meat with her hand and put it in a plastic bag. An iguana head popped out – it was unsettling."

5. And finally, you get to see them in the wrestling ring!
"I think my wrestling name would be El Brujo" says Ed, "which is Spanish for wizard … only because I'd like my name to be wizard."
"I would be the huge villain, the large eagle to Ed's agile sparrow," Dara reckons, "the man mountain who would slam people to the ground and then laugh malignly."