Main content
10 things you may not know about Queen's biggest 80s hits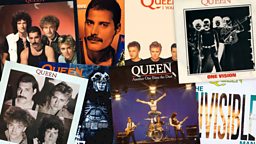 By Fraser McAlpine, 29 November 2018
Marking the release of biopic Bohemian Rhapsody, as well as commemorating the recent anniversary of Freddie Mercury's death, Radio 2's new Sounds of the 80s Mastermix brings together the biggest and best of Queen's 80s hits for your listening pleasure.
Although originally hailed for the pomp and glory of their 1970s classics, the band continued to enjoy enormous success in the 80s, reinventing themselves as a fleet-footed pop group, with their performance at the 1985 Live Aid concert reaffirming their status as rock's greatest crowd-pleasers.
Sounds of the 80s host Gary Davies is a huge Queen fan, so it was no hardship when we asked him to help whittle the band's - and Freddie Mercury's solo - catalogue down to just 10 tracks. "When I was at Radio 1 in the 80s, we'd play their songs all the time." he tells us.
Here are the reasons why Gary loves this selection of huge Queen hits from the 80s, and the stories behind each song's success.
1. I Want To Break Free's video is a Coronation Street parody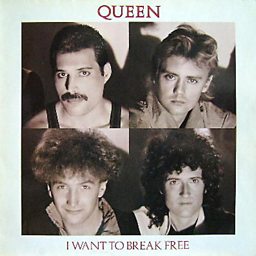 Rarely has a song been quite so ably served by its video as this 1984 hit. It's almost certain that you've seen the iconic clip for I Want To Break Free, but younger fans may not know that the video is actually a homage to the popular soap Coronation Street's female characters of the time.
There's Freddie as Bet Lynch, doing the hoovering in pink lipstick; drummer Roger Taylor playing schoolgirl Suzie Birchall; guitarist Brian May taking the role of daydreaming cleaner Hilda Ogden and bassist John Deacon as the grumpy matriarch Ena Sharples.
The entire concept came from Taylor, who explained to Q Magazine in 2011: "We had done some really serious, epic videos in the past, and we just thought we'd have some fun. We wanted people to know that we didn't take ourselves too seriously, that we could still laugh at ourselves. I think we proved that."
Why Gary Davies loves the track: "When I was at Radio 1 we used to do a big Radio 1 show with all the DJs and we'd have a big finale at the end. Typically the DJs would dress up as various pop stars. I remember at one particular finale I was dressed as Freddie Mercury in that video. It does tend to stick in the mind."
2. Under Pressure was born out of an accident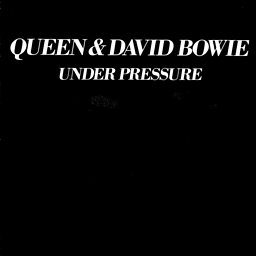 1981's Under Pressure was Queen's second No.1 hit (after Bohemian Rhapsody) and their sole collaborative single during Freddie Mercury's lifetime. The song came from a Queen demo called Feel Like that wasn't quite up to scratch.
David Bowie had been invited to their studio to sing backing vocals on the Queen song Cool Cat - which were subsequently wiped at his insistence - and during the session, the five musicians started jamming, recording as they went. That's why the opening sections of the song have Freddie scat-singing.
Apparently the iconic bassline came from an accident and lapse of memory, with bassist John Deacon forgetting what he was originally doing. Brian May told the Mirror in 2016: "What we got excited about was a riff which Deacy began playing, 6 notes the same, then one note a fourth down". But when they tried to go back to it later, Bowie misremembered it as more rhythmically complex, accidentally giving it its final form, defined by Brian as "Ding-Ding-Ding Diddle Ing-Ding".
Why Gary Davies loves the track: "It's just a brilliant collaboration and a super cool song."
3. Radio Ga Ga inspired one of today's biggest pop acts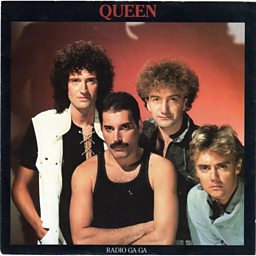 Roger Taylor wrote Radio Ga Ga, an impassioned defence of the humble joys of music and the wireless, after hearing his toddler son dismissing a song he didn't like by saying "radio caca".
The 1984 hit was originally intended to be a critique on the blander aspects of popular music - hence the line "all we hear is radio ga ga" - but was given a more nostalgic twist and instead defended the radio format against the rise of television.
The track also inspired the stage name of one Lady Gaga, who in 2009 explained to the Daily Record: "I adored Freddie Mercury and Queen had a hit called Radio Gaga. That's why I love the name. Freddie was unique... In short: a genius."
Why Gary Davies loves the track: "It's another anthemic Queen song. I actually had a boat, years ago, a little speedboat, which I named Gaga after that song. And also because my name's Gary."
4. Michael Jackson loved Another One Bites the Dust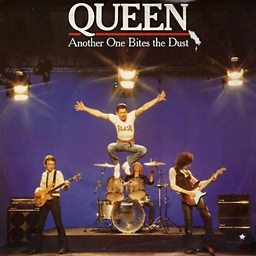 For all that this is a great dance track with a bassline inspired by Chic's immortal Good Times, it wasn't actually earmarked as a potential single until the band played it in front of Michael Jackson. He was so taken with it that he advised them to put it out so it could be played on US radio stations.
Taylor recalled in 2012: "I remember Michael Jackson saying, 'You guys are mad if you don't release Another One Bites the Dust'. I remember saying, 'That will never be a hit.'"
Why Gary Davies loves the track: "I just love the amazing beat on that song. You just hear the beginning and it's instantly identifiable from that great drum beat at the beginning."
5. Flash almost soundtracked a George Lucas film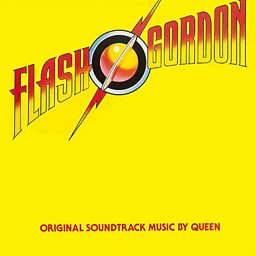 Flash was written by Brian May as part of the soundtrack to Flash Gordon, the 1980 space adventure starring Sam J. Jones. The film had a troubled genesis, having been optioned in the 1970s by Federico Fellini, who never made his version. Nicolas Roeg was also in the frame at one point, as was spaghetti western director Sergio Leone.
There was one other fellow who had tried to pitch his own version of the movie, incorporating space battles and great imperial cruisers, but couldn't secure the rights. His name was George Lucas, and he went off to make Star Wars instead.
Why Gary Davies loves the track: "It's not an often-played Queen song. It quite often tends to get ignored so it was great to put it into the Mastermix to remind people what a great song it is."
6. One Vision features an ode to fried chicken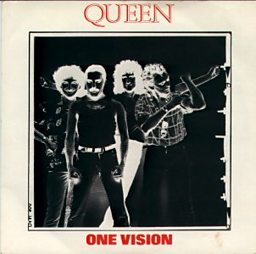 A true collaboration between all four members of the band, 1985's One Vision started with Brian May's guitar riff, prompting Freddie Mercury to hone his talents by thinking more about the vocal melody rather than the specific lyrics themselves.
"When we developed the song, we came up with some counter lyrics," May recalled in Channel 4's Killer Queen documentary in 2002. As they performed in the studio, Freddie would throw in random words, including food goods ("One shrimp, one prawn, one clam, one chicken") as well as some lyrics that are "much too rude to recite", according to Brian.
The track closes with an emphatic yell from Mercury of "Just gimme, gimme, gimme, gimme... fried chicken!". May explained: "When you get to the end, there's this big long lead-up, but there's still the feeling that what you want to do is throw it away, otherwise you're taking yourself too seriously."
Why Gary Davies loves the track: "It's one of my favourite Queen songs, this one. Especially because the ending – 'gimme gimme fried chicken!' – always makes me laugh."
7. Not everyone loved Love Kills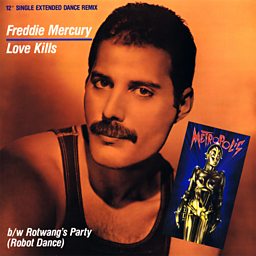 Love Kills, Freddie's debut solo single from 1984, took a slow ballad that had previously been touted as a contender for Queen's 1984 album The Works and gave it to electronica pioneer Giorgio Moroder. Fittingly, he then recast it using bubbling synths as part of the soundtrack he was creating for a restored and re-edited version of the 1927 science fiction classic Metropolis.
Not everyone was enamoured with the track. Love Kills was nominated for Worst Original Song at the 5th Golden Raspberry Awards, a now-infamous awards ceremony looking at the worst - rather than best - of the year's cinematic output. Thankfully, Mercury's song lost out on the dubious honour to Drinkenstein from Rhinestone by Dolly Parton.
Despite this, the song was a hit, reaching No.10 in the UK Singles Chart in October 1984.
Why Gary Davies loves the track: "It's a real departure musically for Freddie. Obviously it's the same great voice but basically it's like Freddie Goes Disco."
8. Mercury's Living On My Own video was filmed at his own birthday party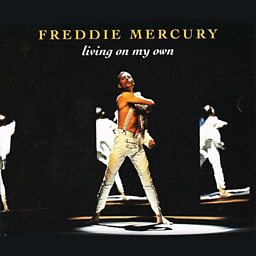 Living On My Own was originally released in 1985 version, but later topped the charts in 1993 with its No More Brothers remix. The '85 version was taken from Freddie's first solo album, Mr Bad Guy, and its lavish video, filled with extravagantly-dressed balletic extras, was actually filmed at Mercury's own 39th birthday party, which took place in Munich.
Photographer Richard Young later recalled how Mercury phoned to invite him to shoot the event and told him: "It's a drag ball so everybody is coming in drag. That means you too, Richard." Young argued that he couldn't "take pictures in heels: they're far too uncomfortable", but borrowed a dress from his wife nonetheless.
Why Gary Davies loves the track: "It's a completely different sound from what he was doing with Queen, which was more rock oriented. His solo stuff was more high energy dance, and it totally suited him."
9. A Kind of Magic was a truly collaborative effort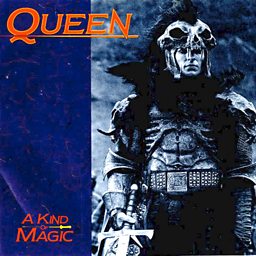 This 1986 hit is a great example of the success of Queen as a band. The song was primarily written by Taylor for the film Highlander. He took lines from the script - "one prize, one goal", "no mortal man" and "there can be only one" - for the lyrics and created a hard-nosed rock song, which appears at the end of the film.
Freddie Mercury felt the song had great commercial potential, but as a poppier dance track, and insisted that he be left alone to edit his favourite bits together to create the song we now know. Roger's original wasn't properly released until 2011.
Why Gary Davies loves the track: "There's a lot of Queen songs that we couldn't play for the Mastermix because a lot of the big Queen hits came in the 70s, and wouldn't fit in Sounds of the 80s. But they had massive success in the 80s, it was a huge decade for them. And this is a brilliant song, inspired by the movie Highlander."
10. Hammer to Fall can be heard in Stranger Things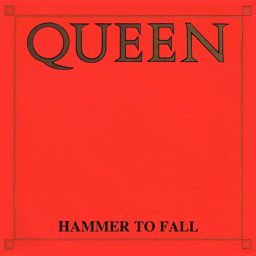 This 1984 single is the sound of May reasserting the band's hard-rocking guitar roots after a period of more synth-led pop hits. Its place as an often overlooked 80s gem was cemented by its inclusion in the most 80s nostalgic TV show of them all: Stranger Things.
The Netflix show already pays homage to many 80s classics, from films like E.T. and The Goonies to music from Duran Duran and Bon Jovi; and Hammer To Fall features in a scene from season two where Steve and Dustin embark on a search to find Dart, a cute but cat-eating mysterious creature.
Why Gary Davies loves the track: "Without a doubt it's one of my favourites. I like that it's loud and really rocky and probably not a typical commercial Queen sound. For me, in terms of 80s Queen songs, I think One Vision and Hammer to Fall would be my personal favourites."
The Sounds of the 80s Mastermix is available via BBC Sounds, from every Wednesday morning. Subscribe to the mix via the Sounds app to hear the latest editions.