Main content
The Return of Doctor Mysterio: The Fact File
The comics and images in the programme feature Superman. Superman was created by Jerry Siegel and Joe Shuster and appears by special arrangement with the Jerry Siegel Family.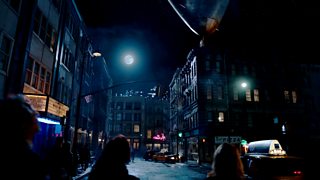 Nu Boyana Film Studios, Bulgaria doubles for New York City streets
Superman's creators are namechecked in the first post-title scene. 'Any questions after today,' Mr Brock tells reporters, 'can be handled by Miss Shuster and Miss Siegel…'
The read through for the Christmas Special took place in Cardiff on Wednesday, 31 August, 2016. Filming began the following Monday, on 5th September and wrapped on Tuesday, 4th October.
Many of the external shots set in New York, specifically the shots of the city streets, were filmed in the Nu Boyana Film Studios in Sofia, Bulgaria. This NYC material was shot over a two-day period starting on Monday, 3rd October.
Eagle-eyed viewers may be able to make out the name of the movie being shown at the cinema on the New York street… It's called 'Mind of Evil' and was chosen because of the Third Doctor adventure, 'The Mind of Evil'. Joe's Pizzas is more visible and fans of Spiderman may remember that Spidey (or rather his alter ego, Peter Parker) worked for Joe's Pizza in 2004's Spider-Man 2.
The sinister figures with diagonal facial scars bring to mind Scratch from The Husbands of River Song. He had similar physical characteristics and the link is strengthened by his employment status… He told the Doctor and River, 'I represent the Shoal of the Winter Harmony.' Hmm… Not a million miles away from plain old, Harmony Shoal…Doctor Who is known as 'Doctor Misterio' in Mexico. Peter Capaldi discovered the translation during the show's 2014 world tour, and quickly became enamoured of the phrase, repeating the title with a suitably dramatic spin! Steven Moffat recalled Peter's delight, tweaked the name by one letter and put it in the title of the 2016 Special: The Return of Doctor Mysterio!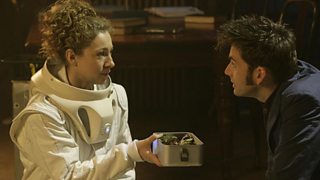 River Song and the Tenth Doctor in Forest of the Dead
This isn't the first time the Doctor has pretended to be working for Scotland Yard… He made the same claim to President Nixon in The Impossible Astronaut and in The Woman Who Lived he declared, 'I'm an undercover constable from Scotland Yard!' before asking, 'Do you have Scotland Yard yet?'
When Nardole says, 'River Song… died a long time ago in a library…' he's referring to the events of the 2008 episode, Forest of the Dead.
The sinister figures with diagonal facial scars bring to mind Scratch from The Husbands of River Song. He had similar physical characteristics and the link is strengthened by his employment status… He told the Doctor and River, 'I represent the Shoal of the Winter Harmony.' Hmm… Not a million miles away from plain old, Harmony Shoal…