Main content
Spinach and Feta Tacos
MasterChef winner and co-founder of the Wahaca Mexican restaurant chain Thomasina Miers joins Jane Garvey to cook the perfect spinach and feta tacos.
Spinach and Feta Tacos
Famous yet misunderstood, 'taco' to most Europeans means a crisp shell filled with chilli con carne. However, traditional tacos from Mexico are soft, freshly milled corn tortillas with delicious fillings. Salsas and hot sauces are added before the taco is half-rolled, half-folded and eaten.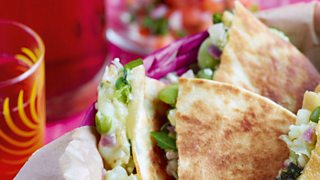 The recipe is taken from her new cookery book, 'Wahaca: Mexican Food at Home' (publ. Hodder & Stoughton).
Subscribe to our podcast to be kept up to date with all cookery items.
Tips and techniques
If you don't have feta cheese, you can use Wensleydale
Don't be put off by the chilli - there are many different types of chilli with a whole world of flavour, not just hot. So experiment to find the taste you like - try dry chillis, or smoked chillis
For a hotter taste, leave the chilli seeds in
Experiment with different herbs - you can use tarragon, mint, thyme or chervil
Grow your own herbs - it makes you happy!
If you don't use it all up, the spinach mixture can be kept for a few days in the fridge
Homemade tacos are great, but shop-bought are also fine. Look for soft round ones, not the crispy hard shells
Have tissues at the ready - tacos are messy!
Ingredients
2 tablespoons olive oil
1/2 Spanish onion, finely diced
1/2 teaspoon ground cumin
1 jalapeno chilli, de-seeded and finely diced
2 teaspoons fresh thyme leaves or 1/2 teaspoon dried thyme
2 corn cobs, kernels removed, or about 265g frozen sweetcorn
Sea salt and freshly ground black pepper
2 garlic cloves, crushed
2 large plum tomatoes, peeled, seeds removed and diced into small cubes
1 large bag of spinach, cooked and squeezed of excess water
Small bunch of tarragon leaves, chopped
Small handful of mint leaves, chopped
Juice of 1/2 a lime
To serve:
Warm corn tortillas
50g feta cheese
Lime wedges
Freshly chopped coriander
Recipe serves 6-8
Preparation time 30 minutes
Preparation method
Heat a heavy-bottomed frying pan over a high heat and when it is smoking hot add the oil. Turn the heat to medium and throw in the onion, cumin, chilli, thyme and fresh corn. Fry, stirring, for about 10 minutes, until the corn is lightly coloured and the onion is soft. If you are using frozen corn, add this after the onion has softened.
Season to taste with salt and pepper and add the garlic, cooking for a few minutes longer, before stirring in the tomatoes and spinach.
Stir the mixture for another few minutes to prevent anything catching before adding the herbs and lime juice. Check for seasoning again, adding more salt and pepper if needed. At this stage, the mixture can be cooled down and kept for later (it will last a few days in the fridge).
When you are ready to eat, warm through the spinach and corn, quickly toast the tortillas on each side and fill with the mixture. Crumble over the feta and serve with your favourite table salsas and, if you are being really Mexican, some little bowls of lime wedges and freshly chopped coriander.
Browse previous recipes
Seeking to create perfect pumpkin soup, cracking curry or unbeatable bread and butter pudding?
More Food on the BBC
Browse our selection of recipes from top chefs, cooks and food writers who have joined us on Woman's Hour.