Main content
A Quick Bake Lemony Drizzle Cake
Ingredients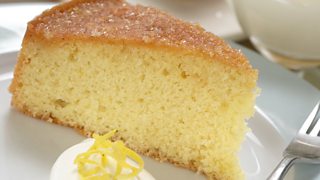 3 lemons
150gms (6oz) butter
2 eggs (large)
200gms (8oz) Self raising flour
150gms(6oz) caster sugar
25gms(1oz) icing sugar
Vanilla essence – a few drops

To Serve
Icing sugar & lemon peel

Method
Grate the rind of the lemons, then bake the whole lemons in the oven at 200 degrees C (gas mark 6) for 15 – 20 minutes approx. until soft then remove and squeeze the juice from the lemons to intensify their sweetness & flavour. Heat the lemon juice with 1 once 25 grams of the sugar in the recipe until bubbling then cool.

To make the cake – melt the butter until soft but not runny add half of the lemon juice above and the sugar, mix well.

Add the lightly beaten eggs and sieved flour alternately, add vanilla essence, mix well, then transfer the mixture to a 1lb. loaf lined tin and bake in the oven at approx. 180 degrees C (gas mark 4) for approx. 25 minutes until firm and golden.

Remove from the oven, pierce the cake with skewer, pour over the remainder of the lemon mixed with sugar, and leave to cool.
Dust with icing sugar and lemon peel.