Main content
Flog It! Big Sales
Here are some of our biggest selling items from recent shows
Flog It! has had the highs and the lows over the years, but nothing grabs our attention and gets the heart racing more than an item that just flies away at auction.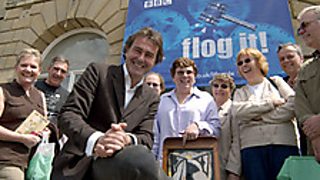 Have a look at these recent examples.
A rare piece of tribal art creates a bidding frenzy as it goes under the hammer.

Flog It! presenter Paul Martin spots a very special item at a valuation day. Follow the bidding as the rhino horn cup goes up for sale at auction... and breaks all the Flog It! records for our highest priced item ever.