Main content
Strictly micro:bit - Live Lesson
Watch an edited version of the Live Lesson
Learn more about programming with Strictly Come Dancing and the BBC micro:bit
As a follow-up to the Welcome to the micro:bit Live Lesson, this Live Lesson will introduce basic programming principles to secondary-aged pupils, helping to engage them in fun, challenging digital projects using the BBC micro:bit.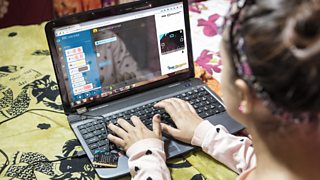 With Strictly Come Dancing stars and guest experts in the field of digital art and wearable technology, the Live Lesson touches on aspects of the Key Stage 3/3rd Level computing curriculum including basic algorithms, loops, sequencing, variables and inputs and outputs.
The lesson aims to introduce students to these concepts in a simple, engaging manner, allowing them to get involved with creating their own digital art, designing their own wearables and remixing their own music using the micro:bit.
We're asking schools to get involved with activities before, during and after the Live Lesson. Students can download, manipulate and adapt the code that we'll be using in the lesson, and send in their creations with a chance to be featured on the Live Lesson broadcast.
We've also included a full lesson guide, which you can download below, that will help you plan for the lesson.
Get ready for the Live Lesson
Find out more about the BBC micro:bit and what you can do with it on the micro:bit website.

Learn about the BBC Make It Digital season and what we're doing to promote digital creativity.
Related links
Find out more about sorting algorithms with Teaching London Computing - lots of fun, practical activities for teaching computing concepts away from computers, including games, magic tricks, role play and puzzles.