Main content
Rob Delaney – My Taste in Classical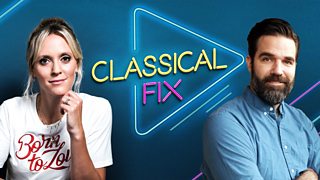 Clemmie Burton-Hill with Rob Delaney
Rob Delaney is an American comedian, writer and actor, well known as the co-star and co-writer with Sharon Horgan of the BAFTA-winning TV series, Catastrophe. Recent film credits include Deadpool 2, Fast & Furious: Hobbs & Shaw, Last Christmas and Bombshell, and he has just released a stand-up special, "Jackie".
Rob is no stranger to BBC radio studios – he joined 6 Music to present a run of Sunday afternoon shows, covering for Guy Garvey. Here's what we found out about Rob as he responded to a music playlist chosen for him by Clemmie Burton-Hill for Radio 3's Classical Fix.
Rob Delaney's Classical Fix music mash-up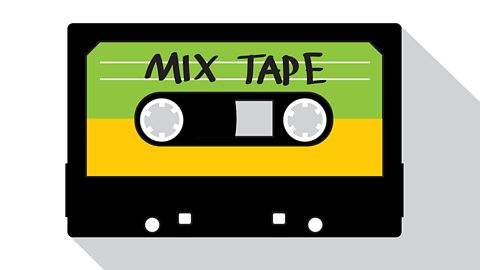 Music by Britten, Beethoven, Schubert, Sigfussdottir, Palestrina and Moondog.
"I listen to classical music all the time. I mean, I'm a novice in my appreciation, but I on purpose went to see Mahler's 9th Symphony with my wife last year and I listen to Chopin constantly. I prefer to give myself over to music and listen actively but you could have Chopin on in the background because it is pleasant, whereas Mahler is like getting into a boxing ring.
I feel like a dog with his head stuck out of a car window... passing all these insane scents.
"You learn things with him – he teaches you a new language, then once you even speak it or at least understand it, then you go somewhere with him that is just out of this world; and so Mahler's very special. Maybe the two of them have close to nothing in common, but I love them both."
[Clemmie plays a short mix of all six tracks which she and Rob will discuss.]
"That one or so minute of music we just heard was the strangest cacophony. Hearing them all together like that was so bizarre. I feel like a dog that had his head stuck out of a car window, driving down a freeway, that's passing all these insane scents..."
1. Benjamin Britten: Concord (from Gloriana) arranged by Matthew Barley
"That was incredibly beautiful and I'm shocked to hear that it was written for something that – I don't mean to speak so bluntly – does not have significance for me: the Coronation of the Queen. But this music absolutely does so I'm actually kind of stunned to hear that this was written for an official state function because it almost makes me cry and it's so purely beautiful and wonderful; and of course incredibly beautiful art can sneak into things like ceremonies and civic functions.
"This music is just old enough to transport you to a different time... there's enough of a patina of history with it that it does transport you and it's just very haunting and beautiful. It makes me think of being on a river bank in some state of sadness and wonder...
"I pride myself on listening primarily to sad music. We're not encouraged to express or feel sadness – we're taught it's the wrong emotion, or a bad emotion, but that's not the case. And I think sad stories, difficult stories might resonate with us because deep inside we know that that's a part of life. So, if I want to listen to Britten's Gloriana, or Elliott Smith, then that's me acknowledging part of who I am and who you are. It might be a healthy part of mental and emotional hygiene to listen to sad music and partake of sad things in a world that says, 'don't be sad.' You should be sad sometimes."
2. Beethoven: Symphony No. 2, 3rd mvt. Scherzo
"I love Beethoven but this isn't something that I would listen to on my own. I wouldn't fault anyone for listening to it. It's obvious that he's got a theme that he establishes and then builds on and so it's empirically good music, but for me this is sort of... shame on me for I'm not criticising him... but this is like his basic brilliance, oh yeah, some excellent Beethoven!
"And so I guess I prefer some of his weirder darker stuff or the stuff where he's really struggling in a beautiful way to express some incredible pain or something, maybe working a little bit harder to keep it all together.
"If Beethoven had a dial where it could be from 0 to 10, this would be some 5 Beethoven, so it's still totally amazing. If I didn't know it was Beethoven, I'd be like yes lovely, but I'm like, come on Beethoven, show me what you got. Of course this is great, and I deserve to be struck by lightning for not effusively praising it. But this isn't my favourite Beethoven."
3. Franz Schubert: Impromptu No. 3 in G flat major
"I love it a lot. I listen to a lot of piano music and I'm going to add Schubert to the mix. I studied the piano for some years, so if you gave me a piano and this music and one month, I might be able to play it. I can sort of feel this music at my fingers and it is beautiful to me in my ears and me imagining it coming out of my fingers."
4. Maria Huld Markan Sigfusdottir: Clockworking
"I love it very much, it's very patient, building, lush and rich; I'm not like, is it going to get good or when is it going to get exciting? It sounds like I've done something bad in a cabin on a frozen pond and I'm waiting for the people who are going to come to take me away because I did it. I don't think I've offered any real window into my psyche with that but you know, it's sparse and beautiful and painful...
Palestrina... somebody would have died of typhus on the way to the show. I mean it would be insane.
"I love the strings in it – it sounds like old Appalachia and violins and violas that somebody found, tuned up and started to play. The musicians will immediately angrily email being like, how dare you say that about my instruments! But it does feel like there's something American in it as well, you know, wide open spaces..."
5. Palestrina: Missa Papae Marcelli (Kyrie)
"It's beautiful. I love music like this. I love choral music and especially older choral music; I grew up Catholic and so – God knows – I never heard anything this beautiful in any of the churches I went to as a kid. But when I did finally make it to Europe and go to Cathedrals and imagine where stuff like this used to be sung, you know, it speaks to me. So I love this a lot.
[In its day, you could only hear this music live.] "This music would have required you and me sending several letters back and forth and co-ordinating to meet a couple of hundred miles from where we both live, to hear it. We wouldn't even get the whole band because somebody would have died of typhus on the way to the show. I mean it would be insane."
6. Moondog: Chaconne in G
"In 1995 I moved from Massachusetts to New York City to go to university. At Tower Records in Greenwich Village, in the classical music listening section, they had a picture of this bizarre guy in skullcap with moons and stars on it and a robe. His eyes were closed and he had a big beard and I said, well, why don't I give that a listen in one of these booths – it was Moondog.
"It was beautiful. So, yes I've listened to Moondog for 25 years and turned my family on to him. What a wonderful, beautiful soul! And so unique. You can hear what his influences are – it's amazing that they span 800 years minimum. But he's also uniquely modern – a really special Titan of music."

More from Classic Fix...
James is won over by the live production values of a Jordi Savall recording of music by Antonio Valente.