Main content
How the world went crazy for Surrealism
3 April 2017
As BBC Four prepares to get surreal with a night of programming we take a whistle-stop tour of Surrealism from its origins in the horror of WWI to mainstream approval via Mae West's lips, melting clocks and diving suits.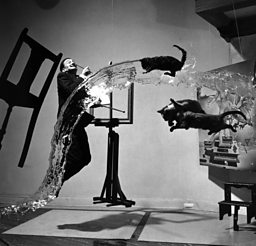 Making of Dali Atomicus by Philippe Halsman, 1948. Historic Collection/Alamy Stock Photo.
The superstar of the Surreal
The face of Surrealism was Salvador Dali - the moustachioed self-promoter as instantly recognisable as his landscapes of melting clocks.
The Persistence of Memory by Salvador Dali. Bettmann/Dali.
His paintings were created by a method Dali called "paranoic-critical" - a trance-like state that allowed creative leaps of imagination.
Expelled from the movement in 1934 by the founding father, André Breton, Dali became the popular figurehead of Surrealism thanks to his talent and outlandishly extrovert persona.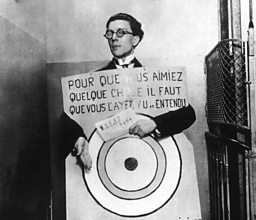 André Breton wearing a sandwich board (designed by the artist Picabia) at a Dada festival, Paris, 27 March 1920. Photo by Apic/Getty Images.
The "Pope of Surrealism"
In 1924 French poet André Breton published the First Manifesto of Surrealism promising freedom from "any control exercised by reason."
Breton had seen the horrors of WW1 while working in a hospital for shell-shocked soldiers. The mental trauma he witnessed illustrated to him the power of the mind - and the failures of the rational world.
Inspired by Sigmund Freud, Breton set out to unleash the power of the subconscious and provide inspiration to liberate mankind through art. In doing so he kick-started the Surrealist movement.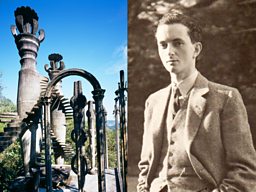 Edward James, right, and Las Pozas - the Surrealist sculpture park he built in Mexico.
The millionaire patron
The champion of Surrealism came in the form of an eccentric English millionaire.
Edward James inherited a fortune and spent much of it on Surrealist art. More than a patron, James inspired famous works such as Dali's Lobster Telephone and was himself the subject of two Magritte paintings (The Pleasure Principle, and Not to Be Reproduced).
In the 1970s James sold his collection of Surrealist art to fund a bizarre sculpture park in the middle of the Mexican jungle.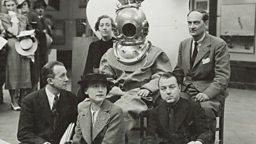 Salvador Dalí in diving suit with Diana Brinton-Lee, Rupert Lee, Paul Éluard, Musch Éluard, and ELT Mesens at the 1936 International Surrealism Exhibition, London. Courtesy of the Scottish National Gallery of Modern Art.
Surrealism the global movement
Before WWII tore through Europe, Surrealist art found global acclaim through international exhibitions.
Featuring major names such as Dali, Ernst, and Magritte, provocative shows in London, New York, and Paris shook the art world, inspiring the later abstract expressionist movement.
For the 1936 London exhibition, Dali arrived in a diving suit to illustrate that he was plumbing the murky depths of the human mind. Almost suffocating in the helmet, he was rescued by a poet with a screwdriver.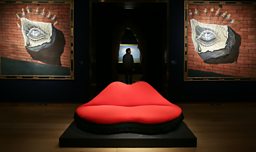 'Mae West Lips Sofa' by Salvador Dali. Photo; Daniel Leal-Olivas/AFP/Getty Images.
Surrealism branches out
The relationship between Salvador Dali and the collector Edward James resulted in an unusual collaboration - furniture design.
Plush and sensuous, the Dali/James sofa was modelled on the lips of Hollywood actress Mae West. It was a product borne out of necessity: in 1936 Dali was in London for the International Surrealist Exhibition and in need of money; James was furnishing his Sussex estate. James agreed to buy all of the artist's artistic output for an entire year.
The sofa was a product of this collaborative arangement - as was Dali's famous Lobster Telephone.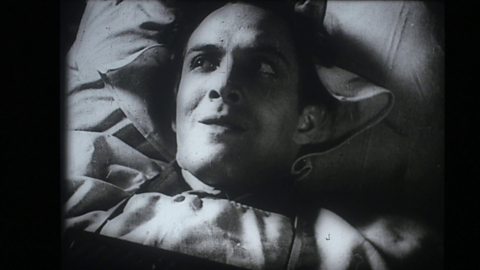 A screening of Un Chien Andalou in the original cinema where the film was first shown
Silver screen Surrealism
Having tackled print and paint the Surrealists turned to cinema. The bizarre Un Chien Andalou (An Andalusian Dog) from 1929 was the result.
The film has its origins in the dreams of its two Spanish directors. Luis Buñuel dreamt of a cloud slicing the moon; Salvador Dali of a hand covered in ants - both made it into the film alongside the disturbing imagery of a razor cutting open an eyeball.
The film has since inspired generations of filmmakers such as Alfred Hitchcock and David Lynch.
Datsun car advertisement featuring artwork by Salvador Dali. Cesar Rangel/AFP/Getty Images.
Surrealism for sale
Post WWII, Surrealism found mainstream acceptance – even featuring in Hollywood films such as Hitchcock's Spellbound.
Stripped of its radical, revolutionary intent, Surrealism's quirky and arresting imagery was co-opted by advertisers to sell everything from tobacco, to bottles of Guinness, to cars.
From its print origins as devised by André Breton, Surrealism's legacy can now be found in virtually every sphere in the modern world - from architecture, to furniture, fashion, and music.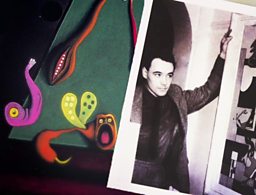 Desmond Morris and his Surrealist paintings.
The Secret Surrealist
Over the years Surrealism has garnered some unusual enthusiasts. One of these is celebrated English zoologist Desmond Morris.
Famed for his best-selling 1967 study of the human species, The Naked Ape, Morris's passion for anthropology was second only to his love of painting.
Drawn to the powerful, dreamlike quality of Surrealist art, Morris began painting as a teenager, later exhibiting his work alongside Joan Miro.