Main content
Your stories: What is it like to give birth prematurely?
On April 25th, Rachel Burden presented live from the Neonatal Intensive Care Unit at Burnley General Teaching Hospital.
It's a place very close to her heart, as it was where - in February 2016 - she had her son Henry, born at just 31 weeks: "Over the following eight weeks this unit became my home," says Rachel.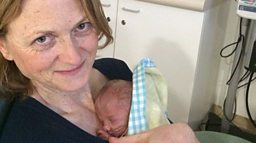 Survival rates are increasing
Survival rates for premature babies born before 27 weeks are increasing significantly.
5 live Breakfast analysis of official birth stats for England and Wales has found an increase of more than 20% between 2006 and the last available figures in 2014.
However the proportion of babies with very serious developmental problems later in life is still similar to the mid-90s, according to a study (the Epicure project).
Rachel explained why she was so keen to revisit the unit: "I wanted to return to this unit to hear the incredible stories of survival - and the sometimes painful stories of those babies that don't make it. We will look at what it takes to run a unit like this and some of the ethical debates around more babies surviving at a younger age."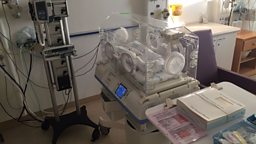 Inside the neonatal unit
We took a look around the Neonatal Intensive care Unit at Burnley General Hospital.
Around the ward, we saw the types of equipment needed to take care of extremely premature babies and the care that has to give them the best chances of survival.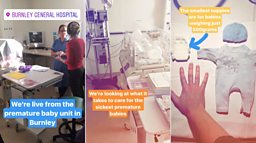 Consultant Neonatologist Andy Cox is in charge of this unit
He said: "One in ten babies that is born come to the Neonatal unit. Nobody tells you that in your antenatal class so sometimes is can be shock."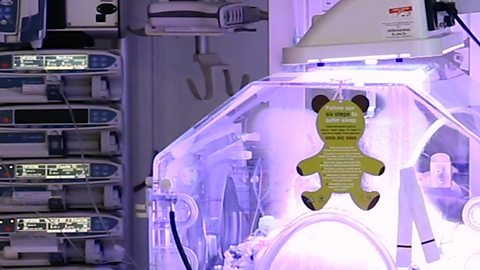 One in ten new born babies comes to a neonatal unit.
Dealing with a traumatic birth
Mario was born at full term but due to complications with his umbilical cord he was not breathing when he was delivered.
He spent 10 days in the neonatal intensive care unit and his mum was told to expect developmental problems but so far he is defying expectations.
Chelsea shared her story.
Taking care around the ward
Walking around the ward, it is essential to protect the babies from germs.
Premature babies have less developed immune systems and are extremely susceptable to infections so wash stations and hand sanitisers are located in every room.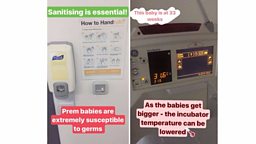 Harry the 'little miracle'
Mum Steph gave birth to Harry at just 24 weeks. She said: "You never think it's going to happen to you, it was just a complete shock."
Doctors informed Steph, and father Lee, that not all children born at 24 weeks survive, and that those who do can suffer long term effects from the prematurity.
Harry had bleeds on the brain, sepsis and meningitis.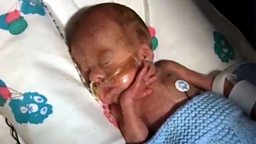 But now, at 7-weeks-old corrected (5 months after birth), Harry is home with his parents. He is still supported by an oxygen tank, which Dad Lee carries on his back, but is now feeding independently.
"When he was born he was barely bigger than his Dad's hands. He is a little miracle, everything about him is great."
'Time doesn't heal, it just chips the raw edges off'
During the programme, we took listeners' calls on their premature birth experiences.
One father who called the show, Nick, said he had lost both his premature baby sons "within a half hour of being born".
"Time doesn't heal, it just chips the raw edges off," he said. "[When] we think about them, it still cuts to the core."
Nick is now dad to four year-old Elsie and two year-old twins Bessie and Bertie.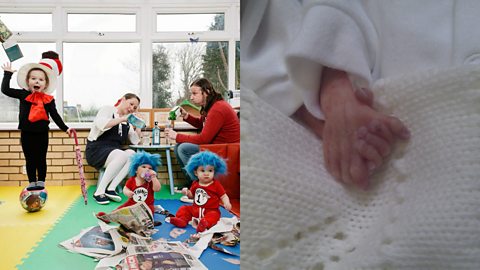 A father's story of the day he lost his babies Alfie and Stanley.
"He was so tiny… you were scared to touch him."
For some parents going home can seem a distant thought, when their baby is so reliant on specialist care offered at places like this.
Jen Buchan and Stuart Dowell's son Robbie was born at St Mary's Hospital in Manchester last April at 23 weeks.
Rachel caught up with them at their home in the High Peaks last week to find out how they were getting on.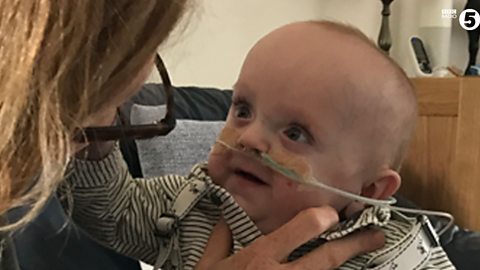 Rachel Burden speaks to the parents of 'extremely' premature baby
Reunited... and a very special visit
Rachel chatted to Consultant Obstetrician and Gynaecologist, Dr. Jonathan Ash - the very same man that delivered her baby one year prior.
We also had some very special visitor on the programme, baby Harry, along with Mum and Dad Steph and Lee, who told us how they were getting on since Harry left the ward.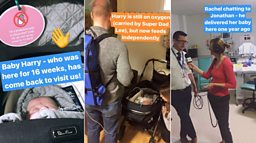 A place of "great joy and deep sadness"
Signing off from the broadcast from Burnley, Rachel told listeners:
"It just goes to show that the picture for premature babies is one of great joy and deep sadness and that's what you see, I'm sure, at any neonatal unit right across the country.
She thanked the staff for letting us visit and for the parents who got in touch, before reflecting on her visit:
"I was very fortunate," Rachel said. "I have very happy memories of being here because I was so well looked after. It was stressful, but I felt very secure and protected and even through the dark times, the nurses keep you smiling. They're wonderful people."
You can join the conversation and share your stories on Twitter by using the hashtag #prembabies.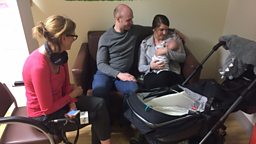 Rachel Burden meets Lee and Steph, parents to premature baby, Harry.