Main content
"It saved me": Samantha Morton on why poetry matters
Samantha Morton is a highly acclaimed twice-Oscar-nominated actress and BAFTA award winning director who has earned her stripes with major film roles such as Spielberg-directed Hollywood blockbuster, Minority Report and carefully selected TV roles such as ITV's Myra Hindley biopic, Longford, for which she won a Golden Globe.
Despite her success, Samantha has remained firmly grounded and dedicated to certain causes close to heart, one of which is National Poetry Day: a nationwide celebration of poetry and all things poetical on Thursday 8th October 2015.
Born in Nottingham to a troubled family Samantha spent much of her childhood being moved between her parental home and a number of care homes. As she explains, during this difficult time in her life, she found solace in the writing of poetry.
She talked to Get Creative about which poems spoke to her, how poetry got her through these tough times and what she advice she would give to someone considering taking up this much beloved artform.
Samantha Morton talks to Get Creative...
GC: You have said that poetry has always been important to you. What do you mean?
SM: When I was a child in care I found myself in an adult prison cell, having done something or other wrong, and the only things I asked for were a pen and paper so I could write poetry.
At that moment without poetry I think I would have gone mad, maybe self-harmed or something like that. Poetry was my salvation.
GC: Reading it or writing it?
SM: Writing it, at that stage. I didn't know any poetry then because I hadn't been at school much. I did read the Bible and knew quite a few psalms. And I did go to church so I sang them too.
For me, poetry was a way of writing down my thoughts but in code so only I knew what I was saying. Quite often I would write poetry and then destroy it, it was very personal really. It was incredibly private and very cathartic for me.
GC: As a reader, what effect did poetry have on you?
SM: I don't suppose I knew what I was reading was poetry but what I read – especially one of the psalms - meant something, it gave me inner strength. It was Psalm 27.
The Lord is my light and my salvation of whom shall I fear?
The lord is the strength of my Life of whom shall I be afraid?
When the wicked, even mine enemies and my foes, came upon me to eat up my flesh, they stumbled and fell.
It didn't seem religious or inaccessible to me. It was just completely relevant to my life and to the experiences I was having. It was a reflection of my childhood, the significance of being in care – I just wanted to feel.
GC: What was your first experience of the kind of poetry found in poetry books?
SM: My first experience of poetry in books was in my late teens when I was in New York's East Village and came across the writings of EE Cummings in a lovely bookshop. Then it was Coleridge's poem 'Love' which I was completely blown away by. It was just like rap, not old fashioned at all, and said everything there is to say about teenage love. When you read that poem its describes exactly how you feel. Just like when you play a record to that special someone you're falling for – real and present.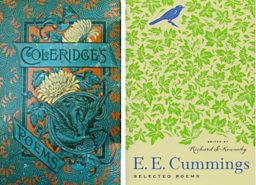 Coleridge & Cummings: Two Samantha's favourite poets
GC: What would you say to someone who is attempting to write poetry for the first time?
For me, poetry was a way of writing down my thoughts but in code so only I knew what I was saying.
SM: I'd say any kind of writing is like using your muscles: you need exercise to get it to work. Forget about the rules or the structures. Ignore all that. Don't worry about what other people think. Write and think about how it makes you feel. You don't always have to share your poetry with other people. Particularly your early writings: just do it for yourself, those writings are incredibly private and very cathartic.
I am a huge fan of poetry when I feel it. Sometimes poetry can be technically brilliant but if you don't feel something it doesn't work. It's the same when you hear a professional musician: they are so expert and accomplished that you almost can't see their feelings coming through in their music. At that level it becomes about the technical expertise rather than the emotion.
GC: If you had to pick one poem to take with you on a trip to outer space which would it be?
SM: Well, I have to admit that I always have poetry books by the loo for everyone's enjoyment, family and friends. For children there's a copy of 'You wait till I'm older than you' by Michael Rosen. And there's Sharon Old's 'One Secret Thing', John Keats' Fugitive Poems and Tennyson's Poetical Works. These books are like those old copies of London's A to Z that we all carried around before we had mobile phones and apps. Very much loved and very well used. Dipped into as and when needed.
But I suppose if I had to pick one it would be Psalm 27.
GC: Do you think poetry as an artform and way of communicating is underrated?
SM: Yes I absolutely think that's true. It's something to do with the fear of not completely understanding poetry.
But, for me, a poem is just like hearing a fantastic song. It's not like a book; when you read books you are taken on a long narrative journey that the author owns. You're inside their head and you have to commit to following their path
With poetry it's different: you own it. You can pick it up and play with it.
For me, poetry is always by my side. I like the way the language and the words mess with how I'm thinking. I can read it no matter where I am or what I am doing work wise: it isn't a huge commitment.
GC: Thank you for sharing your thoughts with Get Creative ahead of National Poetry Day. How do you get creative in your spare time?
SM: It's just so hard for today when everything and everyone are demanding your attention to find the space for creativity. We're all so busy, bombarded from all directions with everyone else's opinion - with advertising and the media telling you what to do and expecting knee jerk reactions in record time.
I think when our minds are restful the ideas come. So it's important to take time out and be restful.
Everyone should read a poem a day. Experience the longer forms of poetry – epic poems – go on journeys, go somewhere else and come back again.
Concentrate and develop a considered response rather than the knee jerk response. It really does make a difference - to work and to relationships. It makes us better lovers, friends, daughters and mothers. It shouldn't feel like a luxury to write poetry.
Elsewhere on BBC Arts
The film critic profiles the rebels and brilliant outsiders of British cinema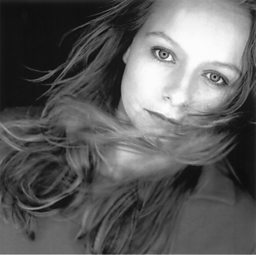 Samantha Morton © Sarah Dunn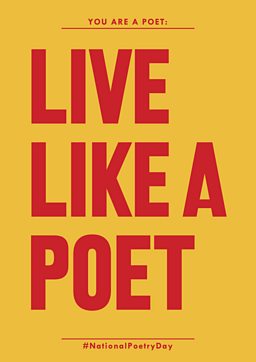 A message from National Poetry Day
National Poetry Day
The nationwide celebration of poetry and all things poetical marks its 21st anniversary on Thursday 8 October 2015. The day is an opportunity to break with the tyranny of prose for 24 hours by sharing poetry through voices, films and pictures in imaginative ways.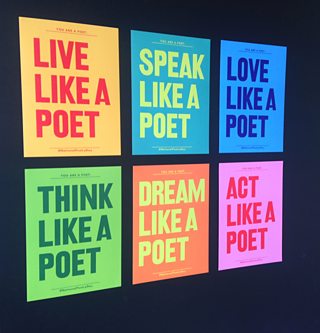 © Anthony Burrill, courtesy Thirteen Ways and The Space
dream, speak, love, live, act and think "like a poet"
Leading graphic and visual artists - Anthony Burrill, Laure Prouvost, Bridget Smith and Kathleen Herbert – have teamed up with renowned poets and famous voices to make new films and digital art works.
So why not dream, speak, love, live, act and think "like a poet" as the day approaches? The most creative public responses, shared through #nationalpoetryday, will be selected by leading graphic artist Anthony Burrill to
appear on the Blackpool Illuminations on National Poetry Day. The theme of National Poetry Day this year is light.
Samantha Morton lends her voice to #nationalpoetryday
Samanatha's favourite poetry books:

"These books are like those old copies of London's A to Z that we all carried around before we had mobile phones and apps."
A major season centred around National Poetry Day on 8 October 2015.