Main content
Shakespeare appears to wax lyrical
The cast list was impressive by anyone's standards. The Exchange Room in Nottingham would play host to King George III and his wife Queen Charlotte, Prime Minister William Pitt, Admiral Lord Nelson all alongside, amongst others, 'the Immortal W. Shakespeare'.
You don't have to be Simon Schama to realise it would be quite a feat for such an eminent group to be in the same room, considering they were born in different centuries. That's because this particular playbill was not advertising a performance but an exhibition by the celebrated wax sculptor Madame Tussaud.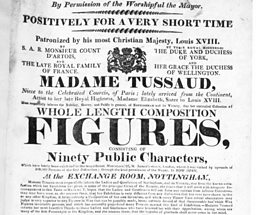 Madame Tussaud playbill. Courtesy of the British Libray
As he was in life, Shakespeare is in formidable company, sandwiched between two charismatic and powerful queens and their rivalry filtered through his work.
People wanted to see what the country's famous – immortal even - dramatist looked like
Elizabeth I was well acquainted with his plays and his players, the Lord Chamberlain's Men. Her Scottish cousin, Mary Queen of Scots, was the mother of Shakespeare's patron, King James I and VI. On his accession to the throne, Shakespeare's company became The King's Men.
Shakespeare's inclusion on the playbill among 'ninety public characters' shows he was a popular draw for audiences. People wanted to see what the country's famous – immortal even - dramatist looked like.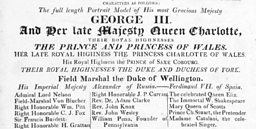 Playbill detail showing the 'immortal W. Shakespeare. With thanks to the British Library
Also included are two prominent Shakespearean actors – a brother and sister who dominated the stage in the 18th century. John Philip Kemble appears but not as himself, but in the guise of the warrior Coriolanus, his acclaimed role. Sarah Siddons is listed in the character of Queen Katherine from Henry VIII.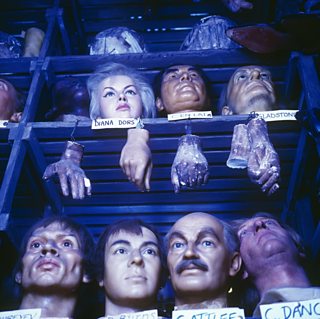 Behind the scenes at Tussaud's waxworks with Shakespeare actor Charles Dance and Rudolf Nureyev who danced in Shakespeare ballets
In an age before mass media, the exhibition offered a tantalising opportunity to rub shoulders with famous people, even if they were made from wax. It also had a macabre side which may have appealed to darker Victorian tastes.
Visitors could play extra to view an exhibition of prominent figures from the French Revolution, the Bastille prison, and a small model of the guillotine and its sinister apparatus.
The exhibition was open till the evening with the room lit at seven o'clock and it is interesting to imagine the sensation of seeing the waxworks by gaslight. Although there is no date on this playbill, another in the same volume is dated 1831 which roughly fits the chronology here.
And of course, as playbills rarely featured pictures, the audience would have had to pay their entrance fee before setting eyes on the famous faces.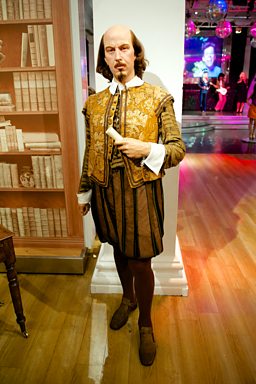 A moderan day waxwork of Shakespeare in Madame Tussauds, London (c) Madame Tussauds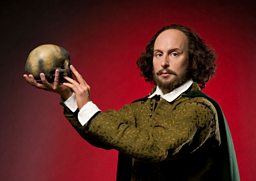 Alas, Poor Yorrick! A modern day waxwork of Shakespeare in Madame Tussauds, Tokyo (c) Madame Tussauds
Tussaud's gruesome beginnings
Madame Tussaud created her first wax sculpture, of the French philosopher and writer Voltaire in 1777.
Tussaud was herself arrested during the French Revolution and at one point had her head shaved ready to go to the guillotine
It was claimed that she made death masks from the heads of those who had been executed in the French Revolution – certainly if you went along to this exhibition in Nottingham you would see some of the prominent revolutionaries and victims.
Tussaud was herself arrested during the French Revolution and at one point had her head shaved ready to go to the guillotine.
Managing to escape the chop, in subsequent years she made use of her great talent for wax modelling.
In 1802 she travelled through Great Britain and Ireland with her exhibition. She was unable to return to France and from 1832 she created a base in London at 'the Baker Street Bazaar' which, a few years later, was to become Tussaud's first permanent home and remains a popular attraction to this day.
About Shakespeare on Tour
From the moment they were written through to the present day, Shakespeare's plays have continued to enthral and inspire audiences. They've been performed in venues big and small – including inns, private houses and emerging provincial theatres.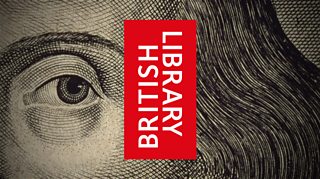 BBC English Regions is building a digital picture which tracks some of the many iconic moments across the country as we follow the 'explosion' in the performance of The Bard's plays, from his own lifetime to recent times.
Drawing on fascinating new research from Records of Early English Drama (REED), plus the British Library's extensive collection of playbills, as well as expertise from De Montfort University and the Arts and Humanities Research Council, Shakespeare on Tour is a unique timeline of iconic moments of those performances, starting with his own troupe of actors, to highlights from more recent times. Listen out for stories on Shakespeare's legacy on your BBC Local Radio station from Monday 21 March, 2016.
You never know - you might find evidence of Shakespeare's footsteps close to home…
Craig Henderson, BBC English Regions
Shakespeare on Tour: Around Nottingham
Shakespeare's King's Men Perform in Nottingham as the great man retires
Shakespeare on Tour: Around the country
Plus, the small Cheshire town that attracted Shakespeare's players