Main content
Above the fold: the health worker with a passion for origami
3 May 2016
Whether it's knitting, pottery, painting or embroidery, craft is as popular as ever. And it seems there are no limits to some people's talents. We've teamed up with a brand new BBC Four television programme, Make! Craft Britain, which hopes to showcase the talents of the country's crafters.
Get Creative spoke to some makers to find out a bit more about their skills. This week we turn our attention to CATHERINE GRAY who uses the ancient art of origami to create delicate sculptures.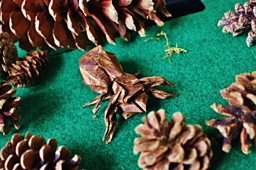 Catherine's origami tarantula takes around a couple of hours to fold and then three days to varnish and is then mounted in a box frame, like a taxidermist would
Catherine started origami in 2008 when she was at university.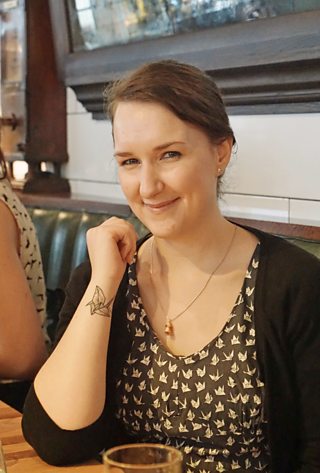 Catherine's friend made her origami-print dress
"I was at the freshers fair for societies and as I'm not a particularly sporty person not a lot was appealing to me," she says, "I then saw a young man sat folding by himself. I think felt a bit sorry for him. But it was intriguing! So I signed up!"
In the classes she folded basic models and learnt the core techniques but ended up with lots of animals and wanted to turn them into something more practical so she began varnishing them, making them really small and turning them into jewellery.
But it's only been in the last two years that she's really begun to experiment and develop her own style and patterns.
"I take inspiration from nature. I live in Norfolk and I'm surrounded by beautiful woodland so my designs are very much inspired by my surroundings," she says.
She's made hundreds of models and if she makes any mistakes screws them up and tosses them to her cat to play with.
They can take anywhere between half an hour to fold to a few days of going back and adding more.
"My most complex piece was 15 plus hours of work. I varnish over three days so that adds a lot of time to the process," she says.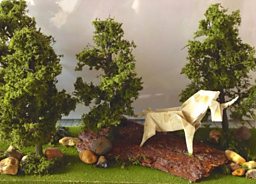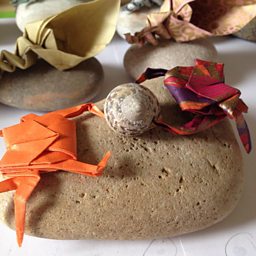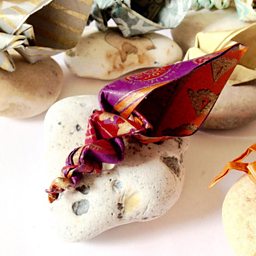 She strives to use only eco-friendly, fair trade and handmade paper in all her work. She favours eco-friendly lotka paper which she buys wholesale direct from Nepal.
It's a great de-stress from work and everyday life. A bit of me time to create something from just a square of paper
"It can be difficult to work with but the results are amazing. The lokta tree regrows so you're not damaging the tree but helping maintain the landscape. Plus it comes in amazingly vivid colours," she says.
When she's not working as an occupational therapist working in mental health, she folds in the evening and at weekends in front of the TV.
"It's a great de-stress from work and everyday life. A bit of me time to create something from just a square of paper.
"It will always fascinate me and there's always more to learn!"
And her hobby promises to keep her busy over the summer because she is currently making invites and decorations for her wedding in September.
MAKE! Craft Britain, coming soon to BBC Four
More from Make! Craft Britain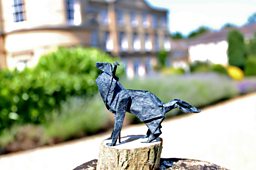 More making on Get Creative