Main content
Radio 2 Live In Hyde Park 2019 in numbers - surprising facts about this year's acts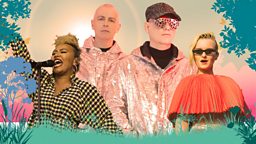 Radio 2 Live In Hyde Park 2019 promises to be a truly star-studded affair, with a line-up that includes headliners Pet Shop Boys, plus massive acts like Bananarama, Westlife, Emeli Sandé, Status Quo, Simply Red, Kelsea Ballerini and Clean Bandit.
But to get a sense of just how huge the bill really is, we decided to dig deep into the fact sheets and crunch some numbers. Here are some surprising things you may not know about this year's Radio 2 Live In Hyde Park to get you in the mood for the big event.

...is for Westlife's many No.1s
Westlife's chart domination has been simply breathtaking. Over 20 years, they've racked up 14 UK No.1 singles and seven UK No.1 albums, while also topping the charts in Australia, New Zealand, Norway, Sweden, and, of course, their homeland of Ireland too. They even hold a Guinness World Record after becoming the first act to achieve seven consecutive No.1 singles in the UK. With their new album Spectrum coming this November, the boys from Dublin could very well add to their impressive tally too.

...is for Emeli Sandé and Status Quo's Hyde Park hat-trick
2019 marks the third outing at Radio 2 Live In Hyde Park for both Emeli Sandé and Status Quo. While Emeli made her debut in 2012 before returning in 2017, Status Quo previously graced our Festival in a Day in 2014 and 2016. Both acts are now equal with James Blunt (2011, 2013 and 2017) for the most Radio 2 Live In Hyde Park appearances. We can't wait to see who is the first to get to the almighty quadruple.

...is for Clean Bandit's interesting alternate career path
One of Clean Bandit's founding members, violinist Neil Amin-Smith who parted ways with the group in 2016, once turned down a job offer from the UK's foreign intelligence agency M16 to pursue his music career. "Shortly before we signed our record deal, I was offered a job at the Foreign Office, a fast-stream policy analyst position. And I had a similar offer from MI6. Both very tempting, but no real regrets," he said in 2015. His career could certainly have been a whole lot different!
...is for Bananarama's first album in 10 years
Bananarama's latest album In Stereo, which was released this past April, is their 11th full-length release since their 1983 debut and their first record in a decade. Fun fact: opening track Love in Stereo was co-written by Mutya Keisha Siobhan, the original members of Sugababes. Fans will be eager to see how many of the new tracks the duo perform live at Radio 2 Live In Hyde Park.

...is the age Emeli Sandé wrote her first song
Emeli Sandé wrote her first song, called Tomorrow Starts Again, when she was just 11 years old. "That was the first time I thought I might be a songwriter," she remembers. "I always knew I wanted to be a musician, and I always knew I wanted to write. Because the people I was listening to all wrote. I never thought it was an option to sing anyone else's songs." Sandé would go on to win Best Song Musically and Lyrically at the prestigious Ivor Novello awards, which recognises songwriting talent, in 2013 for her track Next To Me.

...the number of times Simply Red's Stars has gone platinum
Simply Red's landmark album Stars, released in September 1991, has gone platinum 12 times, selling over 3 million copies in the UK alone. It was the UK's best-selling album for both 1991 and 1992, and was shortlisted for the inaugural Mercury Prize in 1992. Celebrating the album's 25th anniversary with a tour in 2017, Hucknall said: "I could never have imagined that Stars would have the impact it did."

...is for Clean Bandit's classical mash-up
Wolfgang Amadeus Mozart's String Quartet No. 21 is incorporated into Clean Bandit's 2013 Top 20 hit Mozart's House, one of their early hits that made them classical-pop crossover stars. "We're in a funny position because Neil and Grace were serious classical musicians but they introduced me and Luke to a lot of dance music that I didn't know about," member Jack Patterson previously told BBC News of their blending of classical and more modern influences.

...is for Kelsea Ballerini's very special 23rd birthday
Kelsea Ballerini's 23rd birthday in 2016 was a very special one indeed, with the Tennessee native becoming the first female solo artist to simultaneously top both the Hot Country Songs and Country Airplay charts in the US with her single Peter Pan. "Being the first woman to do this just inspires me to work hard and to make the best music I can," she told Billboard at the time.

...the number of times Pet Shop Boys reference the West End in West End Girls
Radio 2 Live In Hyde Park is something of a homecoming for headliners Pet Shop Boys, who first met during 1981 in a hi-fi shop on the nearby King's Road, wrote their first material in a Chelsea flat and whose breakthrough hit, West End Girls, heavily references the area. In fact, London's West End gets mentioned in West End Girls a massive 34 times, with its iconic video featuring shots of popular London landmarks, such as Tower Bridge and Leicester Square.

...is for Westlife's record-breaking 36 hours
In 2002, Westlife bagged another Guinness World Record for most public appearances by a pop group in a 36-hour period. The band made stop-offs in five different cities (Dublin, Belfast, Edinburgh, London and Manchester) to promote their then-new album Unbreakable. A very hardworking bunch, aren't they!

...is for Pet Shop Boys' massive collection of hits
Pet Shop Boys have released a massive 55 singles over the course of their career - from West End Girls in 1984 to What Are We Going to Do About the Rich?, released earlier this year. How many will they treat us to during their Radio 2 Live In Hyde Park headline set? And which ones are you looking forward to hearing? Go West? Always On My Mind? It's A Sin? Suburbia? Heart? There are just so many...

...is for Clean Bandit's Top 40 residency
Clean Bandit have spent 186 weeks in the UK Top 40 (correct at the time of publishing), racking up four No.1s and nine singles in the UK Top 10. Just to put their stay in the Top 40 into some perspective - that's the equivalent of over three and a half years, or 42 months. Considering the band had their first Top 40 hit in 2014, this means that they've spent over half of their lifetime as a group in the chart. Very impressive indeed.

...is for Kelsea Ballerini's induction into country music royalty
Earlier this year, Kelsea Ballerini became the 210th member of the Grand Ole Opry, which has been running since 1925 and is seen as one of the biggest honours in country music. Ballerini followed in the footsteps of Johnny Cash, Willie Nelson, Dolly Parton and other luminaries of the genre, inducted in April by fellow country star Carrie Underwood, who remarked during her introductory speech: "You have accomplished so much in your career... [but] this is better than all of that. This is the heart and soul of country music."

...is for the 2012 London Olympics
The opening ceremony for the 2012 London Olympics was a breathtaking visual display - and it featured some of the UK's best loved music too, bringing together two of this year's Radio 2 Live In Hyde Park acts. Emeli Sandé sang Abide With Me during the ceremony, while the welcome parade featured Pet Shop Boys' West End Girls. Their music was also included in the equally spellbinding closing ceremony too!

...is for Mick Hucknall's footy memorabilia
Everyone knows that Simply Red singer Mick Hucknall is a big Manchester United fan (so much so that he once tried to buy the club - back in 1998), but fewer people are aware of just how big of a fan he is. He actually collects United memorabilia, and recently saw a pair of David Beckham-signed football boots that he owned sold at auction for a whopping £15,000.

...records sold by Status Quo
Each act from this year's Radio 2 Live In Hyde Park line-up can boast huge amounts of records sold - Bananarama's 40 million copies sold worldwide put them only behind Spice Girls and Little Mix as the UK's most successful global girl group, while Pet Shop Boys have shifted around 100 million units. All are eclipsed by Status Quo, however, who over their 50-plus year career have sold what is estimated to be between 118 and 130 million copies worldwide. That's roughly twice the population of the UK. So, a lot of records then...