Main content
A Five-step Guide to Becoming a Wine Bluff...
Many of us enjoy a glass of plonk but that doesn't mean we know our Chardonnays from our Gewürztraminers, our Malbecs from our Merlots or our Albariños from our Bardolinos. So if you're likely to find yourself in the company of a snobby sommelier, or desperate to impress at a dinner party, then read this cheat-sheet full of easily digestible wine-based wisdom from Radio 4's Five Green Bottles. Bottoms up!
1. Bone up on Bordeaux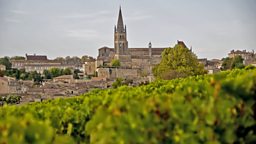 Bordeaux is the largest wine region in France, and one of the most popular wines of the world. There are more than 7,500 different producers with over 120,000 hectares of vines – making close to 75 million cases of wine each year! A beefy red Bordeaux is best served with classic meat dishes: veal, pork, steak, lamb, duck and game. And it's a perfect match for Asian cuisine, hearty fish like tuna or salmon, or a nice French cheese.
Dinner party patter...
Bordeaux winery Château Pavie's 2003 vintage sparked a famous transatlantic debate. The vineyard was producing super-concentrated wines that almost resembled port - largely due to American critic Robert Parker, whose tastes in those days shaped how wine was made. He loved the attention-grabbing wine and was (in the words of wine writer Hugh Johnson), "one of the most powerful influences that's ever hit the world of wine." So when critic Jancis Robinson voiced what many other wine buffs were thinking and described the Pavie as "ridiculous" and "unappetising" it caused an international furore!
Bitesize wine facts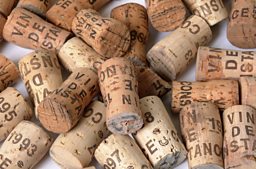 The King of France held the first competitive wine tasting in 1224 where an English priest was the judge.
Wine used to be sweetened using lead. Heavy wine drinker Ludwig van Beethoven had traces of lead in his hair when he died.
The first person to give wine scores was American critic Robert Parker. His 100-point scale changed the way we think about wine.
The ancient Greeks had a wine glass to help drinking in moderation. If the vessel was filled above a certain level, the cup emptied its entire contents out of the bottom.
Before the Second World War, most wine merchants in Germany were Jewish. When the Nazis persecuted them it was disastrous for the wine trade.
White wine can be made with either white or red grapes. The major difference between white and red wine is that white wines are fermented without the grape skins.
In general, red wines have higher alcohol content than white wines – but remember it varies from bottle to bottle!
In a Napa valley wine auction in 2000, a bottle of 1992 Screaming Eagle Cabernet Sauvignon fetched the highest price ever paid for a bottle of wine. It went for a whopping $500,000.
In 2016 Burgundy became a UNESCO world heritage site.
2. Swot up on Stein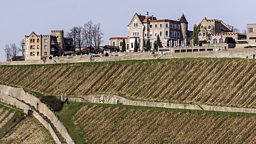 Würzburg is a town on the river Mein in Bavaria, Germany. On the opposite side of the water is a seriously steep hill, entirely planted with vines – the Stein (see photo).
Wine has been produced here since at least the 8th century, and you can still buy it today. Sweet or dry, depending on the vintage, it notably comes in a squat, round bottle. Try pairing with a traditional Bavarian Weisswurst sausage for the authentic German experience.
Dinner party patter...
The oldest wine ever to have been tasted is a 421-year-old Stein wine produced in 1540. It was an exceptional vintage – a year so hot that the river Rhine dried up and builders had to use wine to make cement because there was no water.
It's remarkable to think that the wine was made while Michelangelo was still at work, King Henry VIII had just married his fifth wife, and Shakespeare hadn't even been born...
3. Study Sassicaia
Italian wine used to be cheap and poorly reputed, but one family changed all this.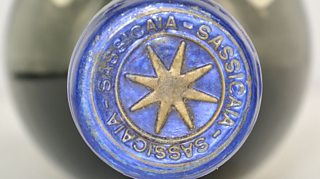 The first bottle of Sassicaia was produced on the Tuscan coast by Mario Incisa della Rocchetta in 1948, using Cabernet Sauvignon vines sourced from France.
In 1978, the wine won a blind claret tasting run by Decanter magazine, beating 33 wines from 11 different countries – a watershed moment for the "super Tuscan". It can now cost upwards of £150 a bottle.
Sassicaia wine is an intense ruby red in colour, dry, full bodied, and robust – with rich, elegant aromas. According to Sotheby's wine expert, "it is a real, magnificent food wine", best served with intense flavours like game, roasted pigeon, or mature cheese.
Dinner party patter...
The family that gave birth to Sassicaia also trained Gold Cup and Arc de Triomphe - winning horses in the 1940s. The most famous Italian racehorse of all time, Ribot, came from their stable.
4. Banter about Constantia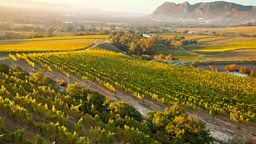 In the words of Master of Wine Tim Atkin, Klein Constantia is "one of the New World's most iconic wines."
It is produced from vineyards in the shadow of Table Mountain in Cape Town. In 1685 the governor of the cape sent his men out to find the best area in which to make wine, and by 1687 he was already getting remarkable reviews from Europe for the wine he was producing.
It's rich, full-bodied, concentrated, lush and sweet. Pair the fresh, honey and fruit flavours with fois gras on brioche or a humble apple pie.
Dinner party patter...
Queen Victoria loved it, the French poet Charles Baudelaire wrote about it, and Napoleon asked for a glass of Constantia on his deathbed. In her novel, Sense and Sensibility, Jane Austen describes the sweet wine of Constantia as being a cure for a broken heart.
And Charles Dickens thought the perfect pick-me-up was a glass of Constantia wine and a homemade biscuit.
5. Be a Burgundy buff
Burgundy – a unique wine region – is in eastern France, in the valleys and slopes west of the river Saône.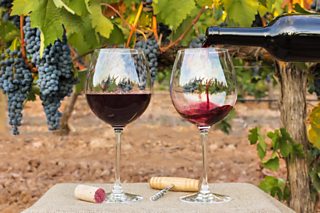 The most famous "Burgundies" produced here are dry red wines made from Pinot Noir grapes and white wines made from Chardonnay grapes. It is probably the most terroir – conscious of the French wine regions: the soil structure, farming practice and the climate all have a big part to play.
A red Burgundy is great with roast lamb or rich, roast suckling pig.
Dinner party patter...
Throughout the Middle Ages the vines of Burgundy were tended by Cistercian monks. The Emperor Charlemagne also famously owned a plot.
But after the French revolution of 1789 all this changed – the vineyards passed from the church and crown to the peasant farmers.
And because Napoleon scrapped the right of the eldest to inherit, the famous vineyards were then shared between all the children in a family – divided again and again and made smaller and smaller. Winemakers then married other winemakers to try and reconstitute a decent–sized holding, and this is why so many Burgundy wine producers have double–barrelled names.
In Radio 4's Five Green Bottles, wine critics offer personal reflections on the personal, political and historical stories of bygone bottles of wine.
Wine critics offer personal reflections on the personal, political and historical stories of bygone bottles of wine.

Jay Rayner and lecturer Chris Foss discuss how to correctly identify if a bottle has been corked.

Exploring what it takes to make a bona fide natural wine.