Main content
Student Journalist of the Year 2019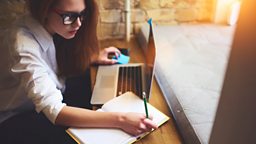 We're looking for the UK's best student journalist. You might be broadcasting on student radio, writing articles for a student magazine, or creating great online pieces for a student website. The important thing is that you're already displaying journalistic potential, and are regularly finding new stories and reporting them with rigour and accuracy.
We'll be looking for someone who embodies the BBC's values of impartiality, trustworthiness and excellence, and who's shown they can serve the needs and interests of a student audience.
If you win this award, you'll be offered a paid position on the BBC News Journalism Trainee Scheme – a great start to any career in journalism.
About the judges:
SARAH SANDS: Sarah is Editor of the Today Programme on BBC Radio 4. Before that she was Editor of the Evening Standard. She has edited The Sunday Telegraph, and has worked at the Daily Mail and Readers Digest. Sarah trained as a journalist on the Sevenoaks Chronicle.
KAMAL AHMED: Kamal joined the BBC in 2014 as Business Editor, moving to the role of Economics Editor two years later after a career in newspapers, and has been our Economics Editor since 2016. In his new role as Editorial Director Kamal will be responsible for shaping the BBC's future editorial strategy, focusing on storytelling and explanatory journalism, and providing the link between audience research and BBC output.
KATIE LLOYD: Katie joined the BBC in 2014 as Development Director working to the Director of News & Current Affairs. She was appointed to the BBC News Board in 2016. Katie leads on a number of areas from leadership development to entry-level talent with a particular focus on diversity. She has pioneered new programmes such as the BBC News Women in Leadership Programme and Women in Technical Production Programme.
DANIELL MORRISEY: Daniell heads up the BBC's journalism and production trainee and apprenticeship programmes. Previously head of talent in BBC Entertainment and before that for BBC Comedy, Daniell has a background in journalism and joined the BBC in 2002 when he headed-up recruitment and talent attraction for BBC NEWS.
How to enter:
This category seeks to recognise the best student journalism on any platform. Entrants will need to submit three examples of work they have produced while in full- or part-time education and published or broadcast in media aimed either solely or predominantly at a student audience during the academic year 2018-19. Entries close at 23:59 on 13 September 2019.
Click HERE to enter