Main content
Watch Le nozze di Figaro from Garsington Opera
2 November 2017
It is the wedding day of Figaro and Susanna, but will their marriage ceremony ever take place? During the course of a crazy day a series of confusing events unfolds, all brought to life by Mozart's music of consummate grace, wit and joyous invention. Watch Garsington Opera's summer 2017 production in full below, until 2 May 2018.
A brief account of the plot
The action takes place in the late 18th century at the Castle of Aguas Frescas near the city of Seville.
It is the day that Figaro, Count Almaviva's manservant and Susanna, Countess Almaviva's maid are due to be married, but there are several obstacles in their way.
The Count has made the liberal gesture of revoking the feudal ius primae noctis (entitling him to the virginity of every female servant on her wedding night) but would like to make an exception for Susanna. Marcellina and Bartolo, both of whom have old scores to settle with Figaro, discuss a plan for getting their revenge.
The Count has offered Susanna a dowry (which could be used to pay off Marcellina) but on the condition that she sleeps with him first. During the course of the day, Figaro attempts to outwit his master, while the Count does his best to delay the wedding and Cherubino, his page, creates havoc by falling for every woman in sight.
Marcellina's claim collapses when it turns out that Figaro is her long-lost son by Bartolo, leaving the Count unable to delay the wedding any longer. Susanna and the Countess, under cover of darkness, decide to teach the Count a lesson and dress up in each other's clothes, resulting in the Count making love to his own wife in error. On discovering his mistake he is obliged to beg her forgiveness, which she grants.
Jennifer France as Susanna and Joshua Bloom as Figaro. Photo: Mark Douet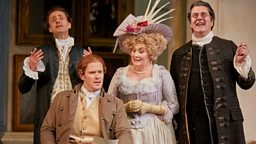 Timothy Robinson as Don Basilio, Duncan Rock as Count Almaviva, Janis Kelly as Marcellina and Stephen Richardson as Doctor Bartolo. Photo: Mark Douet
In conversation: Douglas Boyd and John Cox talk to Henrietta Bredin
Where do we start, to talk about what John Cox unhesitatingly calls "the best opera ever written"? We settle on the fact that it all takes place within the framework of a single day, and the way in which audiences are plunged directly into the characters' lives.
It's as much about the marriage of the Count and the Countess as it is about the marriage of Figaro and Susanna

John Cox
Cox and Dougie Boyd have worked together before, on this opera and on Fidelio, and they clearly enjoy each other's company and appreciate each other's opinions.
"It's a question of momentum, I think," says Boyd, "within the compressed time-frame – even when the music is serene, it's never static. From the conducting point of view, it's nothing to do with tempo, nothing to do with speed, but everything about a wheel that keeps on turning."
"You could apply that to all three of the Da Ponte operas," says Cox. "Don Giovanni could take place within a night and a day, and Così fan tutte; the timeframe there is not much longer than a day. Anyway, to cut to the chase – The Marriage of Figaro is as much about the marriage of the Count and the Countess as it is about the marriage of Figaro and Susanna.
"One marriage is on the rocks as the opera begins; the other one just about happens in Act Three and by the middle of Act Four is practically in ruins. That kind of circumstantial compression is energising dramatically as well as musically, together with the fact that both marriages are so closely interrelated in their fates."
"That complexity and the fact that different emotions and states of mind can be expressed simultaneously through music is unique," agrees Boyd, "and it's one of the most magical moments in Peter Shaffer's Amadeus. I went to the National Theatre's production recently and have been thinking about it ever since.
"Mozart talks about how music is the only artform where you can have maybe four people expressing four different emotions at exactly the same time. And of course he's absolutely right and he's a consummate master of that.
"If you're in the audience, you don't have to shift your attention from one character to another, you can register the fact that he's in love, she's in despair, she's afraid, he's angry – Beethoven does it marvellously as well, with Mir ist so wunderbar in Fidelio." "And so does Haydn," adds Cox, "in La fedeltà premiata. That could possibly have been Mozart's model."
Mozart talks about how music is the only artform where four people can express four different emotions at the same time

Dougie Boyd
Along with this revelatory way of making complex individual thoughts and emotions clear and communicative, in this opera Mozart and Da Ponte cut through existing conventions by giving each character – from the master, Count Almaviva, to Barbarina, the gardener's daughter – their own weight and importance and individuality.
"Coming back to stage this production for the third time," says Cox, "I've been thinking about the Queen's response to this opera. Do you know the story?
"She'd been invited to a performance at Glyndebourne to celebrate their 50th anniversary and George Christie, the chairman of the company, offered her a choice from the operas they were performing that season.
"She looked at the list and said, 'Figaro? That's the one about the pin – I've seen that'. And she was quite right! Barbarina isn't one of the major characters but by losing a tiny thing like a pin she is unwittingly the instrument of the Count's undoing, and she also brings Figaro to the edge of the abyss. All of that is superbly crafted by Da Ponte."
Boyd starts laughing – "And it all leads up to that most devastatingly painful and beautiful moment when the Count turns to beg the Countess for her forgiveness.
"I remember when we were rehearsing that last time, I was conducting and the Countess came out from behind a statue of Venus. The music reached that sublime point, and you suddenly stopped the rehearsal and asked, 'Is that all you're going to do there?'"
Both men roar with laughter. "Well," says Cox, "it had been a wearing session, trying to get the lighting sorted, making the statue look as if it might have been there for a hundred years rather than ten minutes and I was thinking, 'All this needs now is the music and it will be fine' – and you didn't quite come up with the goods."
"OK, I forgive you," says Boyd. "And I of course forgave you," replies Cox.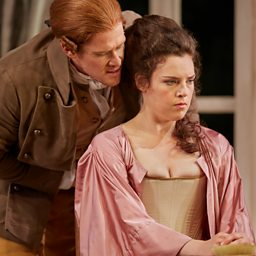 Duncan Rock and Kirsten MacKinnon as the Count and Countess. Photo: Mark Douet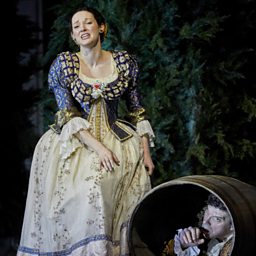 Jennifer France as Susanna. Photo: Mark Douet
About Garsington Opera
Garsington Opera stages a summer opera festival each June - July in the romantic setting of Wormsley, a traditional English country estate owned by the Getty Family. The very best singers from around the world perform at the festival each season, as well as many rising stars from the UK.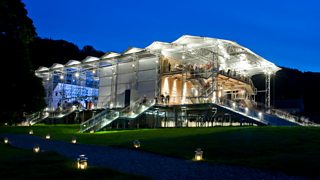 Just an hour from London, near High Wycombe, Garsington Opera is renowned for productions of the highest quality, housed in a spectacular Opera Pavilion with superb acoustics and unique views of the beautiful gardens and Chiltern Hills beyond.