Main content
'In defence of the demos' at Lisson Gallery
8 December 2016
Organised by Lisson Gallery in association with ArtReview, In defence of the demos is an evening of talks, screenings and performances staged on Ai Weiwei's work, Fondation, a platform made from the ruins of ancient columns. In the open spirit of the Roman forum or Greek agora, a number of speakers discuss borders, identity and people's role in politics.
The BBC is not responsible for the content of embedded YouTube videos. Any views expressed during the debate do not reflect the views of the participating organisations.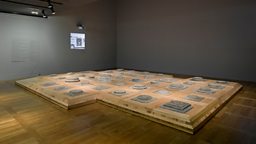 Fondation, 2015 © Ai Weiwei; Courtesy Lisson Gallery. Photography: Jack Hems
Ai Weiwei's immersive work Fondation (2015) makes use of stone foundations from centuries-old Chinese halls, from which column bases have been extracted and assembled in a monumental grid-like formation that sprawls over eight metres of gallery space.
Intended as a contemporary equivalent to the Greek agora, a public place of assembly and discussion, visitors are invited to sit upon the bases of the pillars and reflect on the future.
The historical aesthetic of the work is also a metaphor for Ai Weiwei's use of social media as a platform to engage international audiences on salient issues irrespective of time and place.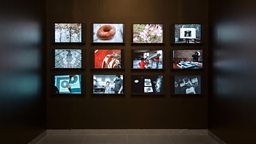 258 Fake, 2011 © Ai Weiwei; Courtesy Lisson Gallery
Fondation is shown alongside 258 Fake (2011), an installation of 12 monitors that display a total of 7,677 rapidly changing photographs. With imagery created solely through smartphones, the work reflects both the immediacy and transient experience of social media.
The sheer number and quick rotation of images, with each monitor changing every four seconds, means that one's experience of the work can never be the same.