Main content
Fattoush
Yasmin Khan's book, Zaitoun: Recipes and Stories from the Palestinian Kitchen (Bloomsbury 2018) is a collection of recipes and stories looking at the culture and the food made by people in The West Bank, Gaza, East Jerusalem - and elsewhere in the Diaspora.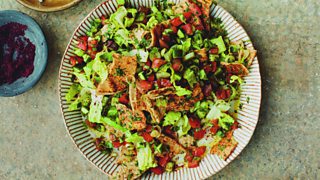 Subscribe to the Cook the Perfect podcast
Fattoush
Infinitely adaptable and wonderfully refreshing, the recipe for this citrusy salad is inspired by a visit to the home of the Palestinian singer Reem Talhami, who welcomed me into her kitchen on a hot summer's day in Jerusalem to guide me through the essential components of this Palestinian classic. It is supposed to be quite astringent so, if you enjoy sharper flavours, edge towards including more lemon juice or sumac, adding them in stages, then tasting and adjusting as you like.
for the salad
2 Middle Eastern flatbreads, or pitta breads (around 120g in total)
4 tablespoons extra virgin olive oil
3 small Persian cucumbers, or 275g (about 1 smallish) regular English cucumber 4 tomatoes (around 450g in total)
75g Romaine lettuce, roughly chopped
3 spring onions, finely chopped
10g mint leaves, finely chopped
20g parsley leaves, finely chopped
75g feta cheese, crumbled (optional)
for the dressing
1 tablespoon sumac, or to taste
3 tablespoons lemon juice, or to taste
4 tablespoons extra virgin olive oil, plus more if needed sea salt and freshly ground black pepper
Go carefully and remember: you can always add more to a recipe, but you can never take away.
Serves 4 as a side dish
Preheat the oven to 200°C/fan 180°C/Gas 6. Toss the breads with the extra virgin olive oil, then bake them in the oven for about 10 minutes, or until very crisp. Allow to cool, then break into thick shards.
Cut the cucumbers in half and use a teaspoon to remove and discard the watery seeds. Chop into 1–2cm pieces and place in a serving bowl.
Cut the tomatoes in half, scoop out their seeds, cut them into pieces the same size as the cucumber and add to the bowl with the bread shards. Add the remaining vegetables and the herbs.
Mix all the ingredients for the salad dressing, add it to the bowl and use your hands to mix it all together. I was instructed by Reem that this was the most important part and it gives you a feel for the dish, letting you know, for instance, if you need to add more oil. Taste and adjust the seasoning to your preference and, if you are adding feta, crumble it over just before serving.
Recipe photography by Matt Russell
More Food on the BBC
Browse our selection of recipes from top chefs, cooks and food writers who have joined us on Woman's Hour...

Download this interview, or subscribe to the Cook the Perfect...downloads