Main content
Hosting Information
If you would like to invite the BBC Radio Scotland programme Brian Taylor's Big Debate to your venue, please have a look at what we would need from you.
Brian Taylor's Big Debate
We are keen to receive invitations from as many different venues as possible. If you'd like to host us but are concerned you don't have the experience or facilities, please contact us and we can advise you on what you might need.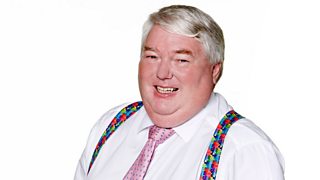 Email us at: brian@bbc.co.uk
About the programme
Brian Taylor's Big Debate was first broadcast in September 2009, it goes out live every Friday on BBC Radio Scotland at 12pm. Every week the programme visits a different part of Scotland with a panel of four speakers who answer questions from the audience. The programme provides the opportunity for people to challenge politicians, policy makers, writers and thinkers.
Guide to hosting Brian Taylor's Big Debate
The Audience
One of the chief responsibilities for you, the organiser, is the distribution of the tickets.
The more proactive the audience, the better the programme, so we hope the tickets will go to people who are engaged with the political landscape and interested in current affairs. We aim to have an audience which will be reasonably balanced and representative of the local community in terms of age, class, gender, ethnicity and political affiliation.
Admission to the programme is free. We will send the tickets to you approximately 4 weeks ahead of the programme. Members of your organisation will want to have first call on the tickets, but at least one third of the tickets must be made available to the general public on a 'first come, first served' basis.
You should offer a number of tickets to the local political parties. We suggest you contact the local SNP, Conservative, Labour and Liberal Democrat party offices to let them know you are hosting the programme and that you will hold 5 tickets for each of them.
Venue
Your venue should be able to seat a minimum of 150 people, be accessible for people with disabilities and have some basic catering facilities alongside a meeting sized room which we can use as our office on the morning of the programme. We will also need access to the internet. We can provide an Induction Loop facility for anyone using a hearing aid. If you do not have these facilities in your venue, please let us know in advance.
The BBC's sound engineer will visit your venue some weeks before the broadcast as they will need to assess its technical capacity. Once we have completed the recce we will send out the organiser's responsibilities checklist, the contract and we'll also ask for the Public Liability Insurance certificate for your venue.
Costs
Please call us to discuss the cost of the venue and hospitality which is normally teas and coffees for the panel. If any other costs arise please contact us to discuss them. Unfortunately, we are not able to cover any costs that have not been cleared in advance with us.
Please remember that no charge is to be made for admission.
Publicity
Posters: We will send you BBC Radio Scotland Brian Taylor's Big Debate posters in advance. The best places to hang these will be where a broad cross-section of the local community can see them: e.g. public libraries, town halls, sports and leisure centres. We may be able to let you know the names of some of the panellists in advance but please be aware that they can change up to the last minute.
Local Media: You should contact the nearest editorial offices of both your local and regional newspapers to let them know that Brian Taylor's Big Debate is coming to your venue. You may like to give an interview to tell their audiences about the event.
If local newspapers want an electronic photograph of the presenter, Brian Taylor, they should contact BBC Pictures by email - pictures@bbc.co.uk - or via the website: www.bbcpictures.co.uk.
Social Media: If you would like to use social media to publicise Brian Taylor's Big Debate is coming to your venue please get in touch to discuss this with us. We will post online and social media posts to inform our BBC audience where the next Brian Taylor's Big Debate will be broadcasting from and we would encourage you to 'like' the BBC Scotland News Facebook page and 'retweet' our Twitter posts.
The Questions
The quality of the questions that the audience ask is crucial to the success of the programme. We look for questions on the most stimulating moral, political and social issues of the day - the current issues that will get people talking.
People can submit questions on any topic they like. We will provide you with an aide memoire on what's been in the week's news.
The programme strives to achieve a varied choice of subjects from week to week while keeping an eye on the week's news' agenda, and we cannot guarantee what subjects we will cover. As the programme broadcasts to a Scotland wide audience, we will not select questions purely on local issues unless they raise matters of genuine national interest.
Questions cannot be put by proxy; each questioner must be present in the hall for their question to be included.
The Panel
We will book the panel members for the debate in advance and we will let you know as soon as we can who they are however please be aware that guests can change up to the last minute.
Set-up on the Morning
On the day of broadcast, the venue space must be available from 08:30 – 14:00 to allow time for our sound engineers to set up, test and take down their equipment.
You will need to ensure the hall is set up with a top table. The presenter will sit at the centre table, with two panellists on either side. The audience chairs should be set out in theatre style. We will provide BBC Radio Scotland branded cloths to cover the tables.
For those members of the audience whose questions have been selected and who will be called down to the front just before the programme starts. We will provide reserved notices for this seating (and any others that are required).
NB The total number of seats in your hall must comply with local fire regulations and with your hall's public liability insurance.
We also need the use of one meeting sized room near the hall to be our Green Room and Production Office. We will bring our own computers however it would be very helpful if you could identify a convenient computer and printer we could use for internet access.
Stewards on the day
Please provide a small team of stewards on the day to help supervise the morning. They should guide and seat the audience as they arrive; monitor parking arrangements and help collect questions.
A steward should be allocated to welcome the audience members as they arrive and collect their questions. Another steward should be allocated to help and meet the panellists as they arrive and take them directly to the green room.
If you would like to host us then please download the application form at the top of this page and send it to Brian@bbc.co.uk