Main content
The Witterlist - 11th January 2019
Mark and Simon returned for their first show of the new year, refreshed and ready to tackle the week's new releases – including a pair of biopics celebrating heroes from the worlds of comedy and literature.
If you've missed a show or just want to revisit some of our premium movie content, you can find highlights of all of our programmes on our dedicated Witterlist page.
The Interview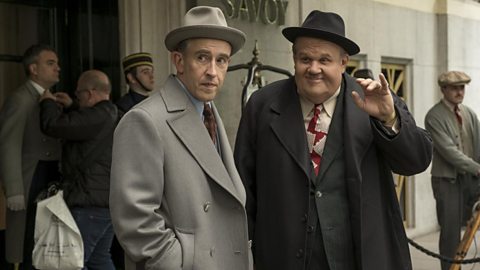 Steve Coogan & John C. Reilly talk to Simon Mayo about their new film, Stan & Ollie.
Steve Coogan and John C. Reilly spoke to Simon this week about their new biopic, Stan & Ollie, which covers legendary double act Laurel and Hardy's 1953 tour of the UK, just as the sun was setting on their comedy career. They told Simon about the kinship they felt with their respective characters, John's lifelong obsession with the comedy legends and how the UK showed them a lot of love when their career in the States was all but over.
Mark was won over by the film itself, seeing it as the perfect tonic to troubled times. The performances by Coogan and Reilly brilliantly capture the personalities and physicality of Laurel and Hardy, but Shirley Henderson and Nina Arianda are equally fantastic as the pair's scene-stealing wives, Lucille and Ida.
Last week, Keira Knightley talked to Edith Bowman about her leading role in Colette, playing the famous French writer who had to fight for recognition and her identity in early 20th Century Paris. Mark really enjoyed it, both as a film in and of itself and as a continuation of the themes of identity and self-discovery that director Wash Westmoreland (Still Alice) has explored throughout his work.
The new film from writer/director Jason Reitman (Tully, Juno, Up In The Air), The Front Runner is the true story of US Senator Gary Hart, whose 1988 presidential campaign was derailed when he was caught in a scandalous affair. Hugh Jackman stars as Hart in a performance that Mark enjoyed, but overall both he and Simon found it disappointingly lacking in punch.
A remake of the much-loved 2011 French comedy-drama The Intouchables, The Upside stars Kevin Hart as an unemployed man with a criminal record who makes an unexpected bond with a wealthy quadriplegic (Bryan Cranston) when he is hired as his helper. The original was a little over-sentimental, but the strength of the cast took it above and beyond its weaknesses. Sadly the American version's ensemble don't manage to pull off the same trick.
Next week
COPY 8
Next week Saoirse Ronan and Margot Robbie will be on the show talking about the duelling queens historical drama, Mary Queen Of Scots.
Hopefully Mark can spend the break in between shows recovering from his Holmes and Watson experience…