Main content
Summer Peach Dumplings
Served with Honeyed Crème Fraiche or Warm toffee custard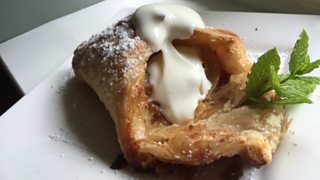 Ideal for Summer Entertaining
These are simple parcels that taste of Summer, sweet perfumed peaches baked in a spicy sugar. Good to serve either hot or cold and ideal for Summer entertaining as they can be made by using bought flaky or puffed pastry.
Ingredients
450 gms. (1lb.) puffed/flaky pastry
1 egg lightly beaten
Filling
4 flat peaches
50 gms (2 oz) of soft brown sugar
25 gms. (1 oz) of butter
Pinch of cinnamon or mixed spice
For Sauce
Honeyed crème fraiche – 125 mls mixed with 2 dsp. of honey
Warm toffee custard – 250 mls. of cooked custard mixed with 50 gms. of butter, 50 gms. caster sugar, cooked together for 2 minutes until toffee like.
Method
If using ready-made pastry, defrost, then roll and cut into 4 even rectangles.
Brush with beaten egg, remove the stones from the peaches, place one on top of each pastry square, and dust with, sugar, spice & butter. Bring the corners of the pastry together and seal well with beaten egg. Pinch the pastry to secure, brush with the remainder of the egg to glaze. Bake in the oven on a baking sheet 200 degrees C (gas No. 6) for 25 – 30 mins until puffed up golden and cooked.
Serve with a choice of sauce.