Main content
Dr Alex (Home Health Tests)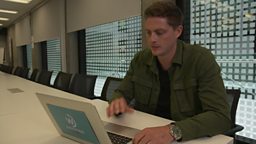 Home health testing products are now widely available online and in pharmacies. There are many types of products on sale- from DNA tests which claim to give an indication of predisposition to illnesses like cancer and Alzheimer's, to blood tests for conditions like diabetes and stomach ulcers. All of the tests can be carried out at home.
In this piece, A&E doctor and former Love Island contestant Dr Alex George talks about his belief that, while tests which give a clear yes or no answer, like a pregnancy test, can be useful- when it comes to tests which are less black and white, people should always go and see their doctor if they are experiencing symptoms. He is concerned that the kits could be used as diagnostic tools, when the kits give limited results and do not take into account the full health profile of a patient, as a doctor would do. Dr Alex met Cancer Research UK, who told him that they would advise people not to buy tests without the guidance of the NHS.
As part of this investigation, Dr Alex looked at the way online pharmacies Boots, Co-Op Pharmacy and Lloyds Pharmacy sold home health tests on their websites.
He looked at a diabetes blood test sold at Boots, which was advised for people experiencing excessive thirst and fatigue. He felt that people experiencing those symptoms should talk to a doctor instead of doing a home test.
He looked at a stomach ulcer test sold by Lloyds Pharmacy and Co-Op Pharmacy. The test cannot make a definite diagnose of a stomach ulcer, and so Dr. Alex again believed people would be bette off seeing a doctor rather than doing a home test which could leave them with more questions than answers.
He also looked at a genetic testing kit sold by Boots for up to £150. Among other tests, it offers to test for certain variations of the BRCA (breast cancer) gene, to give an indication of the user's predisposition to the illness. Genetics experts have told Watchdog Live that DNA tests like this give a very limited picture, as they only test for a small snapshot of possible genes which may affect your predisposition to cancer and other illnesses.
All of the pharmrcy websites and products did include caveats warning that tests should not be used in place of medical advice. But Dr Alex was also concerned by one page on the Co-Op Pharmacy website, which marketed home health tests as suitable for people who were experiencing "restless nights" about their health, in place of seeing a GP.
Statement from Boots:
"Boots has been helping people to live well and get better for 170 years. Our 6500 pharmacists are available without appointment to offer advice and information, and refer people to their GP when appropriate.
"The NHS long term plan wants patients take control of their health more, and help prevent serious illness through more awareness and better lifestyle choices. We make it clear that the home health check kits that we sell aren't a substitute for seeing your GP but for many people they are a useful way of understanding more about their health before going to see their GP with their concerns."
Statement from Lloyds Pharmacy:
"In order to promote self-care, home screening kits can play a useful role in the early stages of self-assessment but are by no means a replacement for proper diagnosis. Regardless of screening test results, we would always advise that patients seek advice from their pharmacist or GP. We have listened to Watchdog's suggestions and have reviewed the descriptions of home health screening kits on lloydspharmacy.com to ensure we provide clear guidance when using these products. As always, our community pharmacies are available for patients who prefer face to face consultations."
Statement from Co-Op Pharmacy:
"While home health testing kits are a useful first step for consumers, they are not a replacement for professional medical advice. This is stated clearly on the packaging and in the 'more information' section for products sold via our website. As you would expect, this information is carefully regulated by the relevant health authorities. However, we always welcome feedback on where we can better help customers choose suitable products for their needs and are grateful to BBC Watchdog for raising its concerns. As a co-operative, we are owned by consumers - as such, we have taken the decision to temporarily remove these products from sale while we review our approach. This will include asking our co-operative members about the level of information they would like to see from us – which we regularly do - and reviewing all point of sale information."
Statement from Medichecks (manufacturer of diabetes test featured):
"All Medichecks tests sold through Boots come with a doctor's interpretation and results are evaluated using all the information a customer provides about their health, including the reasons why they are taking the test, their medical and family history, lifestyle choices and anything else they would like to tell our doctors. "
"Our aim is to enable our customers to take control of their own health and become better informed about healthy lifestyle choices. We do not diagnose - we provide insights and always encourage people to see their doctor if they are experiencing symptoms and need a diagnosis for treatment. We also sign-post a customer to see their GP if any test result suggests they need further medical attention."
Statement from 1st Health Products (manufacturer of stomach ulcer test featured):
"In 2005, the Nobel Prize for Medicine was awarded jointly to Barry J Marshall and J Robin Warren for their discovery of the bacterium Helicobacter pylori (H pylori) and its role in gastritis and peptic ulcer disease. They found that the organism was present in almost all patients with gastric inflammation, duodenal ulcer or gastric ulcer and it is now firmly established that H. pylori is the cause of more than 90% of duodenal ulcers and up to 80% of gastric ulcers https://www.nobelprize.org/prizes/medicine/2005/press-release/
In a clinical trial of over 300 patients, 132 patients with positive histology and 172 patients with negative histology, the performance of the SELFCheck self test was compared with a comparable routine laboratory test and biopsy; including a test to detect H pylori antibodies, Helicobacter Urease Test (HUT test) and histology. Compared with laboratory antibody test, the self test gave a sensitivity of >98% and specificity of >96%. When the self test and HUT test were compared with histology, the sensitivities and specificities were similar.
The stomach ulcer self test detects current or recent infection with the bacterium H pylori. The packaging and information leaflet states that the test is not suitable if the individual has had recent antibiotic treatment for an H pylori infection, as the antibodies detected in the blood can remain for over a year after treatment. The leaflet also says that, "Not being infected with H pylori does not necessarily mean that you cannot get a stomach ulcer for another reason", followed by, "Always consult your doctor before making any important medical decisions".
Individuals considering a self test may already be taking over the counter medication for heartburn or indigestion without first consulting their doctor or pharmacist. A positive or negative self test result can help encourage individuals to seek advice and treatment for their symptoms from their GP earlier than they might otherwise have done.
All diagnostic tests, both those intended for self testing and laboratory tests for professional use sold in the UK, have to comply with strict regulatory requirements of the EU IVD Directive and obtain CE approval and certification.
As part of the requirements, all information provided in the instruction leaflets and on the packaging of self tests must be approved by doctors and scientists working for an independent Notified Body, for example; mdc, BSi or TUV. This is to ensure that the information gives appropriate advice on what individuals should do following a positive or negative result in a way that can be easily understood by non professional people.
Nevertheless, we would like to thank Dr Alex George and the Watchdog team for their input and appreciate that it is not always easy to convey medical information in a way that can be easily understood by everyone. SELFCheck tests can be a useful addition to a consultation with a medical professional and we always advise individuals never to make any changes to diet, lifestyle or medication without discussing this first with their GP."
Statement from 23andme (manufacturer of genetic test featured):
"The purpose of 23andMe is to act as a broad screen to identify genetic health risks you may be unaware of, especially for people who may not qualify for clinical testing. We don't market ourselves as a diagnostic test, or a test for people who have a family history of disease or other factors that should instead lead to clinical testing.
23andMe is the first and only direct-to-consumer genetics testing service with reports authorised by the FDA (Food and Drug Administration). As part of the FDA review process, we proved consumers could accurately understand our health reports - including what a '0 variant' result meant. A demographically diverse population study demonstrated a 90% or greater user comprehension. Further, as part of the FDA review process, we showed our test to be over 99.5% analytically accurate for the health reports we provide.
The scientific methodology used to develop our health reports is based on well-researched, peer-reviewed published studies. We make it very clear to our customers that our reports are not diagnostic. This is highlighted in various places on our website, and in the reports that our customers receive. There are several Health Predisposition reports, including our BRCA1/BRCA2 (Selected Variants) report that customers must actively opt into in order to view, as well as completing a multi-page educational tutorial before accessing these results, explaining the limitations of the report and what it can tell you."