Main content
"There's the pressure of being a man and then there's the pressure of being a black man"
1Xtra Talks looks at mental health in black men
To mark the BBC's mental health season, Reece Parkinson hosted a special 1Xtra Talks show looking at the intersection of race and masculinity when it comes to mental health.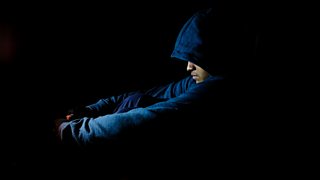 Reece was joined by SB:TV founder and entrepreneur Jamal Edwards MBE; psychotherapist Anthony Davis; Josiah Hyacinth from YouTube channel Mr200m; and Derek Owusu, author of Safe: On Black British Men Reclaiming Space.
A recurring topic throughout was just how difficult it can be for young black men to get support – and even to realise they need help in the first place. "Black men want to appear strong and not vulnerable," explained Davis. "It's a very taboo topic, to say you're in a low mood, or experiencing any kind of distress."
The speakers talked about mental health stigma, access to support, as well as giving an insight into their own personal experiences. Below are some the best talking points from 1Xtra Talks' mental health season special.
"Therapy isn't for when you're at crisis point"
Awusu, whose book looks at the black British male experience, said he'd suffered from depression since the age of 11. At the time, he "didn't want to go on medication, didn't want to go to therapy," and dismissed suicidal thoughts as a strange "fascination".

He stressed the importance of seeking help early on. He received therapy when he was "on the brink," and says: "That's the point I don't want people to get to. Historically, men don't go to GPs. We just ride it out. That's the same for mental health issues. Any little thing – go."
Medical professional David agrees. "Therapy is not to fix something. It's not for when you're at crisis point. It's a journey of self-discovery; a way to manage what's going on in your life. If you are even thinking about therapy, then try it."
Sharing your feelings is just the beginning
After asking for help with his mental health at university and getting "shunned", Josiah Hyacinth felt let down by his support system.
He took matters into his own hands by starting YouTube channel Mr200m, which he used to document his feelings. "With YouTube, I didn't see a black male saying: 'I feel sad.'" He says "everybody is an influencer" in today's society, so now is the time to use that influence properly. "Sharing is such a big thing – that was the motive for me."
Third party videos may contain adverts
And his YouTube videos inspired others to talk."A lot of guys came to us and thought 'this is the new cool.'"
He believes it takes a group of role models to stir other guys into action. Men "love being in a team and driven by a cause," he argues.
It's crucial to have positive role models
Edwards says that when launching SB:TV, the young entrepeneur lacked any real role models. "I didn't see anyone who I could look up to."
Davies argues that without role models, young black men can feel "isolated" in their community. "That can definitely take a toll on someone's mental state. You need positive role models, and it's difficult to do it on your own."
Although Edwards is staying tight-lipped on his new project, he says its aim will be to dispel the idea that if you're young and black, you don't belong. "In the media, you get a lot of articles that make us feel we're not worth something," he says, and that's something he's hoping to fight against.
If you have been affected by any of the issues raised in the mental health season, head to BBC Action Line.