Main content
When music mattered: The untold stories behind 10 great rock photographs
10 November 2016
Rock photographer MICHAEL ZAGARIS didn't just snap the biggest names in '60s and '70s music, he lived the times as well - and has the stories to prove it. His book Total Excess lays bare the era when, he says, the music of Bowie, Dylan, Joplin, Iggy, Blondie and Zeppelin, 'deeply mattered'.
Janis Joplin and Big Brother and the Holding Company at The Northern California Folk Rock Festival, San Jose, California in 1968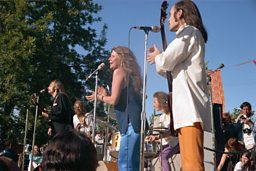 Photograph © Michael Zagaris Photography LLC / Reel Art Press
In the spring of 1968 I split my time as a law student at Santa Clara University and working on the presidential campaign for Senator Robert F. Kennedy.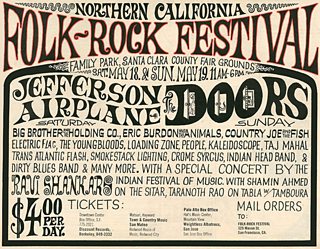 Handbill for the Northern California Folk-Rock Festival
I saw a handbill on a telephone pole in San Jose announcing the Northern California Folk Rock Festival with an unprecedented line-up featuring the likes of Jefferson Airplane, Country Joe and the Fish, Steve Miller, Grateful Dead, The Youngbloods, Big Brother & the Holding Company, Electric Flag, The Doors and Ravi Shankar.
I was supposed to be with the Kennedy campaign that weekend but called in sick and showed up at the festival armed with one camera and two rolls of film. My plan was to shoot one frame of each band and then maybe the second roll on The Doors and Ravi Shankar.
Talking my way into the pit area in front of the stage I carried out my plan and halfway through my first day noticed a photographer with a corduroy coat, brown hat and many Leica bodies dangling from his arms. Confronting a fraternity guy, the photographer pulled what looked like a Bowie knife on him.
I said, "Hey man, is that knife real?" The photographer put the knife to my throat, "Yeah, ------------, it's real." Then whipping a gun out from the back of his waistband, "And so is this!"
I asked, "Who brings a gun and a knife to a peace and love festival?"
"I do!" he barked. "Who are you, man?", I responded.
He says, "I'm ------- Jim Marshall!". We became friends for life from that moment on.
Jim Morrison falls on stage at The Northern California Folk-Rock Festival in 1968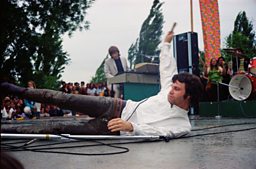 Photograph © Michael Zagaris Photography LLC / Reel Art Press
The show was incredible. Steve Miller, the Airplane, Big Brother, the Dead were all at their height in what was an exploding San Francisco music scene a year after the Summer of Love. Country Joe took the stage in a white suit celebrating the birth of his first child a few hours before. Janis Joplin galvanized the crowd with an hour long set as Sam Andrew and the rest of Big Brother played behind her.
Jim (Marshall) and I continued to talk and gradually made our way backstage, which was basically stepping under the rope. There were four or five U-Haul trucks and a large gathering of people, with Hells Angels among them. When The Doors showed up, Jim Morrison—clad in Lizard pants and a white Doctor Zhivago shirt—saw Jim, walked over to us, lit a cigarette and said, "Marshall, what are you doing here?" "This guy knows everybody," I thought.
By the time The Doors took the stage it had clouded up and a light rain had begun to fall. At that point in time, The Doors were probably the biggest band in America, with their song Light My Fire becoming that summer's anthem.
Jim prowled the stage like a panther, moving, feigning, growling, singing. He seemed pretty stoned, at one point slipping and falling onto the stage. Rising to his knees he reached out and placed a hand on my shoulder, I thought to steady himself and stand. Instead he leaned over my shoulder and proceeded to throw up, scattering the people behind me. Wow . . . it doesn't get any better than this! Ravi Shankar closed the show on a much more sedate and meditative tone.
Jimmy Page of Led Zeppelin at the band's Day on the Green shows, Oakland in 1977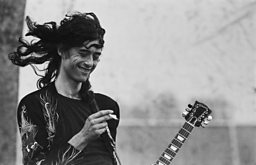 Photograph © Michael Zagaris Photography LLC / Reel Art Press
Led Zeppelin were winding up their summer tour in 1977 when I got a call from a friend telling me that Zeppelin was looking for someone to shoot their two Day on the Green shows (in Oakland, California). I contacted Danny Goldberg and was told to meet them at their hotel, the St. Francis.
I told a friend of mine I'd be working with the band and Peter Grant (Zeppelin's manager) and he told me, "Nobody works with Peter Grant, you only work for Peter Grant." Peter was an imposing presence, menacing to say the least.
Talking to John Bindon, one of their roadies, I told him, "I've heard that Peter has done some time." Bindon looked at me and said, "Time . . . right." I asked, "What did he do?" "Well, he did time for manslaughter. It's what they give you if you've murdered some bloke and you've got bread."
Michael Zagaris with Joe Strummer at Mountain View in California, 2002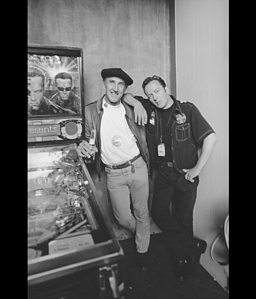 Photograph © Michael Zagaris Photography LLC / Reel Art Press
Zagaris on Zagaris
Michael 'Z­-man' Zagaris is known for sports photography as well as music, having worked as team photographer for the San Francisco 49ers and the Oakland Athletics for over 30 years. After witnessing the assassination of Senator Robert F. Kennedy while working as his speechwriter, Zagaris became immersed in the counterculture movement and photography, capturing bands at venues across the San Francisco Bay Area. In this book extract, he sets out the Z-man legend - as he sees it.
Michael Zagaris is an American original, one of those chroniclers of our time with the intelligence, intuition, magical touch and sheer damn luck to always be in the right place at the right time.... These were the days when rock giants strode the earth, and shared a joint with you in the park - when music deeply mattered, when it saved your soul. Z-Man was present at the creation, and he got it all on film. Enjoy the show.
Pete Townshend of The Who photographed backstage at the Oakland Coliseum in 1976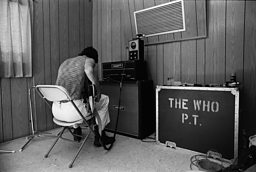 Photograph © Michael Zagaris Photography LLC / Reel Art Press
The Who came back to San Francisco that fall to play two days outside before a packed house at the Oakland Coliseum, with The Grateful Dead opening for them in what Bill Graham presented as a Day on the Green. With Indian summer weather it was a festive atmosphere as members of The Who's party came together with the Dead family.
It was like a giant picnic with Bill Graham, both bands and their friends mixing, laughing and getting high together. Pete and I hung for a while as he tuned up and then we strolled into another trailer where Jerry Garcia was holding court with Robert Hunter, Phil Lesh, John McIntire, Billy Kreutzmann and Jerry's girlfriend, Deborah. It was the most relaxed I remembered seeing everyone before a show.
Patti Smith photographed at the San Francisco Old Boarding House in 1975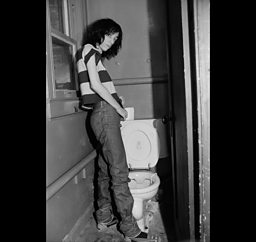 Photograph © Michael Zagaris Photography LLC / Reel Art Press
The night of the show I met Patti backstage and we hung out and talked as I took photos. At one point Ivan Kral, who was her co-writer and bass player, was discussing that night's set with her and I was enamored with Ivan's vintage (c.1957) Milwaukee Braves jacket he was wearing. (Ivan, if you still have that jacket, please give me a ring.)
Patti was trying on different hats and scarves, finally saying, "Do you think we've got it?" I said, "We've got some nice images so far, but what I think they're really looking for is a portrait." Patti walked into the bathroom and standing next to the toilet she asked, "How is this for a portrait?"
Neil Young, Bob Dylan and Rick Danko of The Band at the SNACK Benefit in San Francisco, 1975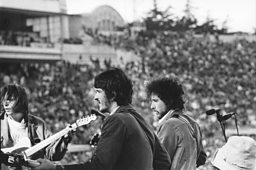 Photograph © Michael Zagaris Photography LLC / Reel Art Press
When the musicians took to the stage and started playing it was a who's who, with the likes of Neil Young, Rick Danko, Levon Helm, Garth Hudson and Bob Dylan. The crowd went crazy when Dylan began to play and by the time they went into Knockin' on Heaven's Door. it was beyond amazing. In 1975 you rarely ever got musicians of that stature playing on the stage at one time. As I shot and looked around at the various luminaries behind the amps on stage and taking in the energy from the sixty thousand people at Kezar (Stadium, San Franciso) that afternoon, it felt as if we were all levitating.
Blondie photographed at the Conservatory of Flowers in 1977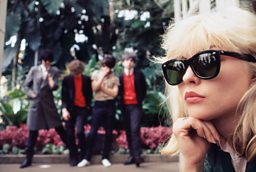 Photograph © Michael Zagaris Photography LLC / Reel Art Press
Blondie came through town (San Francisco) while on tour with Iggy Pop and David Bowie and were playing at the Berkeley Community Theatre. They were staying at a seedy hotel downtown on the edge of the Tenderloin. I was shooting them on assignment for either Creem or After Dark magazine.
I met them in the lobby and we decided to start by going on the roof to take a few shots. It was perfect and they seemed like veterans of photoshoots, moving and changing with each click of the camera. From there we all piled into my little Toyota and drove to Golden Gate Park where we went to the Conservatory of Flowers, which was built at the turn of the century for the San Francisco Exposition.
It exuded the charm of nineteenth century Europe. The soft muted light and jungle foliage inside provided the perfect juxtaposition to the band and Debbie Harry. She channeled a Marilyn Monroe-esque glamour, fronting the band's gritty East Coast urban feel.
David Bowie at the Oakland Coliseum on his Isolar II tour in 1978

Photograph © Michael Zagaris Photography LLC / Reel Art Press
By the time I got to shoot David in 1978 it was at the Oakland Coliseum on his Isolar II tour supporting the Low and Heroes albums. While I wasn't quite sure what to expect, I did know that with David you would always get more than a show, you would get a carefully crafted and well thought out performance.
From the moment he took to the stage I was completely enveloped by the atmosphere, the lights, the music . . . his fashion, his persona. That was the ongoing gift David Bowie gave to us all right to the end.
© Michael Zagaris Photography LLC / Reel Art Press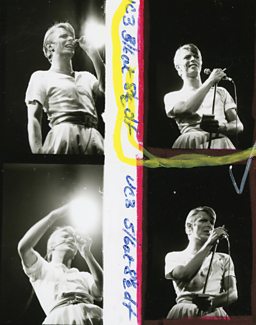 © Michael Zagaris Photography LLC / Reel Art Press
Iggy Pop at an airport terminal waiting for his flight back to L.A. in 1979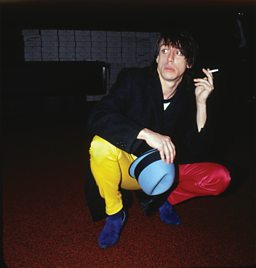 Photograph © Michael Zagaris Photography LLC / Reel Art Press
I had wanted to shoot Iggy for years and kept missing him every time he came through town. Iggy spent a lot of time in San Francico and often hung out and partied with various friends of mine who were in the Cockettes scene. Maybe it was good fortune that we never connected in that milieu for both our sakes.
As fate would have it I ran into Iggy at the airport one afternoon going to pick up a friend. I'm walking through the terminal and there was Iggy dressed almost as a court jester and yet in his satirical splendor went unnoticed by the masses, but not by me.
I was always packing my camera and went over and ended up taking a few shots. Iggy and I spoke a bit while he gave a few playful gestures, vogueing for the camera, though at the same time he appeared to be inhabiting another universe, waiting for his plane back to Los Angeles.
All Images © Michael Zagaris / Reel Art Press
Total Excess: Photographs by Michael Zagaris is published by Reel Art Press.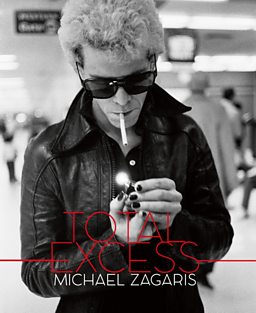 Lou Reed on the cover of Total Excess: Photographs by Michael Zagaris, published by Reel Art Press