Main content
The Draw of War: Walt Disney and World War Two
To mark the 70th anniversary of the end of World War Two, Donald Duck Gets Drafted sees acclaimed political cartoonist Gerald Scarfe explore Disney's fascinating contribution to the war effort – which reportedly landed Walt a place on Hitler's personal hit list. The programme's producer Kellie Redmond reflects on this little known part of wartime history…
In December 1941, Time magazine was about to print its end of year issue, its front cover carrying a big picture of Dumbo - that loveable elephant with the gigantic ears who had helped The Walt Disney Studio achieve soaring box office figures that year.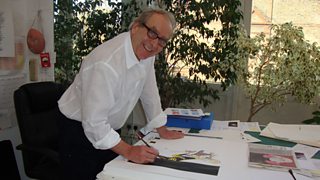 Gerald Scarfe in his studio.
But on 7 December, Japanese aircraft attacked Pearl Harbour, abruptly bringing America into World War Two – and ousting Walt's latest creation from the front page.
Yet, if the war led to a dip in Disney's fortunes, it was only a temporary one.
Within just six months, The Walt Disney Studio in Burbank, California, was declared a war plant. Its filmmaking capacity was given over to the Allied effort and its well-loved cartoon characters all enlisted to do their bit for their country - from Donald Duck and Pluto to Mickey Mouse, Snow White and beyond.
Through a mix of groundbreaking military training films, features and propaganda shorts, as well as insignia, books, posters, and much more, Disney sought to boost troops' morale on the frontline and promote government policies on the home front.
As someone fascinated with animation history (my last BBC Radio 4 documentary was about Cosgrove Hall, the iconic British animation house behind Danger Mouse and Jamie and The Magic Torch and more), I was surprised just how little known Disney's wartime role is within popular culture today. So with the BBC marking the 70th anniversary of the end of World War Two, it was a side to the war that I felt was more than worthy of shining a light on.
If the war led to a dip in Disney's fortunes, it was only a temporary one.
And who better to present Donald Duck Gets Drafted than acclaimed cartoonist Gerald Scarfe? Known for his political drawings (as well as his iconic images for Pink Floyd's The Wall), Gerald was himself inspired to become an artist after seeing Pinocchio at the cinema as a child, and went on to be production designer on Disney's 1997 big screen animation Hercules.
Having grown up during the war too, in the programme Gerald is also able to provide a vivid personal account of one of the more shocking wartime pieces that featured a Disney character. It was an item that was intended to calm children during The Blitz and which I won't spoil by revealing here. Listen to the programme to discover just what it was.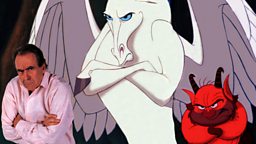 Gerald Scarfe with his illustrations from the Disney film Hercules
Meanwhile, the military training films that The Walt Disney Studio produced were not just technically innovative. The films were strategically important too. For the first time, animation was effectively used to help large numbers of troops visualise combat situations before reaching the battlefront.
Disney never referred to such films as 'propaganda' but officially re-named them 'psychological productions'.
America's entry into the war also revealed its true potential on the Home Front: as a propaganda machine. Although - concerned as ever with the wholesomeness of its image – Disney never referred to such films as 'propaganda' but officially re-named them 'psychological productions'. This included several humorous anti-Nazi shorts including Der Fuehrer's Face, which went on to win an Oscar.
However, there were no gags in the 1943 propaganda short that followed – Education for Death – adapted from a book of the same name by Gregor Ziemer. It is a powerful film that shows the indoctrination of a little German boy named Hans, from his birth to his death. It is a far cry from the classic films featuring cute talking animals and spirited princesses that we tend to associate Disney with nowadays, and may prove something of a shock to fans of the Studio's well-honed feel-good films.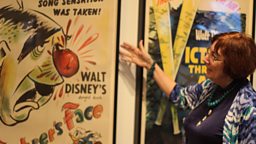 Paula Sigman-Lowery of The Walt Disney Family Museum commenting on a Disney poster depicting Hitler.
Another recognised side of Disney's empire today is of course the merchandise that accompanies each of its movies, and is something Gerald Scarfe recalls being part of the early design stages during the making of Hercules. The power of Disney's characters to exist off-screen in this way was already in full-effect back in the 1940s when Walt threw his weight behind the war. But this took on a very different role during wartime in the shape of the military insignia that the Studios provided - completely free of charge - to any troops who requested them. Much-loved Disney characters were re-drawn to include military paraphernalia, which members of the Allied forces would then put on the side of their vehicles, uniforms and more.
It is hard for us to comprehend today just what it meant to those fighting on the frontline to have an insignia designed especially for them by Disney or, indeed, for movie-goers getting tickets to see Donald Duck and friends advocating government policies on the big screen. But many Americans had shared their childhood with Walt, growing up on his cartoons and been a part of the 1930s Mickey Mouse Club – which was something of a cultural phenomenon and at the time had even more members in The States than the popular boy scouts and girl scouts movement combined.
In the programme, we also explore why it was Donald Duck rather than Mickey Mouse who became The Studio's wartime mascot, as well as Walt's own personal role as a Goodwill Ambassador in South America, intended to help stem potential Nazi influence across the continent.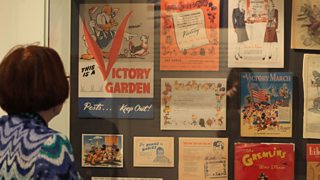 But what motivated Walt to use his inkwells as weapons of war in the first place: was it pure patriotism or just a shrewd business move? Before the war, Disney distributed its films to around 55 countries. By 1944, 81% of box office revenue is said to have been generated by just three: the US, Canada and the UK. So it's clear the Studios needed to find alternative ways to keep afloat to survive.
Yet, Disney made a lot of the wartime animations for the government and military at cost, even bankrolling the air strategy film Victory Through Airpower himself, not to mention the insignia his Studios created for troops entirely for free. In Donald Duck Gets Drafted we look at whether a certain personal incident in his youth led to a deep-seated patriotism that potentially over-rode commercial interests.
And, of course, the programme reveals that film which reportedly put Walt on Hitler's own personal hit list. A clue: it involves raspberry noises and an unflattering Adolf animation.
Listen to Donald Duck Gets Drafted, part of the pan-BBC programming marking the 70th anniversary of the end of World War Two.
Video game evolution: telling stories and stirring emotions in a uniquely interactive way.

Jameela explains why her revelatory journey through sexual politics is a "must listen".

Featuring salamanders that can regrow limbs, cyborgs, and pigeon whistles.

Illuminated snails dancing, sculpted ash trees and music playing for 1000 years.

Link the pithy remark to the artist and be the maestro of the music journo quiz.

Do you know your dermabrasion from your exfoliation? Take this beautiful quiz to find out.

Bridgitte Tetteh writes about an issue affecting single black women.

Artist Roger Hiorns has always been fascinated by the idea of burying planes.

Jonathan Izard explains how a car accident on New Year's Eve changed his life.

View pieces created in the American military detention centre.

These amazing coincidences were shared by our social media followers.

Rhianna Dhillon recommends a podcast that may point the way to a cure for a form of the disease.

Think you know your Suffragettes from your Suffragists? Take this quiz to find out!

These remarkable women have made a real an impact on democracy in their countries.

What is the leftist movement that has been making headlines?

Viv Groskop gathers some of the best Soviet satire and proletariat punchlines.

What Brian Kernohan learnt about himself and our relationship to wigs.

Could we really live by our lives by the words of a slogan? Possibly not...

The poet and broadcaster ponders his need to make the clock bend to his will.

A guide to who counterfeits wine and how the Wine Detectives catch them.

Once forgotten, the author is now revered by Alice Walker and Solange Knowles.

From Tom Jones to Adrian Mole, have a look at lust in literature.

The Hollywood star has experienced the highs and lows of what fame has to offer.

The journalist looks into a new strain of viral advertising.

Phyllis Bottome is little known today, but did she inspire Ian Fleming?

DJ and presenter Bobby Friction on how to escape the online echo chamber.

A travel guide like no other, for black motorists in the mid-20th Century it was a catalogue of refuge.

A visual journey into the heart of racism in the American deep south.

Bridgitte Tetteh explores attitudes to female bodies in the black community.

If we catch you cheating you will be escorted out of the internet.

Art critic Martin Gayford learns what it's like to be painted by a modern master.

The Sex Pistols visited Yorkshire twice, but what impression did they leave?

Pet Sounds and Blonde on Blonde were both released on 16 May 1966, but which do these lyrics come from?

Ian McMillan watches from the side lines in South London

Jolyon Jenkins investigates whether meditation can do you more harm than good.

The band member recalls the anarchistic joy of a truly unique group.

The team of recovering addicts who made their mark on cinematic history.

David Aaronovitch on how an Eastern political tract became a Western icon.

David Bowie's interviews reveal his humour, passion and determination to succeed.

Did Nazi leader Hermann Goering have a brother who saved innocent lives from the Holocaust?

A selection of great female authors who have radically altered the genre.

Dream away those mid-winter blues by pondering our selection of fantasy idylls.

Mat Fraser meets the former striptease stars back on the stage in their 70s and 80s.

The legendary radio maker recommends seven great documentaries for Seriously...

A poetic retelling of the Orpheus myth, from the celebrated writer Neil Gaiman.

An aspiring singer-songwriter meets the man who predicted the demise of the music industry decades ago.

What have you learned from our documentaries? Try our fiendishly difficult quiz...

Kellie Redmond explores Disney's fascinating contribution to the war effort.

The Simpsons star, satirist and actor reflects on the flood that devastated his home town of New Orleans.

Meet five codebreaking women who helped beat the Nazis and are still alive to tell their tales.

Seven reasons to love the modern melodic drum that creates a haunting tone.

The award-winning writer on porpoise dissections, stranded whales and beached dolphins.