Main content
Composition: Wales
Composition: Wales 2017
Open Workshops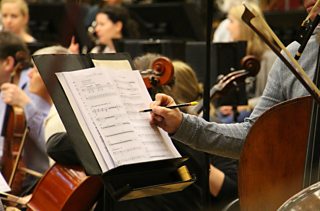 Monday 30/1/17
10am-1pm, 2-5pm
Thursday 2/3/17
2-5pm, 6-9pm
Friday 3/3/17
2.30-5.30pm
Culmination Concert
Friday 3/3/17
7pm
The chosen pieces for Composition Wales 2017 are:
Max Charles Davies Tiny Symphony
Ben Heneghan Outbreak
Adrian Hull Horpinem for Symphony Orchestra
Anselm McDonnell The Pearl – Movement IV
Carlijn Metselaar Leap
Nicholas Olsen A Shade or Two Darker
Daniel Soley Do Not Go Gentle
Lawrence Whitehead Mare Vergivium: on the Celtic Sea
BRIEF: The perfect concert opener or an encore for a BBC National Orchestra of Wales concert, such as St David's Day or an international tour.
Follow the story on twitter via #CompositionWales
This project forms part of the learning activity of the BBC National Orchestra of Wales, showcasing works by composers in Wales worthy of wider exposure. It is organised in collaboration with Composers of Wales, Tŷ Cerdd and Welsh Music Guild.
How to Apply
Applications are now closed for Composition Wales 2017. For further information about Composition Wales, please email now@bbc.co.uk
Get in touch
Tel: 0800 052 1812
Fax: 0292 055 9721
Email: now@bbc.co.uk