Main content
Introducing celebrates Reading + Leeds in 2020
29-30th August
BBC Music Introducing will be celebrating artists who have performed on the BBC Introducing Stage at Reading + Leeds Festival over the years.
There will be special editions of BBC Music Introducing on Radio 1 with Huw Stephens (Sunday, 11–1am) and The BBC Introducing Mixtape on BBC 6 Music (Sunday, 1–2am), which will be hosted by Linda Serck from Introducing in Berkshire. These will take a look back at standout performances from the Introducing Stage, as well as featuring interviews with some of the artists who have played the festival.
Local Introducing shows across BBC Radio Leeds, BBC Radio York, BBC Radio Humberside and BBC Radio Sheffield will come together in a four-way simulcast (Saturday, 8–10pm) to celebrate Introducing acts from across the North of England who have performed at the festival, while BBC Music Introducing in Berkshire will recognise Introducing artists from Reading and the surrounding areas (Saturday, 8–9pm). Across the weekend, all 36 of BBC Music Introducing's local radio shows will play out past live performances at the festival by Introducing artists from their own local areas.
A selection of performances from the BBC Music Introducing Stage at Reading Festival in years gone by are available to relive, including The Big Moon, Georgia and Olivia Nelson.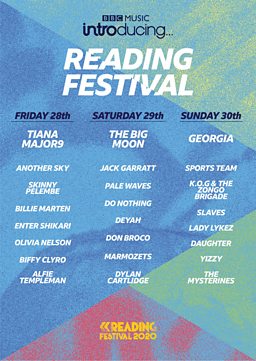 It wouldn't be Reading without a line-up poster! Here's our virtual line up of archive performances from there over the years
Friday
East London born Tiana Major9 brought us a slaying set in 2018 including song Mr. Mysterious

All the way from the North East to Reading, enjoy Another Sky's performance of The Cracks from 2019

A very special surprise set in 2019, Enter Shikari smashed with their song Live Outside

One of the first ever surprise sets for Introducing at Reading; we love this Biffy Clyro throwback from 2008!
Saturday
Do Nothing took to the stage last year and performed Gangs, definitely making themselves known

Rapper Deyah (previously known as Nonamedisciple) spoke the truth with No Chicken in 2018

The Introducing Stage in 2018 sounded stunning with Dylan performing Scratch, Sniff
Sunday
We first became obsessed with Georgia in 2015 and her Reading set including Move Systems!

2018 gifted Introducing with a lot of great music including Sports Team and their tune Stanton

K.O.G & the Zongo Brigade brought a horn section and a whole LOT of Jazz energy in 2016

Lady Lykez from Birmingham smashed the introducing stage in 2012 bringing big crowds with It's Not Your Hair

Last year's line-up included Merseyside's The Mysterines and their banger Gasoline