Main content
The judges' predictions: 8 deadly bots to watch out for in series 10 of Robot Wars

From left to right: Judges Professor Sethu Vijayakumar, Professor Noel Sharkey and Dr Lucy Rogers
Dara Ó Briain and Angela Scanlon are back with the most thrilling series of Robot Wars yet, along with unforgettable commentary from the legendary Jonathan Pearce.

The latest series features 30 ferocious fighting robots including old favourites alongside newer, more deadly machines.

Judges Professor Sethu Vijayakumar, Professor Noel Sharkey and Dr Lucy Rogers oversee the robotic destruction and offer their thoughts on the bots to watch out for.

Three... two... one... ACTIVATE!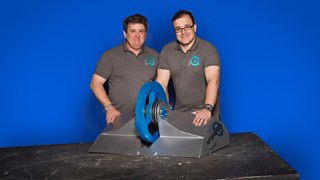 Aftershock
Weapon: Vertical spinner

"A spinner that made me quake in my seat during last series whenever it span up that enormous 24kg disc of theirs.

"Team Captain Will and Dad, Ian showed some great spirit in their journey during the Grand Final last series, with a bit of luck this time, they could be in with a chance."

— Dr Lucy Rogers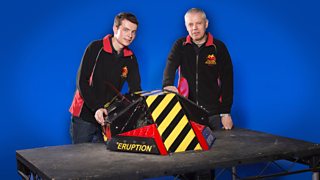 Eruption
Weapon: Flipper

"This may be an obvious robot worth looking out for as it was last series Runner-Up but it is undeniably an extremely well built wedge flipper robot, fast and highly manoeuvrable.

"It is a favourite of mine to do well mainly because of the driving skills of Team Captain Michael.

"He's a smart fighter and highly strategic and I am very interested to see what Michael and Dad, Adrian have up their sleeves this series."

— Professor Noel Sharkey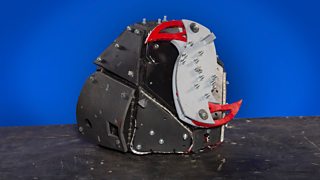 Expulsion
Weapon: Spinner

"A very bright school team that got taught a real lesson in their group battle last series."

"Back with a completely redesigned machine, I am looking forward to seeing what they can do with the resources and skills available to them. Team Captain Georgina is definitely a roboteer to watch out for in the future."

— Dr Lucy Rogers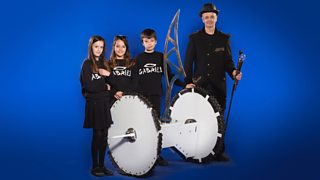 Gabriel 2
Weapon: Mace bot

"A team that featured last series with Cherub, if Team Captain and Driver, Toby, can keep up the tactical aggression he showed but with a robot with a vastly stronger weapon in Gabriel 2, they could be very effective this series."

— Dr Lucy Rogers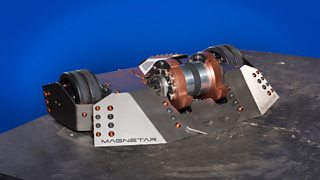 Magnetar
Weapon: Drum spinner

"In it's previous iteration as Pulsar, this incredibly well engineered machine startled us all with the power of its drum and that scary siren sound it makes when getting up to speed."

"It didn't do as well as I thought it would last series and was let down by a couple technical problems. Now, as Magnetar, it has had a major upgrade and I think that Team Captain Ellis could be onto a winner."

— Professor Noel Sharkey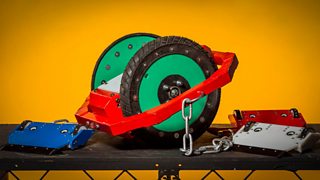 Nuts 2
Weapon: Spinner

"It may seem odd, but I think that Nuts 2 is worth watching this series."

"They have been the clowns of Robot Wars for the past couple of series with their crazy design."

"Nuts 2 may look just the same as it's previous version but when you look closer it has a much more robust frame and massively upgraded motors to power those enormous flails."

— Professor Noel Sharkey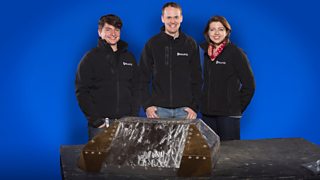 Rapid
Weapon: Flipper

"Rapid was a disappointment last series, with promises of enough power to flip a transit van 1m into the the air going unfulfilled due to technical issues causing them to withdraw from the competition."

"Team Captain Josh may seem unassuming but he has the spirit of an inventor who refuses to take the word 'no' for an answer."

"This machine is assured to take the fight to the real heavyweights of the competition and I look forward to seeing what it's capable of in the arena."

— Professor Sethu Vijayakumar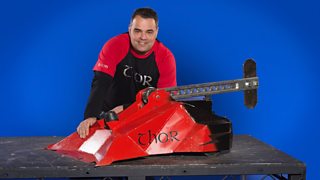 Thor
Weapon: Axe Bot

"Team Captain and fan favourite Jason is a one man army, with tremendous driving skills and an irrepressible resilience to bounce back from even the biggest of hits to his robot."

"This series, Thor's armour looks much stronger, and he has shored up the defence with a low lying scooper that hugs the ground, not to mention having 5 interchangeable axes."

Overall, Jason and his beloved Thor look like a very strong contender for the Robot Wars trophy."

— Professor Sethu Vijayakumar
Questions to – and answer's from – the programme's hosts.