Main content
5 acts Tiffany Calver is tipping for huge things in 2019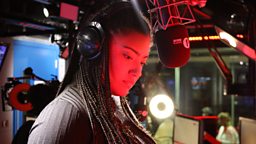 January is all about new beginnings, and Tiffany Calver has kicked off the year by taking over the 1Xtra Rap Show, picking up the mantle from Tim Westwood and Charlie Sloth. Judging by her first two shows, she's guaranteed to bring the fire to a non-stop party every Saturday night, packed full of some of the biggest hip-hop tracks on the planet.
Live in the mix, this week's show is all about the future.
But in between the big names, last weekend Tiffany gave shout outs to five new acts she's backing for huge things in 2019. Take a look at who she's tipping:
Third-party videos may contain adverts
A New York-born rapper's fourth mixtape Nasty resulted in huge acclaim, mixing scattershot beats with a seriously hard delivery.
Tiffany says: "She describes her sound as "sugar-trap", I describe her as "fire flames.""
Third-party videos may contain adverts
This genre-fusing star is everywhere, featuring in 1Xtra's Hot For 2019 and winning BBC Sound of 2019. And it's all down to his future-facing rap, best showcased on last year's Spaceman mixtape.
Tiffany says: "It's been a huge week for this guy – huge 2018 too. And I am so excited to see what 2019 holds. Including a freestyle on my show, right? You have to do it now I've said it. This guy's completely changing the game, he's super original."
Third-party videos may contain adverts
You'll have heard Flipp's gigantic Leave Me Alone track, which broke through in 2018. He's signed to Joey Bada$$' label Cinematic Music Group – expect more new music this year.
Tiffany says: "He's a kid from Brooklyn. All my Haitian gang, he's one of you guys!"
Third-party videos may contain adverts
21 Savage has been keeping things in the family by collaborating with his super-talented cousin Young Nudy. Tiffany is tipping the Atlanta newcomer for greatness.
Tiffany says: "If you could have a cousin, I'm not gonna lie: 21 Savage would be the one. I met [Nudy] out in Atlanta. Super lovely guy. We ate some cookies."
Third-party videos may contain adverts
The East Atlanta rapper went toe-to-toe with one of the greats, J Cole, on a collaboration last year, and 2018's Dicaprio 2 album was a big statement of intent.
Tiffany says: "I didn't get to meet him when I was in the ATL. But next time!"