Main content
Steve Davis: From snooker table to mixing desk
15 April 2016
Steve 'Interesting' Davis has many claims to fame - not least being a six-time snooker World Champion. In 2016 he added to the list by DJing at super-cool electronic music festival Bloc (see BBC Sport's behind-the-scenes film) and being portrayed in BBC iPlayer's first comedy drama feature film, The Rack Pack. Music has always been a huge part of Steve's life (just check out his Desert Island Discs selection from 1983), so ANDREW LOCKYER asked him to tell us about some of his musical milestones.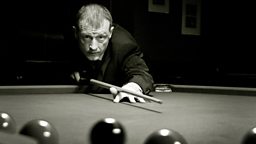 When my vinyl addiction began
In my teens I had a Saturday job working in the butcher's department of a supermarket in Woolwich. I earned £2.80 a week and I'd blow most of it on records. The first single I ever bought was Neil Young's Heart of Gold and my first album was In Deep by Argent. Nowadays I exclusively buy vinyl unless something's only available on CD as it's more tactile and the artwork is better. I've got far too many records - thousands and thousands. It's out of control.
I exclusively buy vinyl unless something's only available on CD
When my ears were opened
It was my school friend Neil Rogers who showed me there was more to music than the charts and opened my ears to Frank Zappa and the Canterbury scene bands like Soft Machine, Caravan and Hatfield and the North.
When my mind was blown
Neil and I were big fans of Isotope and one night in 1975 we put on our Afghan coats to see them at the Roundhouse. They were supporting a band called Magma who I'd never heard of. They blew me away. You don't get many moments like that - it was the musical equivalent of winning my first world championship. Years later I really wanted to see Magma again and booked them into the Bloomsbury Theatre for three nights. Unfortunately I didn't realise there were 14 of them in the band!
When I became a musician (briefly)
I bought a piano in the 1980s and had lessons but never really got anywhere. I did however get invited on to Leo Sayer's TV show to play Lean on Me. For me, DJing is a way of sharing the thrill and joy of music with other people even though I can't play it myself. [Steve's being unduly modest as he had a top 10 hit in 1986 with Snooker Loopy, though that was largely the work of Cockney geezers Chas & Dave.]
When I became a presenter
I was a big soul music fan and started doing a show on my local community radio station Phoenix FM. When they got a full-time licence in 2007 I said I wanted to do something different and the Interesting Alternative Show was born. We play proper music, not just people banging stones and whacking a frying pan. My co-presenter Kavus Torabi has opened my ears to lots of stuff I wouldn't have known existed like offshoots from his band Cardiacs such as Knifeworld, William D. Drake, Stars in Battledress and North Sea Radio Orchestra.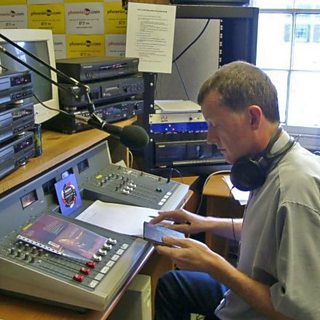 Steve in action on Phoenix FM
When I discovered electronic music
Matt Baber from Sanguine Hum came on the show and played some Boards of Canada which I really liked so he introduced me to lots of other leftfield electronic artists. I've bought a lot of stuff on the Warp label. Ironically they used to be based just up the road from the Crucible in Sheffield so I must have walked past every year. That shop sold so much music I now drool over but I'd never have gone in then as it was going boof-boof out the door and I was into soul.
When I became a DJ
DJing is just a hobby and I'd never considered doing it in public until 2014 when I played a night at the Redchurch Brewery Tap Room in Bethnal Green. Then George Hull from Bloc heard the radio show and called up my agent who nearly knocked it back instantly. George has assured me I won't have to beat-match and fill the dance floor. It's more for the strokey-beard people. I'm also going to referee a pool competition for all the DJs and the winner will get to play me.
2016
I'd like to do a national radio show to give more exposure to the artists I love. I'm also determined to find another sports person with eclectic musical tastes who we can have on the Interesting Alternative Show. There must be someone out there who reads The Wire, likes Prefuse 73 and has heard of Eskaton. Get in touch!
Steve Davis: Snookerstar DJ
The Rack Pack
BBC iPlayer's comedy drama, The Rack Pack, looks back at snooker's 1980s glory days, focusing on the rivalry between Alex 'Hurricane' Higgins - mercurial, explosive, a natural showman - and Steve 'The Nugget' Davis - clinical, ruthless, 'boring'.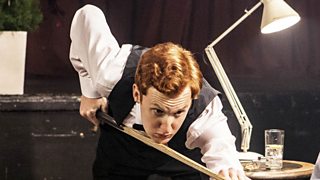 Will Merrick as Steve Davis in The Rack Pack
Higgins, the bad boy of the sport, lives on the edge and plays to the crowd – desperate for approval and love. Davis has an aura of invincibility, methodically and clinically playing his way to the top, helped by legendary manager Barry Hearn.
Higgins' chaotic life away from the table saw him battling not just his sporting rivals, but his inner demons and loving wife.
"It's a bit strange thinking that an actor is going to play the part of me," says Steve, "but what a compliment that someone has thought the story of snooker and some of the main protagonists are worthy of a 90-minute film.
"I've not yet seen it but everyone who has says it's brilliant. Apparently I am hilariously nerdy!"
The Rack Pack is available now on BBC iPlayer.
Watch trailer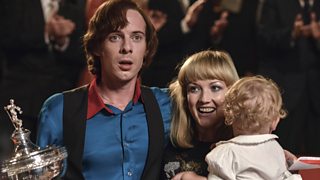 Two megastars, one sport and a fight for victory. This is snooker 80s style.
Steve's current top 5 electronica tracks
Steve's current 5 favourites from the world of Avant-Progressive/Rock In Opposition
The Interesting Alternative Show is on Phoenix FM on Monday nights at 10pm.
An earlier version of this article was published on 14 January 2016.
Warning: Third party content may contain adverts.