Main content
Curry: The New Hot Ingredients
Stuck in a curry rut? Here's a list of the must-have ingredients every curry king or queen owns.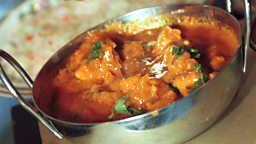 Rattan jyoth
Rather than using paprika or heaven forefend, colouring, to get the red colour into your Rogan Josh, use rattan jyoth, the bark of a Kashmiri tree. You can order this online, or if you can't get hold of it, use crushed beetroot instead. Never, ever, tomato.
Mangoestein/mangosteen/kokum
You can confidently expect Gwyneth Paltrow to be screaming delightedly about the benefits of this fruit shortly. Reddish or dark purple, it is known as the queen of fruits and is used to enhance potato, okra or lentil dishes, and fish or coconut based curries. Add the skins whole to the dish, but beware, they can be salty.
Dried pomegranate seeds
It is rare to eat a dish in a restaurant these days that is not studded with these little jewel-like seeds. So embrace the trend by adding dehydrated pomegranate seeds to your curries, as they lend a fantastic sweet and sour flavour. They're also yummy in chutneys. And if you really want to show off, have a look for pomegranate molasses.
Amchur
Instead of using vinegar and lemon juice for astringency, why not try amchur, or amchoor. It's a sour and tangy spice made of dried and powdered green mangos. It lifts chickpea dishes particularly well.
Chicken liver
Not exactly a new ingredient, but the Keralan dish chicken liver curry is rare in this country so will add a wow factor to your dinner party menu. It is a dryish dish, as the chicken livers are initially stir-fried. Good for you too – lots of iron.
Pavakka
We're used to rich, powerful flavours from our curries, but not bitterness. Pavakka, or bitter gourd, is a great way of slicing through the richness of a meat curry. Cook it when it is green – when it turns yellow its bitterness intensifies. You can also reduce some of the bitterness by salting the gourd before you cook it.
Curry is still Britain's eating-out food of choice, but what we think of as a curry is changing.

Hardeep Singh Kohli looks at the shortage of chefs in the British curry industry.