Main content
Watch Jordan North commit one of the most incredible radio gaffes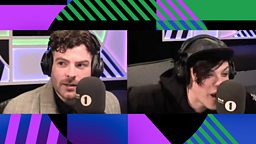 Jordan North is having quite the adventure on I'm A Celeb. He threw up in the opening episode, he conquered his fear of snakes, and – most traumatically for him – he's ended up shaving off his beard.
But before his bushtucker trial-conquering heroics, Jordan North's biggest fear was reliving a radio gaffe that has gone down in Radio 1 folklore.
It's a slip up to which Greg James said: "This is the thing we all take the mickey out of [Jordan] for, and round the [BBC] building."
He was covering for Scott Mills last October and was tasked with interviewing YUNGBLUD. Luckily in hindsight for Jordan, he recorded this little snippet with the musician before they went on-air. Just factor in that the singer had split up with pop star Halsey two days prior, and you'll appreciate why Jordan admits that just thinking about this moment makes him nervous.
You see, in light of the couple's split, Jordan was reminded not to mention Halsey. Several times, in fact. Unfortunately for him, the name was now at the forefront of his mind, and he accidentally went on to say: "On that note, we will get another track on, and we will have another chat with Halsey." HALSEY.
YUNGBLUD proved to be the ultimate good sport, saying "that is so funny!" while a red-faced Jordan promptly waited for the ground to open up, and Chris Stark looked as though he has no idea what he had just witnessed.
Speaking to Greg James earlier this year, Jordan said: "I called YUNGBLUD Halsey, his girlfriend who two days ago he had just split up with. I wrote down "don't mention Halsey". I wrote it down, and I called him Halsey."
We can add this moment to a long list of reasons of why we love Jordan North.
Yungblud joins Jack Saunders and takes him through his new album, 'Weird', track-by-track.