Main content
How to liven up your lunchtime
The majority of us have exactly the same lunch every day. More than a third of office workers have eaten the same midday meal for the last nine months. Depressing, isn't it? But how can we break out of our lunchtime automatic pilot and eat something that will taste good, do us good and that we'll actually remember eating? Sheila Dillon on the Food Programme gives us some facts and tips on eating something that yells "look at my lunch!"
The demise of the lunch hour
The average lunch hour is now 25 minutes and 24 seconds. Not much of an hour, is it? Particularly when the majority of lunches are spent typing one-handed whilst wielding a cheese and pickle sandwich. The average spend per week on lunch is £5.70. If you're under 35 you are spending £7.20. But it's on the SAME SORT OF SANDWICH. Every blooming day.
Daily bread
Wow, we love our bread in this country. Sandwiches used to be an emergency snack, what you'd eat on a train, when travelling, when you didn't have time for a proper meal. Now they've become a mainstay.
Leftovers for lunch
We bring food from home on average three times a week. Just don't be the person that brings in their tuna and egg bake and leaves it sweltering in the open microwave for hours...
Creatures of habit
Breakfast is pretty much the same every day, so why shouldn't lunch be? Isn't it simply efficient? Philosopher Julian Baggini says we see lavish lunches as being somewhat decadent. The English see dinner as the one meal in which their routine can be varied. But we're never going to break out of our midday malaise unless we think outside the (sandwich) box.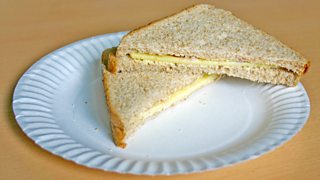 What does your lunch say about you?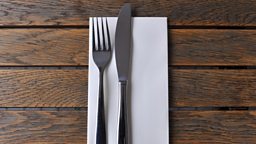 On trend munchies
Ottolenghi style is going to be on trend for this summer. Fava bean salad wrap, for instance. Just don't chuck it down your Michael Kors while you're eating al desko.
Chew and chatter
If we eat together, we achieve more. A study run by Cornell University showed that people who ate together, worked better together. And shared their crisps, which is clearly vital for co-operation.
Go Japanese
Bee Wilson suggests a bento box (basically Japanese for lunch box). In Japan there'd be a colourful selection of carbohydrate, protein and vegetable. It doesn't have to be a Heston Blumenthal creation, or something with a jus, just treat yourself as if you're worth cooking for, and you'll find your lunch ups its game.
But we've only got a microwave in the office!
You don't need super-expensive equipment in the office to cook yourself a lunch.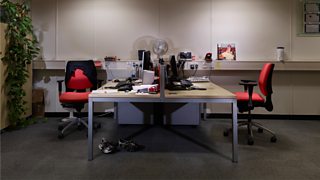 How to cook yourself an exciting lunch in the office
No need for bread ovens or pasta makers – a microwave and a kettle will allow you to make a huge variety of hot, satisfying midday meals. With no crumbs.
So there we are. Time to become a legend in your own lunchtime.
Listen to The Food Programme as Sheila Dillon hears what the modern British lunch break says about us and what it might suggest about where our midday meal is headed.

More from Radio 4 in Four