Main content
Access all arias with a new season of opera on the BBC
30 September 2017
If you love opera – or are new to it and might feel tempted to take the plunge – this autumn the BBC will bring to the airwaves, and online, a colourful season of features and programmes which will showcase opera's unique power to engage and excite all the senses.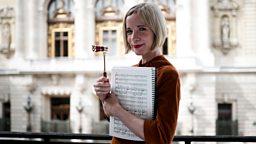 The BBC is joining in partnership with the Victoria & Albert Museum and the Royal Opera House: their collaborative exhibition Opera: Passion, Power and Politics opens on Saturday 30 September – the first to be staged in the new Sainsbury Gallery, part of the V&A's Exhibition Road Quarter.
Told through the lens of seven opera premieres in seven European cities, this immersive exhibition will take you on a journey through nearly 400 years, culminating in the international explosion of opera in the 20th and 21st centuries.
Chief Curator of the Historic Royal Palaces and broadcaster Lucy Worsley will present a BBC Two documentary series, Lucy Worsley's Nights at the Opera, featuring Sir Antonio Pappano, which explores many of the operas and cities featured in the the V&A's exhibition.
BBC Four will screen Jonas Kaufmann, Tenor For The Ages, a documentary with unique access to the superstar tenor over two years, as well as performances of Otello from the Royal Opera House and Hamlet from Glyndebourne.
BBC Radio 3 will present recordings of the seven operas which feature in the V&A's exhibition, as well as special episodes of Music Matters, Private Passions, Sunday Feature and The Essay as part of the season. Sir Antonio Pappano will feature in a Composer of the Week series with presenter Donald Macleod, looking at a different opera by Puccini each day.
#OperaPassion day will give opera-loving audiences a chance to dive in, share and experience this all-encompassing art form
On 19 October, opera companies from across the UK will come together with the BBC for #OperaPassion Day, an unprecedented day of live streaming.
Partners include the Royal Opera House, English National Opera, English Touring Opera, Opera North, Glyndebourne, Welsh National Opera, Scottish Opera and Northern Ireland Opera, working with the V&A, BBC Radio 3, Tomorrow's World and Manchester's Museum of Science and Industry, supported by the British Council.
It will give opera-loving audiences in the UK and around the world a chance to dive in, share and experience this all-encompassing art form, while demystifying opera for the uninitiated. Our leading opera companies will convey the excitement of the music, the passion of the artists and the emotion of the stories.
Online live streams will transport audiences to every corner of the UK, with insights from inside the companies' theatres and tours. Through interview, archive and exclusive performances, the companies will celebrate and explore this most dramatic of art forms over the course of one day. #OperaPassion aims to engage ever larger audiences and inspire a whole new generation of opera lovers.