Main content
7: ¡Ay! ¿Qué me pongo?
Oh dear! What shall I wear?
Quique needs new clothes to wear so Sofía takes him and Charlie to Madrid's most famous shopping street, the Gran Via. Sofía tells a story about packing for a camping trip and we hear a song about having nothing to wear! The key vocabulary includes items of clothing and key grammar points include the use of definite and indefinite articles.
Dual transcript / translation for Clips 25 - 28 (pdf) including links to the online audio clips
Clip 25: La Gran Via
The Gran Via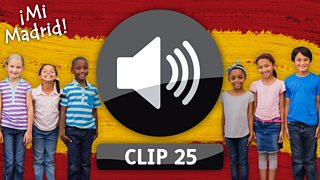 Quique needs new clothes so Sofía takes him and Charlie to a department store on the Gran Via, the main shopping street in Madrid. He tries on trousers, shirts and trainers in various colours.
Clip duration: 03 47
Clip 26: Cuento - ¡Hecemos las maletas!
Story - Let's get packing!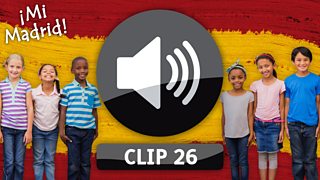 Naiara is packing for a school camping trip. She makes a list and begins to prepare her bag, but her little brother is keen to 'help'. When Naiara opens her bag at camp she finds a book about dinosaurs and odd socks.
Clip duration: 04 17
Themes, Vocab and Grammar
| Themes and vocabulary | Grammar and pronunciation |
| --- | --- |
| clothes | masculine / feminine nouns with clothing |
| toiletries | singular / plural with clothing items |
| llevo (I wear) | definite / indefinite articles |
| ¿me queda bien? (Does it suit me?) | adjectival agreement with plural nouns |
Clip 27: El Rastro
El Rastro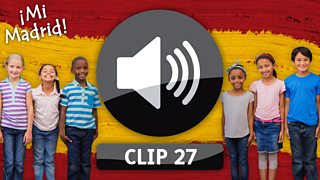 Quique, Charlie and Sofía go to Madrid's famous flea market El Rastro. Sofía tells Charlie that all nouns are either masculine or feminine in Spanish and that consequently there are four ways to say the - el, la, los, las.
Clip duration: 04 11
Key vocabulary 1
| Spanish | English |
| --- | --- |
| botas (f.pl) | boots |
| chandal (m) | tracksuit |
| gorra (f) | cap |
| maleta (f) | suitcase |
| pantalones cortos (m.pl) | shorts |
| pijama (m) | pyjamas |
| ropa interior (f) | underwear |
Clip 28: Canción - ¡Ay! ¿Qué me pongo?
Song - Oh dear! What shall I wear?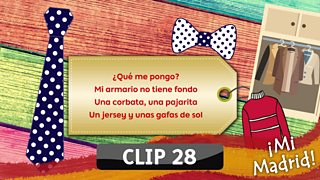 Somebody is looking in their wardrobe for something to wear.
Clip duration: 02 17
Key vocabulary 2
| Spanish | English |
| --- | --- |
| combina bien con... | it goes well with... |
| cómodo | comfortable |
| me quedan cortos | they are too short for me |
| talla (f) | size |
| gran almacén | department store |
| mercardo (m) | market |
| supermercado (m) | supermarket |