Main content
Pesto
Sally Clarke's perfect homemade pesto. This easy-to-make pesto will add a fresh taste to any meal. Basil is best used in the summer time and avoid store bought grated parmesan. Traditionally this dish is made with a pestle and mortar, but Sally prefers to chop everything by hand as she feels it retains brightness of colour to the dish.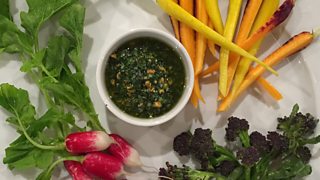 Ingredients:
60g pine nuts, roughly chopped
250ml olive oil
2 cloves garlic, crushed to a cream
Salt and pepper
1 large bunch of basil, approximately 75g leaves
75g grated Parmesan
Method:
In a flat heavy-based frying pan heat the pine nuts gently in half the olive oil until golden (3 - 4 minutes). Do not overcook as the taste of the nut will become bitter.
Take off the heat and immediately add the garlic cream. Swirl the pan carefully allowing the garlic to blend evenly into the oil. Season with salt and pepper and leave to cool.
Pick the basil leaves from the stems, stack together and chop finely with a sharp knife. Place into a bowl with the remaining olive oil.
Pour the pine nuts and flavoured olive oil into the bowl and stir together, then finally fold in the grated Parmesan. Taste and adjust the season.
This may be stored in a screw top jar for up to 10 days, however the fresher the better.
Top Tips:
For this recipe, basil is best in the summer months.
Be careful when roasting the pine nuts, they should only just have turned golden brown. Any more will add bitterness to the pesto.
More Food on the BBC
Browse our selection of recipes from top chefs, cooks and food writers who have joined us on Woman's Hour...

Download this interview, or subscribe to the Cook the Perfect...downloads