Main content
Four empowering feminist anthems – from the suffragettes to the Spice Girls
From the suffragette battle hymns of Dame Ethel Smyth to the upbeat pop of the Spice Girls and Beyoncé, songwriters have been making the personal political – and the political musical – for over 100 years. Here are four important songs that track the changing face of the women's movement over a century.
March of the Women by Ethel Smyth
Ethel Smyth was a first for women in music in a number of ways. Not only was she the first woman composer ever to be made a Dame, she was the first (and possibly only) composer of any gender to conduct her own music in prison using a toothbrush for a baton.
Over the course of a long and distinguished career, Smyth wrote six operas, over a dozen orchestral pieces, dozens of choral and chamber works and many songs. Yet it's this prison performance – and the two-year break she took from composing to be a full-time suffragette – for which she's arguably best known.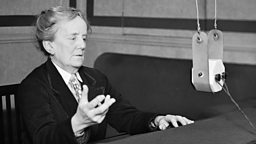 Dame Ethel Smyth recording for the BBC in 1928
Smyth was 52 in the summer of 1910 when she met Emmeline Pankhurst, leader of the British suffragette movement. She dropped everything to join Pankhurst's organisation, the Women's Social and Political Union (WSPU) and was soon on a fast-track to becoming one of its most prominent activists.
That same year, Smyth composed one of her most famous works, a jaunty march that became "the Marseillaise of the Suffrage Movement". The March of the Women was a song designed to be sung in matronly unison, with words written especially for it by Smyth's fellow suffragette Cicely Hamilton.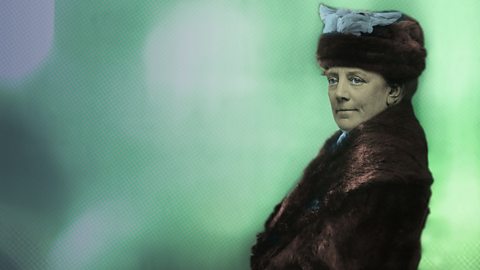 Otherwise known as "the Marseillaise of the suffrage movement"...
This rousing battle hymn received its first performance in January 1911 at a WPSU rally in central London. However, its most famous performance was probably also its most exclusive. It took place in Holloway Prison, where Smyth was incarcerated for two months after her arrest for throwing a brick through a window. The story comes courtesy of her friend and colleague, the conductor Sir Thomas Beecham, who visited her in jail to find scenes of musical mayhem.
"I arrived in the main courtyard of the prison to find the noble company of martyrs marching round it and singing lustily their war-chant," he wrote, "while the composer, beaming approbation from an overlooking upper window, beat time in almost Bacchic frenzy with a toothbrush."
Like A Mountain (Can't Kill The Spirit) by Naomi Littlebear Morena
The March of the Women was by no means the only suffragette anthem, but it was certainly one of very few whose music was composed specifically for the women's movement. Taking their cue from political protest, many of the feminist movements that followed the suffragettes borrowed from folk music traditions.
One such song was "Like a Mountain", an anti-war song written by the Chicana musician Naomi Littlebear Morena. In the UK, the song became strongly associated with the Women of Greenham Common – protestors who established a "peace camp" outside the cruise missile base at RAF Greenham Common in the 1980s and 1990s.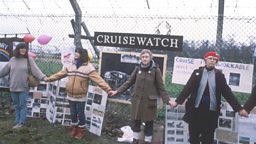 Members of the Greenham Common Women Peace Camp
Part of the camp's legacy was the Greenham Common Songbook, a collection of songs performed by the women who occupied it. This existed both as an aural tradition and in print, with handwritten copies collated and distributed by post.
Many of these handwritten pages have now been digitised, and you can browse songs online – including "The Women of Greenham", "Take the toys from the boys", "There's a hole in your fence" and "Brazen hussies."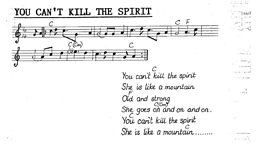 A page from the Greenham Songbook (link above)
"Like A Mountain" was one of the camp's best-known songs and became an unofficial anthem of the Greenham Women. It's a simple tune that can be sung as a never-ending round, making it the perfect tune for a long sit-in.
You can listen to recordings of the Greenham Women singing this and other songs on the Your Greenham website.
Wannabe by the Spice Girls
Ask any British woman aged 25-40 about her first encounters with feminism, and the chances are that the words "spice", "girl" and "power" will fall into conversation within minutes.
No, the Spice Girls weren't the most radical of feminist presences, and yes, it's easy to be cynical about the commercial, manufactured nature of their line-up. Still, there's no denying that Scary, Sporty, Baby, Ginger and Posh made Girl Power big news in the 1990s – a time when feminism was still regarded as "scary" by many young women, and few high-profile, mainstream artists aligned themselves publicly with the movement.
The Spice Girls' debut single, "Wannabe" (and its video), contained a barrage of messages about female empowerment, defiance and solidarity that fell on the open ears of a generation.
It's a legacy that has stood the test of time. "Wannabe" was recently the focus of a new, alternative music video: a film by Project Everyone promoting Global Goals, a series of UN goals that tackle issues including gender equality and violence against women.
Quiet by Milck
In January 2017, the Los Angeles-based singer-songwriter Milck (real name Connie Lim) released a song that became an unofficial anthem of the Women's March in Washington DC.
"Quiet" was a reflection of Lim's frustration over societal expectations for women to remain quiet, unseen and unheard, and a reaction to her own experiences of domestic violence and having an eating disorder. She wrote it two years ago, but timed its release to coincide with the series of Women's Marches being held around the world on 21 January.
In the weeks leading up to the marches, Lim made a simple vocal arrangement of the song and sent it out to female vocal ensembles in the Washington DC area, along with vocal tracks for learning. The singers practised together using Skype and only met up two days before the march itself to rehearse in person.
Alma Har'el's film of the pink-hatted singers perfoming the song from memory has since been viewed millions of times, with dozens of cover versions springing up online to prove its credentials as a truly 21st-century feminist anthem.
On IWD itself – 8 March 2017 – Radio 3 will only play music written by women composers. For more information and to Listen Again, visit the Celebrating Women Composers page on the Radio 3 website.
Discover the secret world of the incredible singing ladies of Ferrara.