Main content
Memory Tapes - July 2017
Thank You Grandad
26th July
Today's Memory Tape is for that person in your life who introduced you to amazing music and encouraged your passion for music. Dan Upton in Plymouth has dedicated his Memory Tape to his grandad who sadly passed away earlier this year but shared his passion and knowledge of music to Dan. Here's Dan talking about the influence his grandad had on his musical tastes:
Music is probably the biggest thing in my life, be it collecting records, playing drums, going to gigs or just simply sitting and talking about music. Some of my earliest memories involve my grandad playing me his Elvis Presley, Beach Boys and Chuck Berry records, throwing parties and family gatherings and dancing around the room with me to those songs. He, along with my grandmother Shirley and parents, would often take me on weekend trips to rock & roll weekends in seaside towns, where we would dress up, dance and sing the night away. He would constantly give me records that were his, sit and watch festival highlights on TV with me, and constantly encourage and champion my interest in both listening to and playing music. He even let me and my best friends start up a band in his garage.

Through songs like Wipeout by the Surfaris and Misirlou by Dick Dale he really got me interested in playing the drums and championed that throughout his life. My friends and I covered Day Tripper by The Beatles during our time practising in his garage and he was always a fan of that song in particular.

His recent passing has coincided with me moving from my hometown of Bristol to Plymouth, to live with my girlfriend and her family. Over the years music has always been able to help lift my mood or alleviate the worry of certain situations, such as changing jobs, moving out of my family home, etc. I am forever grateful to the artists who's songs have left their stamp on me and different periods of my life.

Here's my memory tape dedicated to my late grandad Richard.
Chuck Berry - Carol
Chuck Berry - Brown Eyed Handsome Man
Elvis Presley - (Marie's The Name) Of His Latest Flame
Elvis Presley - One Sided Love Affair
The Beach Boys - God Only Knows
Jimi Hendrix - Spanish Castle Magic
Status Quo - Pictures Of Matchstick Men
Blondie - Rapture
Roy Orbison - In Dreams
The Ronettes - Be My Baby
Wichita Lineman- Glen Campbell
The End Of The World- Skeeter Davis
Runaway- Del Shannon
Wake Up Little Susie- The Everly Brothers
Summertime Blues- Eddie Cochran
Long Tall Sally- Little Richard
Munich - Editors
Everybody's Gotta Learn Sometime
19 July 17
Today's Memory Tape is something that's often talked about in music, and is something that has happened to us all: heartbreak. Megan Hutch in Vancouver, Canada, has had her fair share of love, and lovelessness, and has put that energy to good use. Here she is to explain all:
Here is my memory tape mix. This is my heartbreak playlist. It covers everything from the original shock and yearning, to reflecting on what went wrong, to sadness, to acceptance and, finally, starting to move on and realizing that the freedom that comes after a bad relationship is a good thing.
These are the songs I cried to, danced to, the songs I listened to so I could fall asleep, and kept me company, and the songs that inspired me getting back to my first love; writing. This mix got me through my darkest days. When you give everything to someone, and they take it from you, you feel like you're left with nothing. My heart was tied to someone for 5 years, and earlier this year, the tie was undone.
Music expresses how I feel when I can't really tap into my own feelings just yet. It adds words to sorrow and a melody to pain. It has helped me though so much and helped me to realised that regardless of how bad things are in the worst of it, you're still here, you made it though, and you will make it through again. This playlist helps me when I'm blue, and I know it's okay to be sad, it's good to cry and there is no time limit on how long to morn for the loss of a future that will no longer be yours, but there will be a new normal awaiting you - you may just need a tune or two (and a bit of Laverne)
Everybody's Gotta Learn Sometime
Breathe - Pink Floyd
Without You - Tobias Jesso Jr
Jolene - Dolly Parton
You're Breaking My Heart - Harry Nilsson
Cold - Nick Haikim
Walk Away - Ben Harper
Expectations - Cuddle Magic
Everybody's Gotta Learn Sometime - Beck
Goodbye - Eddie Vedder
Second Hand News - Fleetwood Mac
You Don't Own Me - Leslie Gore
Tomorrow Never Knows - The Beatles
Hate on Me - Jill Scott
Remembering Niall
12 June 17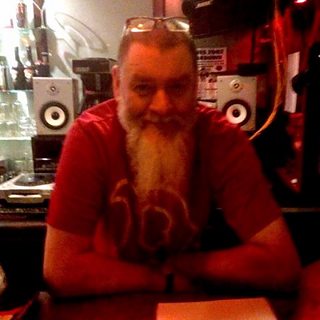 Sometimes we receive messages on the show and we can see instinctively that there's a Memory Tape itching to be made. That was the case yesterday when Steven Thomas dropped us a line to tell us about the passing of a north east local music scene legend 'Big Niall'. Here he is to fill us in on some stories that we wish we could have been there for:
"I don't know how old I was when I started going to gigs in Newcastle, 15 maybe 16, too young probably. But a regular haunt was the old Riverside club on Melbourne Street. I'd see bands play there, touring bands and local bands too, and it was very much a spit & sawdust venue. The atmosphere was electric regardless of who was on stage. Fast forward a few years later and I started going to club nights there on Fridays & Saturdays. It was there where we all met this huge bear of a chap called Niall, who was always on the decks dropping the most eclectic, vast and varied selection of tunes you'd ever hear. I'd also seen him around at the likes of The Egypt Cottage pub up from the Quayside and also The Barley Mow. Both pubs were a big part of the scene back then and both now sadly long since gone. I think Niall was a barman at The Egypt for a while too. So he was pretty much already a face about town. When he wasn't working we'd constantly be badgering him about music and the records he was listening too. This nearly always meant come Saturday mornings we'd all pile down to Volume Records in Newcastle to spend everything we had on Niall's recommendations. For quite a while I'd say he was a big part of my overdraft problem - I was skint but had an epic record collection to balance it with thanks to him.
Niall was 'Big Niall' not just because of his size but also his enormous personality. He was constantly smiling - seriously - and was the most enthusiastic guy ever. You just couldn't help liking him. He was part of the Riverside crew pretty much all the way through the 80's onwards and once Riverside closed its doors he continued promoting club nights and various shenanigans around Newcastle well into the 90's and naughties. It didn't matter where it was at - if Niall had something to do with it you'd be guaranteed a great night. Newcastle was a great place back then, the best - and still is - and Niall provided the soundtrack to those times for a lot of people.
Niall passed away recently. I remember Sat in The Cluny pub and he was telling me about the time Gary Clail was doing a night at Riverside and Niall was left in charge of his record boxes while Gary went off to do something he probably shouldn't have been doing with somebody he shouldn't have been doing it with. This was the time when Gary Clail, Adrian Sherwood and the whole On-U Sound thing was massive. Gary couldn't be found and it was getting perilously close to sound check & Niall was left to look after probably the finest and rarest and most valuable collection of dub plates and rare records ever. Given Niall's passion for big beats this could have been a seriously crazy mistake as those record boxes very nearly went missing that night. Another - we were in The Barley Mow one night and the place was absolutely rammed, it was the night of summer and people's tempers were getting a bit overheated at the pool table. Something was about to kick off then Niall steams in, all 6ft odd of his bear like bulk, parks some money on the edge of the table, smiles at the group of guys causing the fracas, tells them he's playing the winner, and diffuses the problem instantly. He was quite an imposing presence but that smile calmed everyone. Another - I had a bad reputation as a stage diver at gigs back then and during a Young Gods gig at Riverside I was about to climb on stage to launch one when I was grabbed from behind, dragged to the side of the venue and had Niall smile his big bear smile at me whilst shaking his head to let me know in no uncertain terms that there would be no stage diving at the venue tonight. You just didn't argue with the big man. There are many, many more - some of which should never be repeated, and I'm sure there are many others out there who have their own Niall memories. He was a huge part of my youth, my 20's and occasional early 30's and provided the soundtrack to what felt like many endless summers. As well as promoting some legendary club nights he was a passionate enthusiast of local acts too. His own band - Puppy Fat - were fantastic. Big loud funky beats with Niall bombing about the stage like a man possessed. Saw them loads of times and never ever had anything less than a great time. They did quite an inspired and unforgettable cover of Groove Is In The Heart by Deee Lite. Worth checking out but probably not one for radio play! I remember bumping into him in Newcastle a few years ago, I was going through a bit of a tailspin in my life back then and kind of dropped off the face of the Earth for a while, however, after having a 15 minute nostalgic laugh with him I kind of put myself back on the rails after that. He just had that effect on people - he had an enthusiasm and positivity that was just so infectious.
I'm maybe not the right one to expand on this any further, there are many, many more people whose lives were touched by the big smiley Niall, but thinking back to when Newcastle was such a great & important part of my life, Big Niall really was the hub that held us all together. He'll be missed by many of us and we'll never forget those great times he was such a big part of.
Wherever he's at now the music will be fabulous, the place will be jumping and the big man will be smiling his massive smile.
Legend. RIP."
Some of the tunes that we remember Niall by are:
• Human Nature by Gary Crail
• Move on Up by Curtis Mayfield
• Pearl by Charterhouse
• Waiting Room by Fugazi
• The Liquidator by The Harry J Allstars
• Sunshine on a rainy day by Zoe ~ this was a tune he often closed his dj nights with. A classic.
• Crosstown Traffic by Jimi Hendrix
• New World Order by Test Department
• Kennedy by The Wedding Present
• 3 am Eternal by KLF
• Grey Cell Green by Neds Atomic Dustbin
• Never Understand by The Jesus and Mary Chain
• Jesus Built My Hotrod by Revco.
• Groove is in your Heart by Deee-Lite.
• Teenage Riot by Sonic Youth
• Manifesto by Puppy Fat. If you can find this then that would be the best tribute ever ~ Niall was the vocalist.
• There are way more ~ I'll dig into the crates later & let you know. I'll put together a few memories of the big man too
Mixed Tape #1 My Favourites
Today's Memory Taper did something that everybody should experience; rediscovering their record collection. Amongst uncertain circumstances, you just know that your records will always be there, and act like aural photos for all the days gone by. Here's listener Tony Murphy to explain all:
My Memory tape is based on my record collection I started back in 1976, the year I started work, so after my monthly pay day off I went in my lunchtime to my local record store in Dorking, Surrey called Track and Grove to purchase an album.
As life progressed with marriage, children, pets etc and three house moves later the collection of nearly 200 albums went in storage as CDs and mini discs went onto the market.
Then two years ago after 32 years of marriage my wife and I separated so when I moved into a cottage on my own the record player and albums once again have seen the daylight
So I am really re-discovering my tastes of music in my early years and after going through them, here's my list. I narrowed it down to 14 tracks and tried to choose some classic, but not too common, tracks to give your listeners some good tunes they might have not heard before or for some time.
All the Best
Tony Murphy
 
Mixed Tape #1 My Favourites
Outside My Door - Can from Monster Movie
The Working Hour - Tears For Fears from Songs from the Chair
Heavy Horses - Jethro Tull from Heavy Horses
Badge - Cream from Heavy Cream
Too Much Time - Capt Beefheart from Clear Spot
San Berdino - Frank Zappa from One Size Fits All
Not a Second Time - Robert Palmer from Clues
Avalon - Roxy Music from Avalon
Cherry Pie - Sade from Diamond Life
Cinerman Girl - Neil Young from Decade
Wasteland - Jam from Setting Sons
Tangerine - Led Zeppelin from Zeppelin III
God's Country - U2 from Joshua Tree
Parrallels - Yes from Going for the One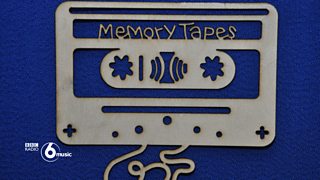 Did you ever make a mix tape for somebody? Did they ever make one for you? We've had mixtapes for friends and from loved ones, the soundtrack to breakups, starting bands, songs played in shops to self-help playlists. We want to hear your Memory Tape, simply email us with the track-listing and story behind it: lauren.6music@bbc.co.uk
First plays, latest new music online, emerging talent & new tunes from returning favourites.
The Desert Island Disco is your opportunity to create the perfect dance floor soundtrack. Send us 10-15 of your best party tracks, and check out what previous listeners have selected.