Main content
Great Lakes: Why Kendal's comics festival is a big draw
19 October 2016
The Lake District might not be the first place that springs to mind when you think about the world of comics and cartoonists. But some of the biggest names in graphic fiction descended on Kendal at the weekend for the Lakes International Comic Art Festival. Now in its fourth year, the event takes over the Cumbrian town for three days of workshops, films, talks and masterclasses, as fans rub shoulders with some of most acclaimed artists and writers in the field. BBC Arts' roving producers TOM CHURCHILL and LAURA-JANE McRAE went on a 'comics trip' to find out more.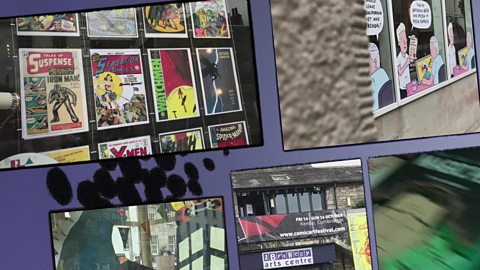 A whistle-stop tour of the three-day event in Kendal, Cumbria.
"Looking at the work that's being created now, I think this is the golden age of comics," says Dave McKean, as behind him hundreds of fans browse the stalls hosted by independent publishers and artists in Kendal's town hall, which has been rebranded the Comics Clock Tower for the weekend.
The revered artist, writer, filmmaker and musician – in town to launch his new book, Black Dog: The Dreams of Paul Nash – has every reason to be cheerful. The graphic novel, which he's also presenting as a show with live musical accompaniment, is the latest triumph in a glittering career which has seen him collaborate with everyone from Richard Dawkins to Heston Blumenthal.
There is now an extraordinary, wonderful new generation of writers and artists

Dave McKean
"This is what we thought would happen 20-odd years ago," he says, referring to the time when Neil Gaiman's Sandman series, adorned with striking covers by McKean, thrust comics into the limelight, hot on the heels of fellow trailblazer Alan Moore's Watchmen and V for Vendetta.
"There is now an extraordinary, wonderful new generation of writers and artists with none of the baggage of superheroes, Marvel and DC and all that stuff. They haven't grown up with that. They're interested in passionately telling stories in this very powerful medium, with no preconceptions, no baggage from the past, no nostalgia. It's a really strong wave of work coming through."
But Kendal isn't only about the cutting edge. On Friday night, the festival kicks off with an entertaining debate over two of the most iconic characters in all fiction: Asterix and Tintin.
Two panels of experts take to the stage in front of a sold-out crowd at the Brewery Arts Centre, and leading the charge for Tintin are writer Leah Moore, Australian comics scholar Stuart Medley, and Benoit Peeters, Lancaster University's new Professor in Graphic Fiction and Comic Art. The very fact that such a post exists is a sign of how seriously comics are now being taken as an art form.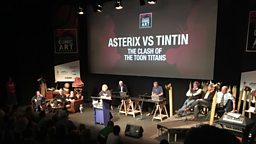 The Asterix vs Tintin debate
Tintin begins the evening with a comfortable lead in the audience poll, but unfortunately for the Frenchman, the opposing team – led by Bafta-winning producer Peter Kessler, along with Viz cartoonist Graham Dury and Walking Dead artist Charlie Adlard – manage to sway the audience in favour of the diminutive Gaul, and at the final show of hands Asterix pips him to the post by a single vote.
The night is capped off with the news that Adlard has been appointed the UK's new Comics Laureate. He says: "The power of comics to encourage learning and develop literacy shouldn't be underestimated. I see this as a great opportunity to bring the wonder of comics to a wider audience."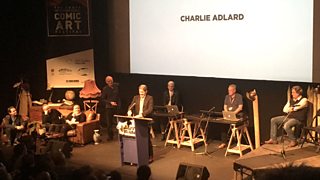 The power of comics to encourage learning and develop literacy shouldn't be underestimated

Charlie Adlard
Kendal itself gets wholeheartedly behind the festival, with banners draped across the main streets and dozens of shops hosting special window displays.
On Saturday morning there's a palpable buzz in the air as fans, some in costume, stream between the venues to catch a glimpse of their heroes – or, even better, bag an exclusive drawing.
Guardian cartoonist Martin Rowson is painting a mural in the lane outside Ruskins Bar with grotesque caricatures of Theresa May and Donald Trump, and the stalls in the Clock Tower are overflowing with queues for book signings.
We catch up with Simon Thorp and Graham Dury, editors of irreverent British institution Viz, who cheerfully admit: "This is the only festival that ever invites us." They pause to sketch a couple of classic Viz characters for us before their show. "It's a masterclass in how to draw superheroes, by two people who can't draw superheroes," says Graham. "It's going to be terrible," Simon laughs.
Two of the big stars of the festival are father-and-son team Steve and Luke McGarry. Steve grew up in Manchester and designed Joy Division's first record before his blossoming career saw him move to LA and serve as president of the National Cartoonists Society. Luke is also an artist, and created viral cartoon sensation Sad Chewie as well as playing in the band Pop Noir, with his twin brother Joe.
They're a close-knit unit – Steve watches proudly later that night as Pop Noir take to the stage in Ruskins, and when we meet them for an interview earlier in the day he admits: "If I'm struggling with a deadline for one of my syndicated strips, I'll get Luke to help out with the illustration."
I couldn't quite believe that this would happen in such a quiet part of the world

Peter Kessler
Also keeping it in the family are the Etherington Brothers, Robin and Lorenzo – who are manning their stall in the Clock Tower with the infectious enthusiasm of children's TV presenters. The pair have drawn for some of the biggest kids' titles in the world, from Star Wars and Transformers comics to The Dandy.
How do they describe their style? "We make all-ages comedy action adventure stories," says Lorenzo. "I do all the words, and he does all the pictures," explains Robin. "There's an unspoken agreement that we just trust what the other person does," adds Lorenzo.
So how exactly did Kendal, not previously renowned as a comics hotspot, become such an important player in the industry?
Peter Kessler, who as well as leading the Asterix team to victory is now helps run the festival, says: "Like many things in the Lake District, Julie Tait, the director, is a force of nature. When I first noticed there was a comics festival going on here, I couldn't quite believe that such a thing would happen in such a quiet part of the world.
"And when I looked at the list of people appearing, who were massive international stars of comics, I was even more incredulous, and I thought, 'I just have to get there'." Four years on, it seems more fans than ever are thinking the same.
Clash of the Toon Titans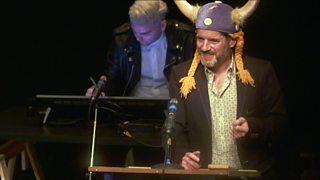 The opening event of the festival, a debate over Tintin and Asterix, celebrated the appointment of Benoit Peeters, Lancaster University's Professor of Graphic Fiction and Comic Art. Find out more about Peeters, and the event, in this short film, courtesy of Lancaster University and Lanor Productions.
More from the festival
For more coverage of the festival, including our full video interviews with Dave McKean, Steve and Luke McGarry, the Etherington Brothers, Charlie Adlard and Viz's Simon and Graham, head to the BBC Arts Facebook page.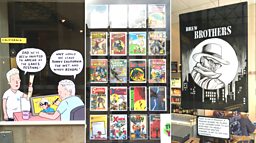 Window displays in Kendal town centre