Main content
Creative challenges in all shapes and sizes
Everyday artist of the week
This week's everyday artist can craft at any scale, from pin cushions all the way up to dressing up a bus. Maria Lyon also loves making gifts for friends and family, including a tea towel for her Prince-obsessed sister, featuring a quote from one of his songs. She talked to Get Creative about her love of all things crafty and how being creative is part of who she is.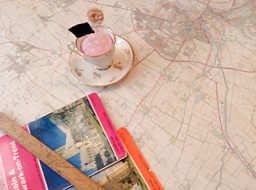 I've always loved sewing, when I was a student I made my own skirts and tops.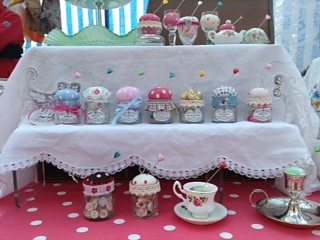 If I didn't have creativity in my life I'd just dry up
Growing up I watched my grandmother crochet, but she never taught me. Now I've taught myself, but it took a long time before it clicked. Then I found a crochet group that was meeting in a shop, and made a big blanket for my daughter for when she went to off to college.
As I have got older I have rediscovered craft through lovely friends, my adorable husband and my daughter Molly. I love vintage with contemporary twists.
As a child I was a very slow learner and always felt in the shadows of talented people. I can't draw, my handwriting is terrible, I'm dyslexic. I am clumsy, however with needlework I can be really neat and fluid.
I've made a lot of pin cushions in tea cups, and I did have a go at selling them on a stall, but it didn't really suit me, I prefer making my stuff as presents.
I find needlework very therapeutic and crafting has really given me confidence.
My creativity comes out at work too – I work on a project organizing rural transport. When we launched a bus service in Stamford a few years ago, I made a giant bow and a huge sash to go round the bus.
There are all sorts of things I've wanted to do and not been able to, like wrapping up a bus!
Young people I meet see it as a skill whereas to me, my creativity is just part of my personality.
I've got some friends at work who are getting married and I wanted to make something for them. I saw that we had a lot of ordnance survey maps that were going to be thrown out, so I'm going to make them bunting for the wedding, picking out places that are relevant to them. That's the kind of thing I do.
If I didn't have creativity in my life I'd just dry up.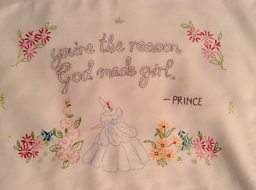 A look back at our artists
A jewellery designer who discovered a love for digital printing and uses it as a way to relax and to cure jet-lag

A dedicated mum and knitter who makes retro tank tops for her rugby- mad son and his friends to add a splash of style to the stands

A stitcher who joined a sewing group to meet like-minded people. She's made tea cosies and draught excluders as gifts and hopes to move to dressmaking

A stroke survivor who has used painting, music and writing to rehabilitate. He shared his first self-portrait using his affected hand with Get Creative

A keen cross stitcher and crafter who uses it as a way to relax and wind down after a day content producing for Get Creative