Main content
Politics, Power & Protest: Novels That Shaped Our World
The Politics Power & Protest novels are stories about the ideas, people and power struggles that shaped worlds. Many feature characters with ideas out of step with their societies, from Atticus Finch's attitudes to class and race in To Kill A Mockingbird to Bernard Marx's dissatisfaction with the world order in Brave New World.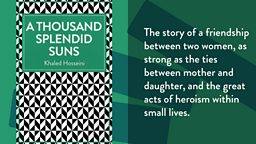 A Thousand Splendid Suns – Khaled Hosseini | The story of a friendship between two women, as strong as the ties between mother and daughter, and the great acts of heroism within small lives.
More on this book
In an extended Open Book interview from 2007, Mariella Frostrup talked to Khaled Hosseini soon after the publication of A Thousand Splendid Suns.

Frances Barber joins Grace Dent on A Good Read, where she discusses her admiration for Khaled Hosseini's novel.
The two main female characters... were kind of inspired by my collective sense of what women in Afghanistan went through, particularly since the withdrawal of the Soviets and the breakout of anarchy and extremism and criminality.

Khaled Hosseini, Time, 2008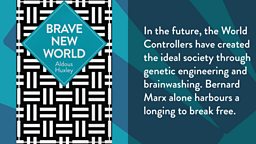 Brave New World – Aldous Huxley | In the future, the World Controllers have created the ideal society through genetic engineering and brainwashing. Bernard Marx alone harbours a longing to break free.
More on this book
Radio 4's Dangerous Visions explores the author behind dystopian classic Brave New World.

Monitor host John Lehmann speaks to the novelist and essayist Aldous Huxley.
Brave New World was a far shrewder guess at the likely shape of a future tyranny than Orwell's vision of Stalinist terror... 1984 has never really arrived, but Brave New World is around us everywhere.

SF author JG Ballard, 2002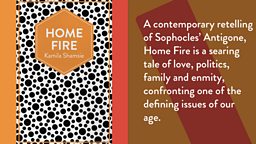 Home Fire – Kamila Shamsie | A contemporary retelling of Sophocles' Antigone, Home Fire is a searing tale of love, politics, family and enmity, confronting one of the defining issues of our age.
More on this book
A voyage around Greek writing both ancient and modern, as Kamila Shamsie talks to Mariella Frostrup about Home Fire.

Shamsie is interviewed about her seventh novel, Home Fire, which is about radicalisation and family loyalties, after being awarded the Women's Prize for Fiction.
I believe in the notion of being a good citizen, which means you follow the laws unless, as in the case of Antigone, they're very unjust laws and then you take part in civil disobedience and non-violent protest.

Kamila Shamsie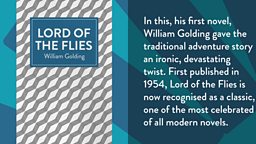 Lord of the Flies – William Golding | In this, his first novel, William Golding gave the traditional adventure story an ironic, devastating twist. First published in 1954, Lord of the Flies is now recognised as a classic, one of the most celebrated of all modern novels.
More on this book
William Golding was interviewed in 1959, shortly after the publication of his fourth novel, Free Fall, for Monitor.

Golding's classic novel was saved from being rejected by Faber by the luckiest chance.
I spent 10 years imitating other writers, then I realised that I was merely writing other people's novels rather than my own. It wasn't until I was 37 that I grasped the great truth, that you have to write your own books.

William Golding, 1959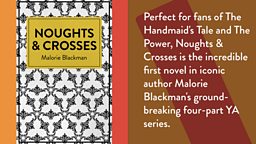 Noughts & Crosses – Malorie Blackman | Perfect for fans of The Handmaid's Tale and The Power, Noughts & Crosses is the incredible first novel in iconic author Malorie Blackman's ground-breaking four-part YA series.
More on this book
The author reads an extract from her powerful novel.

From the Hay Festival in 2016, the author's advice on handling people who tell you, 'you can't'.
When I get an idea for a story, I tend to get the general plot in my head first, but for me, the characters make or break a story.

Malorie Blackman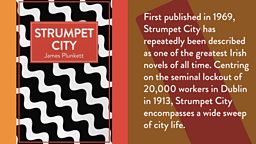 Strumpet City – James Plunkett | First published in 1969, Strumpet City has repeatedly been described as one of the greatest Irish novels of all time. Centring on the seminal lockout of 20,000 workers in Dublin in 1913, Strumpet City encompasses a wide sweep of city life.
More on this book
The BBC News obituary from 2003. Image shows a still from an RTE adaptation of Strumpet City.
Strumpet City's defining characteristic is its humanity. It is driven by Plunkett's empathy for the suffering poor of Dublin's slums, but those characters do not have a monopoly on suffering.

Colin Murphy in the Irish Times, 2013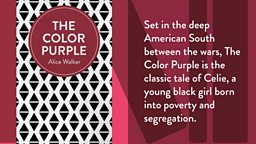 The Color Purple – Alice Walker | Set in the deep American South between the wars, The Color Purple is the classic tale of Celie, a young black girl born into poverty and segregation.
More on this book
Iconic African-American writer Alice Walker on her Pulitzer Prize-winning novel The Color Purple.

Malorie Blackman discusses how Alice Walker's novel legitimised her ambition to be a writer.
Reading Alice Walker's book in my early 20s blasted open a door which I'd thought was locked and barred to me. Actually, it blasted open a door I didn't even appreciate existed - a door that could lead to a writing career of my own.

Malorie Blackman, 2014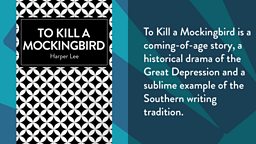 To Kill a Mockingbird – Harper Lee | To Kill a Mockingbird is a coming-of-age story, a historical drama of the Great Depression and a sublime example of the Southern writing tradition.
More on this book
Following the death of author Harper Lee, BBC News asked the people of South Carolina what the author and her seminal novel To Kill A Mockingbird meant to them.

A collection of personal insights: author and comedian Meera Syal; Lee Child reflects on the dark themes permeating the book; Gregory Peck talks in 1989 about playing Atticus Finch in the Oscar-winning film adaptation.
It's shot through with injustice... everything is bad. It's a very bleak and noir situation. I think what Harper Lee was doing was criticising that entire Southern 1930s culture, and she's saying 'It's all got to go'.

Author Lee Child, 2010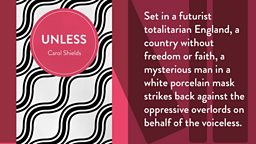 Unless – Carol Shields | At once the discomfiting, ultimately consoling story of one family's loss and a searing portrait of life at the dawn of the 21st Century, a daring novel from the undisputed master of extraordinary fictions about so-called 'ordinary' lives'.
More on this
Pulitzer Prize-winner and Booker nominee Carol Shields discusses her work with Bookclub presenter James Naughtie and a group of readers.
Endings are never really endings. They're just there for the shape of the book.

Carol Shields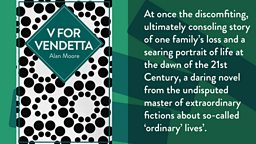 V for Vendetta – Alan Moore | Set in a futurist totalitarian England, a country without freedom or faith, a mysterious man in a white porcelain mask strikes back against the oppressive overlords on behalf of the voiceless.
More on this book
The dry comedian and the acclaimed comic-book writer talk for Chain Reaction, the tag talk show where this week's guest is next week's interviewer.

Graphic artist David Lloyd talks about how his V for Vendetta mask became a symbol of global protest.
I'm not sure how much real, articulate dissent the contemporary internet is capable of fostering. Still, it's with us and clearly isn't going away. It's my hope that an alternative culture could emerge that is not so completely in thrall to the internet.

Alan Moore
Get Involved
Show us a book (or books) you love using the hashtag #mybooklife
Brilliant books content on BBC iPlayer
Looking at class in all its shapes and sizes, from all sides of the class divide, in the UK, USA and India

Gillian Wearing's experimental film, made up of a diverse cast of people, celebrate the legacy of the Victorian author

In this classic interview from 1994, Jeremy Isaacs talks to Maya Angelou about her life, her writing and her hopes for the future