Main content
10 incredible Maya Angelou quotes to live your life by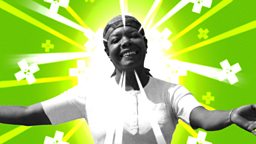 From being abandoned by her parents at just four years old to becoming one of the 20th Century's most iconic figures, Maya Angelou lived an extraordinary life at breakneck speed.
Her story is as joyous and painful, as mysterious and memorable, as childhood itself. The victim of traumatising sexual abuse aged seven, Maya was a single mother at 17. She married twice (first to a Greek sailor and then to a South African freedom fighter) and spoke six languages. After a series of occupations as a young adult – cook, waitress, singer, dancer, sex worker – she became a celebrated writer, poet, actress, film director and Civil Rights activist.
She toured the world with the opera Porgy and Bess, worked with Malcolm X and Martin Luther King Jnr, wrote seven acclaimed autobiographies and recited a poem at Bill Clinton's Presidential inauguration – the first black woman in history to do so. Music, poetry and passion were never far away from her many outstanding achievements.
Here are ten inspiring quotes from the person Barack Obama described as "one of the brightest lights of our time – a brilliant writer, a fierce friend, and a truly phenomenal woman".
This is the world premiere audio drama series of Maya Angelou's autobiographies, exclusively dramatised by the BBC.

1. Hope for the best, be prepared for the worst and expect nothing.
2. Human beings are more alike than we are un-alike and let us see that and not only cherish but delight in the differences because the differences are superficial and they should delight us.
3. We may encounter many defeats but we must not be defeated… In fact it may be necessary to encounter defeat so that we can know who the hell we are, what we can overcome, what makes us stumble and fall, and somehow miraculously rise and go on.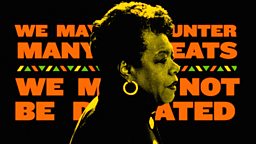 4. I used to think of my whole body as an ear, that I could go into a room filled with people and absorb all sounds through my pores and my hair. I think because of that I learned to speak a number of languages because I learned to listen.
5. You may not control all the events that happen to you, but you can decide not to be reduced by them.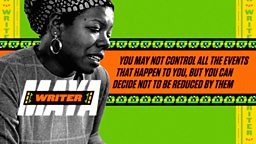 6. Anger is like fire, it burns things out and leaves nutrients in the soil. I think that's good. You should always be ready to be angered at injustice and cruelty, but not to be bitter.
7. Bitterness is like cancer. It eats upon the host; it doesn't do a damn thing to the object!
8. If you don't like something, change it. If you can't change it, change your attitude.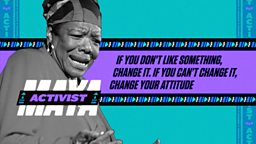 9. The idea that anybody is good is foolish. You can't be that one thing all the time. You can intend and try to keep your intent pointed in the right direction.
10. I know that a diamond is a result of extreme pressure. Less time and less pressure and it's just crystal or coal or fossilised leaves or just dirt. But, time and pressure will create a diamond.

Radio 4 and Aardman Animations have teamed up to celebrate an incredible life story. With her unbreakable spirit, she overcame the unspeakable and did the unthinkable. She was a force of nature...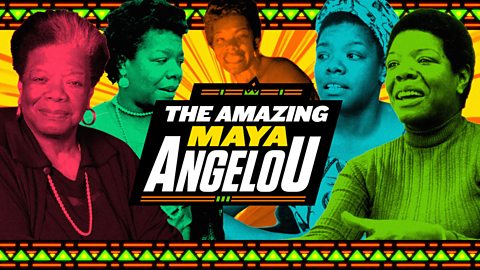 Joyous and haunting, mysterious and memorable - her life story is incredible.