Main content
Five books that will change your life
On Woman's Hour we're celebrating the books that changed your life. The ones you can't put down and stay with you forever. So here they are, your legacy titles…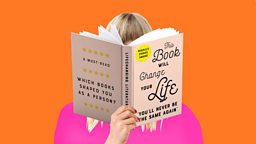 1. The Namesake by Jhumpa Lahari
Listeners Huma Qureshi and Ronali Collings nominated The Namesake, a book they both felt reflected their own lives in fiction. The novel describes the challenges faced by a Bengali couple who emigrate to the United States.
Ronali: "At its heart The Namesake is a quest for identity, an identity that's really independent of our parents. And layered over that is the cultural aspect and the immigrant experience. I think anyone could really relate to the book because we all want to separate from our parents and we want to be seen as something independent, something different. We all go through this arc of life where eventually we mature and we look back and think oh actually I can now appreciate what my parents went through to give me the life I have now."
Huma: "I picked this book up in a difficult time in my life, my father had just passed away and completely unexpectedly this book spoke to me on so many levels. It's beautifully and exquisitely written. It will transport you back to that time. The themes of being a mother, being alone, being overwhelmed, at a loss, it was all amplified by her being in this foreign land and that gave me an insight into what it would have been like for my own parents."
Ronali: "My parents came to the UK in 1965, they had no family, and they didn't know anyone. My family in this country is made up of my mother's immigrant friends, just like in the book. There's a lovely detail in the book where the parents and their friends are all speaking a language that the children don't speak. They talk with a confidence amongst each other that they don't display in the outside world."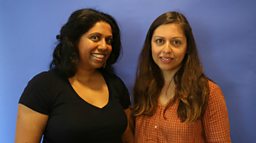 Ronali Collings and Huma Qureshi
Huma: "It shames me to say I could relate to being that teenager who didn't want anything to do with my heritage. Knowing what it felt like to not like your name because people couldn't pronounce it, not wanting to spend my Saturday evenings at Uncle and Aunty's house, wearing traditional dress…all you care about is fitting in. It's only as I've grown up that I can look back and understand all they were trying to do was figure out how to hold onto who they were and pass some of that onto us and it's really humbling the book captures all of that."
Reading the book was revelatory as it made me face some elements of myself I didn't like very much
Ronali: "Reading this book showed me that although I am a mother, a woman, a wife, a daughter, I'm also Sri Lankan and that's very much who I am. Reading the book was revelatory as it made me face some elements of myself, maybe I didn't like very much, and that's why it had such a profound impact on me."
Have you read The Namesake? If you want to hear more from Huma and Ronali's conversation with Jane Garvey check it out here.
2. American Wife by Curtis Sittenfeld
Listener Emily Bridges suggested American Wife. Emily and journalist Hadley Freeman explained why it's the book they would like to pass onto the next generation.
Laura Bush and George W Bush
I think it's definitely the great American novel of the 21st century

Emily: "American Wife is about the life of Alice Blackwell, a fictionalised version of Laura Bush. We meet her when she's eight-years-old and we go right through until she becomes the First Lady. The majority of the book is about the life before she becomes First Lady and the path her life takes and that's the part I find most fascinating and interesting."

Hadley: "I think it's definitely the great American novel of the 21st century so far and if Jonathan Franzen or Philip Roth or one of the great big white men had written it, it would be deemed as such but because it was written by a woman and about a woman…it's just seen as something for the ladies."

Emily: "You see how the political family works in America. The observations she makes of how the political elite works is what I'm horrified, but fascinated by; the way they behave, the way they treat each other, it really grips me."

Hadley: "Laura Bush came from quite a humble background and when she was 17 she was in a car crash that killed a boy who she has described as a very close friend. In the book, Curtis really digs into that and hangs the whole book on it and hangs the whole of Alice Blackwell's life on it. It's why she didn't get married until very late, it's why she was quite hesitant when she first meets Charlie - the George Bush stand-in in the book - and it affects everything she goes through."

For more from Emily and Hadley's discussion, you can listen here.
3. An Emergence of Green by Katherine V Forrest
Listener Anne Maguire and writer Julie Bindel discussed An Emergence of Green, published in 1986 and described as 'one of the bestselling lesbian novels of all time'. It tells the story of Val and Carolyn's relationship.
It was so hopeful, and lovely, and feminist and celebrated lesbianism in a way that we were all really hungry for at the time
Anne: "It was set in Los Angeles and as far away from my life at the time as it was possible to be. I was living in Scotland and part of a very traditional family. I decided to study engineering at university. I was always the outsider professionally. I knew I was different but part of it was because I liked sports, I wanted to be an engineer and the whole lesbian thing was like 'oh god, please not that as well'."
Julie: "Val the key protagonist was clearly pitted against Paul (Carolyn's husband) who was more back into the 1950s than the 80s in terms of his attitude towards his wife and other women. The tension was between them and that was what was different about this lesbian novel. It was being played out in a way that was: 'Look women! What you could have if you get rid of these idiot husbands'. It was so hopeful, and lovely, and feminist and celebrated lesbianism in a way that we were all really hungry for at the time."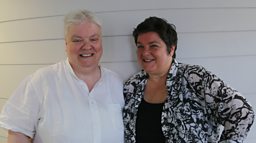 Anne Maguire and Julie Bindel
Anne: "I had read other lesbian novels but it was one of the first books that I read and I wanted to be Val. She was everything I wasn't, I wanted to stride through life the way she did but I also wanted to be with Val. I couldn't find literature that talked to me until Katherine V Forrest talked to me and said: 'It's ok to be you'."
I couldn't find literature that talked to me until Katherine V Forrest talked to me and said: 'It's ok to be you'
Julie: "Val is the alpha female to Paul's alpha male and that's very clever because it wasn't a classic butch-fem lesbian stereotypical relationship, it was very much two women as equals. It was very feminist in terms of its sexual politics because what it actually said was that men see women as a possession in these alpha, heterosexual relationships and lesbianism is a positive alternative. This is about choice for all women, even those women who aren't lesbians but want to escape compulsory heterosexuality and not be with 'Paul'."
Want to find out more about this book? Check it out here.

4. The Life-Changing Magic of Tidying Up by Marie Kondo
Listener Kaz McComb says The Life-Changing Magic of Tidying Up did indeed change her life and transform her self-esteem, she discussed the book with writer Ellen Scott.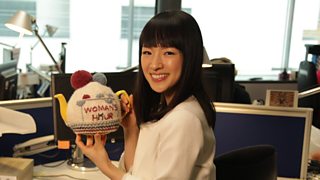 It revolutionised how I thought about myself
Kaz: "This book came at a time in my life when I had been diagnosed with anxiety. I had thought about all of that in negative terms: I was messy, I was lazy, I was a bad person, this was who I was. I was looking for something to help me…and I came across this book. It revolutionised how I thought about myself.
Ellen: "When Marie says 'choose things that spark joy and if they don't throw them out' I've applied that to the things I'm filling my life with in terms of how I' spending my time, the people I choose to spend time with."
Kaz: "When you're in a depressive state and things build up, your space is a representation of your state of mind and this book really helped me make that connection. It's not just about clutter; it's about how you feel about yourself and how you treat yourself. It's made a huge difference in my life."
Ellen: "I have depression, anxiety and OCD. When I'm in a depressive state I don't care about myself and my living space. Since reading this book that's changed massively. I've moved house recently and used the book and the method to decide what I was taking with me, now I'm in a living space where I actually look forward to going home and enjoy spending time there and that's a huge thing."
And if you want to hear more on how tidying up can change your life, listen back to Kaz and Ellen's conversation with Jenni Murray
5. Over to you...
Lots of you got in touch with your life-changing legacy titles (Pride and Prejudice is clearly a constant favourite...) and whilst we can't share them all, we wanted to pick out a few more for you. So here goes…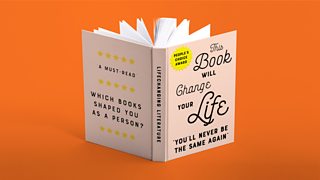 A fable for life no matter what stage you're travelling through
Margaret: My legacy book is Daphne du Maurier's The Loving Spirit set in Devon/Cornwall and tells the story of a woman through her whole life in a ship building family. It shows her determination and strengths throughout every walk of her life. It made me as a young person want to be as determined and strong as that through my life. I am 78 years old and hope this showed in my life.
Kirsty: The Brothers Lionheart by Astrid Lindgren, a children's tale rooted in the old sagas, two young brothers find adventure in a new life beyond their deaths in this one. Given to me when I was nine-years-old and my little brother had just died. It was exciting and comforting all at once, a brilliant book.
Debbie: The Alchemist by Paulo Coelho without doubt the best book that had the biggest impact on me at the time of reading it some 18 years ago & I've not read anything that's matched it since. A fable for life no matter what stage you're travelling through. I can't recommend it enough.
Rachel: My favourite author is Rachel Cusk, she has her own wonderful style and I connect with her so well. Her book A Life's Work: On Becoming A Mother was such a relief to me and really helped me work through my conflicting feelings on being a mother.
Davina: Things Fall Apart by the late, great Nigerian writer Chinua Achebe. I read it many years ago now and found it beautiful and haunting at the same time. Although the setting of a new colonial-era Nigeria is very specific and does not apply to me in any way, the main themes it covers of love, family, loss and identity are universal and timeless. I think everyone should read this book and having studied Literature at A Level I wish this had been one of the books we had been taught.
We want to hear from you! What book's missing from this list? What's the one that changed your life? Get in touch and let us know what's your legacy title and why.