Main content
The sex workers breaking lockdown to make ends meet
By Myles Bonnar (BBC The Social Producer)
During lockdown, the Scottish Government says everyone should be staying at home, avoiding social contact and travel - except for reasons of essential work, care and exercise to protect themselves, their community and the NHS.
But some sex workers are breaking lockdown in order to support themselves during this crisis. That's the case for Lucy - not her real name - who continues to meet clients even when it terrifies her.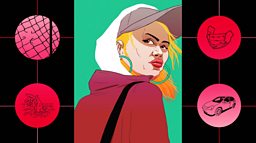 "It's frightening, really," Lucy explained. "I know it's frightening for lots of people, not just people who are involved in sex work." Lucy believes that breaking lockdown to sell sex is something she has to do.
"In some ways, would you argue that sex work's safer than working in retail currently?" she said. "If you're working on a ratio of how many people you're seeing?"
Lucy is not alone. Other sex workers are breaking lockdown.
Dr Anastacia Ryan, director of the sex worker-led support network Umbrella Lane, told BBC Scotland's Unlocked podcast that even though sex workers are breaking lockdown the majority of their members are abiding by the rules and not working.
In some ways, would you argue that sex work's safer than working in retail currently? If you're working on a ratio of how many people you're seeing,

Lucy (not her real name)
"There is a minority of people in our network who are continuing to see a minimum number of clients during this time, basically to make ends meet; to pay for basic necessities, to pay for their rent, keep a roof over their head and pay for food for them and their families," Dr Ryan explained. And because of how all our lives have been restricted by social distancing, there has been a reaction from the public.
"We are seeing an extreme vilification of the sex industry and those that are continuing to work and we would urge anybody who's holding that shame, or that stigma towards people in this situation, to see that this is really a choice made out of dire necessity," says Dr Ryan.
"I think many people who are in that situation are often asked, 'well, why don't you go and work in a food shop [or] in a supermarket'. But for many of these people, they are also mothers, they have an additional caring responsibility at the moment."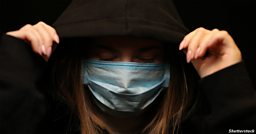 "As much as there is one-to-one contact it's most certainly not as intimate as it would perhaps normally be and that is something that is happily accepted from the male point [of view]," Lucy says. "There are still clients who still want to see you which I've found really surprising… really surprising."
Some of Lucy's clients are married.
"At the best of times you're always aware that your clients have a life at home. Right now, is it a necessity for any guy to go out and meet a girl? Absolutely not. I'm not meeting anybody that I haven't seen previously, but they're not meeting you because they want to help you out, they don't care about that. It makes me personally never want to be with a man again in my life. Could you imagine? Your husband said he's going to the supermarket but actually he's going to… It's just horrendous, it really is. You would never pick them out in the supermarket as being somebody that goes to meet a woman and pays for it, and most certainly not during a pandemic when the world has stopped. Completely normal men."
Police Scotland say their officers are out on patrol 24 hours a day and will engage with people to explain the legislation, encourage them to stay at home and, if people continue to defy the rules, they will use their enforcement powers as a last resort.
The prospect of being caught is one of Lucy's biggest fears.
"If the police were to stop and question me I know without doubt I would break down in tears," she said.
We are seeing an extreme vilification of the sex industry

Dr Anastacia Ryan, Umbrella Lane
While social distancing remains in place, sex workers continue to break lockdown.
"I think during this time we all need to have compassion," Umbrella Lane's Dr Ryan said. "We don't see the same sort of shaming or vilification of workers in other self-employed industries or informal economies, who are continuing to do one or two hours of work a week. And I think that that's an extension of the stigma that already exists around the sex industry and the people who work in it, which is so damaging to sex workers – it's what fuels violence, exploitation and abuse to those who work in the industry, in a way."
The Scottish Government say they have introduced measures which apply both to those driving the demand and those engaged in prostitution, and that they support a range of services which can help reduce the harms caused by prostitution - including those that have recently arisen as a result of the pandemic.
"We are aware that there are many women in vulnerable personal and economic circumstances, including sex workers and would encourage anyone who is experiencing hardship to engage with the support services available," said a Scottish Government spokesperson.
"We are working with health boards to ensure sexual health services continue to operate and that delays to patient treatment are minimised."