Main content
Make a Difference
Every day your local BBC radio station is helping bring communities together to make a difference closer to home.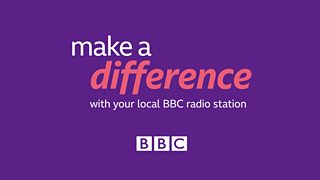 Listen to the Make a Difference bulletins and together we'll stay connected.
This page shares details of help and support from organisations who are working hard to make life better for all of us.
Click here to upload your audio, images or video. It could be voice notes, stories of life during the pandemic or ways you are making a difference.
Upload your creative work (fiction, poetry, comedy, videos, podcasts or vlogs) via bbc.co.uk/upload.
See our Things To Do section for links and information from our colleagues across the BBC.
Give a laptop
With schools now closed again we're once more asking you to help those pupils still in need.
There are charities across the country who will safely wipe devices and link up with schools in your area to ensure that they reach the young people that need the devices the most.
Please do not bring donations to BBC sites because we are unable to accept them.
We're once more asking you to help pupils in need of devices while learning in lockdown.

Sharing services, speakers and reflections from various faiths during the coronavirus crisis.

Stories of people making a difference across England. Listen on BBC Sounds.

Exploring 'the new normal' and how Covid-19 has affected us all. Listen on BBC Sounds.

Explore and listen to comedy, faith, politics and real-life stories from BBC Radio teams local to you.
Click on the local BBC radio station nearest to you for more information
Things to do
BBC News has this handy guide to find out more about the Covid tier rules based on your postcode.

Bringing together all of the BBC's supporters of unsigned music. Upload your music to your local BBC Radio station.

Sharing your audio, video, text and images on air and across local BBC Radio digital platforms.

BBC Bitesize is sharing three new lessons every weekday, with videos, activities and more.

Resources and programmes on BBC iPlayer to support learners, teachers and parents.

Explore simple activities, play ideas and find out more about your child's early development.

BBC News has this handy guide on how to use technology to call your friends and family.