Main content
Make a Difference
Coronavirus
Sharing details of help and support from organisations and individuals in your area who are working hard to make things easier for you.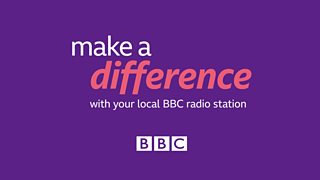 Listen to the Make a Difference bulletins on your local BBC radio station every day and we'll ensure more people stay connected.
Click here to upload your audio, images or video. It could be voice notes, stories of life during the pandemic or ways you are making a difference.
Upload your creative work (fiction, poetry, comedy, videos, podcasts or vlogs) via bbc.co.uk/upload.
See our Things To Do section for links and information from our colleagues across the BBC.
Make a Difference in poetry
As part of the Make a Difference campaign, local BBC radio stations have commissioned poets to create a poem inspired by people who are "making a difference" to the lives of those in need.
And poem for England titled "Lockdown Lines" has been written by poet and broadcaster Ian McMillan. The poem celebrates thousands of "tiny local kindnesses".
Click here for more information and to hear the poems
Click on the local BBC radio station nearest to you for more information
Things to do
Listen to comedy, politics and real-life stories from BBC Radio teams local to you.

Share what you create, help to entertain the nation and capture your experiences of lockdown.

Bringing together all of the BBC's supporters of unsigned music. Upload your music to your local BBC Radio station.

BBC Bitesize is sharing three new lessons every weekday, with videos activity and more.

BBC News has this handy guide on how to use technology to call your friends and family.
You might have missed
Thousands of you made and displayed your own bunting to mark the 75th anniversary of VE Day.

Thousands of you have been taking photos of yourselves and your families saluting Colonel Tom Moore.

Hundreds of you sent us clips playing the BBC News theme music, after being inspired by Owain Wyn Evans.