Main content
Make a Difference
Every day the BBC radio station where you live brings communities together to make a difference close to home.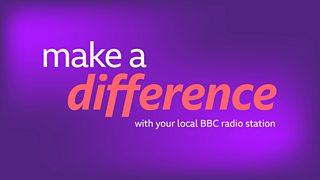 Make a Difference Awards
Our awards celebrate the stories that we hear day-after-day, of people going above and beyond to really make a difference where you live.

Make a Difference Award ceremonies are taking place across England in September 2022.
Each local BBC radio station will be celebrating with their communities, sharing stories and revealing the winner of eight categories.
Find out about our finalists and winners by tuning into your local BBC radio station and follow the latest on the awards on social media using the hashtag #MakeaDifferenceAwards.
Celebrating people who are going above and beyond to make a difference where you live. Click here for full award rules and our privacy notice.
Around the UK
Find out how the BBC radio station where you live is making a difference
Things to do
Explore and listen to comedy, faith, politics and real-life stories from BBC radio teams local to you.

Headroom is the BBC's toolkit for your mental health. Mindful tips. Mood mixes. Motivation.

Bringing together all of the BBC's supporters of unsigned music. Upload your music to your local BBC radio station.

Sharing your audio, video, text and images on air and across local BBC radio digital platforms.

Explore simple activities, play ideas and find out more about your child's early development.
You might have missed
Exploring 'the new normal' and how Covid-19 has affected us all. Listen on BBC Sounds.

Saying a big thank you to key workers who've got us through the last couple of years.

Find out more and watch a special performance of 'By Your Side' by Calvin Harris ft. Tom Grennan.

Tackling loneliness and social isolation by connecting with someone who you haven't spoken to in a while.

Looking at ways to help support people back to work in towns and cities across England.

McFly are joined by people singing and dancing along to their song 'Happiness' for BBC Children in Need.

Hundreds sent in photos of the names of those who have served our country, to help us make a giant poppy.

Local BBC radio stations commissioned poets to create a poem inspired by people who are making a difference.

Thousands of you made and displayed your own bunting to mark the 75th anniversary of VE Day.

Thousands of you have been taking photos of yourselves and your families saluting Captain Tom Moore.

Hundreds of you sent us clips playing the BBC News theme music, after being inspired by Owain Wyn Evans.