Main content
Make a Difference
Coronavirus
Sharing details of help and support from organisations and individuals in your area who are working hard to make things easier for you.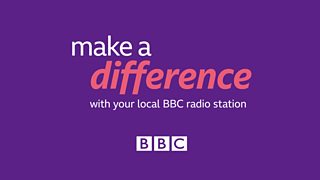 Listen to the Make a Difference bulletins on your local BBC radio station every day and we'll ensure more people stay connected.
Click here to upload your audio, images or video. It could be voice notes, stories of life during the pandemic or ways you are making a difference.
Upload your creative work (fiction, poetry, comedy, videos, podcasts or vlogs) via bbc.co.uk/upload.
See our Things To Do section for links and information from our colleagues across the BBC.
Make a Difference Awards
Since the start of the coronavirus pandemic your local BBC radio stations have been recording stories and working alongside some fantastic people who have given to their community; people who are trying to make a difference.
To celebrate this, some of our local BBC radio stations are hosting awards to say "Thank You".
Click here to find out more about awards open in your area with details of how to enter.
Million pounds of work
Make a Difference is all about connecting you to help and support that is available in your area.
Million pounds of work and jobs is a Make a Difference campaign that aims to find millions of pounds worth of work in towns and cities across England.
Teams involved are sharing local job vacancies on air and online.
Click here to find out more about the campaign in areas local to you.
Stories of people making a difference across England. Listen on BBC Sounds.

Exploring 'the new normal' and how Covid-19 has affected us all. Listen on BBC Sounds.

Sharing services, speakers and reflections from various faiths during the coronavirus crisis.
Click on the local BBC radio station nearest to you for more information
Things to do
Explore and listen to comedy, faith, politics and real-life stories from BBC Radio teams local to you.

Bringing together all of the BBC's supporters of unsigned music. Upload your music to your local BBC Radio station.

Sharing your audio, video, text and images on air and across local BBC Radio digital platforms.

BBC Bitesize is sharing three new lessons every weekday, with videos activity and more.

Explore simple activities, play ideas and find out more about your child's early development.

BBC News has this handy guide on how to use technology to call your friends and family.