Main content
Stormzy on breaking down the "barriers for young black people"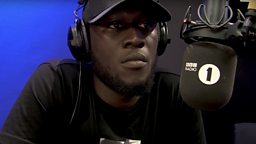 Stormzy gave a rare interview on this week's Life Hacks, where he spoke candidly about his first book, the #Merky brand, and why he's offering University of Cambridge scholarships to young black students.
In conversation with Cel Spellman, he revealed he'd received messages from fans who asked why he wasn't offering the same scholarship – which covers the full cost of tuition fees and provides a maintenance grant – to young white people. In his Life Hacks interview, he addressed this head on, stating: "I feel like young black people are at a disadvantage."
He continued: "I've always understood that the playing field isn't level. [And] it's not everyone's fault that they don't understand that gap. But there is a barrier for young black people." He added that his two scholarships are all about "equalling the gap."
And Stormzy isn't stopping at scholarships, as he's just launched #Merky Books - an imprint with Penguin Random House - which is aiming to become a platform for young writers, and its first release is penned by the man himself.
Rise Up is Stormzy's story so far, an honest account of how he's risen up the ranks to become a BRIT-winning artist. The book doesn't make him out to be a genius who always knew his destiny, and that's the whole point. He wants it to be a blueprint for young people with aspirations of their own.
"I never woke up one day and had this incredible plan," he said on Life Hacks. He cited Jay-Z's Decoded book as an inspiration. "I read that book recently, when I was 25, and it was so sick to see a human process. This isn't Jay-Z the polished businessman, this is the young kid who doesn't know what he wants to do. Straight away, it's a real account of how you can achieve your dream."
He calls Rise Up a "very human story, a personal story – not this shiny finish of a guy who woke up and got his dream." He wanted to put something out that would inspire young people, and to explain that nobody has life figured out from the start. "Being at that impressionable age of 14 or 15, you genuinely need to see these things. It's such a psychological boost."
"If there's a young black kid who sees Idris Elba or John Boyega or Daniel Kaluuya or Wiley – when they can see someone like them doing something successful – the confidence boost it gives them hasn't even been measured yet."
Search 'Life Hacks' and get every episode delivered straight to your Sounds.