Main content
P!nk performed Sam Smith's Stay With Me in the Live Lounge and it's all kinds of perfect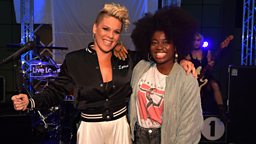 Unsurprisingly, the MTV Video Vanguard Award winner didn't disappoint. Transporting us back to the early aughts with Who Knew and Try, P!nk then journeyed on through to 2017 for her latest single, What About Us, before rounding off proceedings with an eye-wateringly good rendition of Sam Smith's Stay With Me.
Here's how it all unfolded...
P!nk performed her new track What About Us
If you haven't yet heard P!nk's What About Us, allow us to introduce you.
I would just like to see us have some peace, some inclusion and some kindness

Pink
With lyrics like 'We are search lights, we can see in the dark, We are rockets, pointing up at the stars, We are billions of beautiful hearts, And your sold us down the river too far', Pink's newest track has been described as empowering and political.
Touching on politics while talking to Grimmy, P!nk described what she'd like to see more of in the world...
"I'm feeling a little ashamed right now of America and its leaders. And I think the American dream is still alive because there's still a lot of beautiful people in the country that have beautiful hearts and beautiful minds. I just think the American dream has changed from what it used to be. It used to be 'go to college, get a job, have a family, 2.1 children' - I don't know how that works exactly?! - but I think now the American dream is different.
"I think you write your own now. I think you can do whatever you can figure out in your brain. I'm super into that, actually. I would just like to see us have some peace, some inclusion and some kindness."
We felt ALL THE FEELS when she performed Who Knew
Tissues at the ready? Good, you're going to need them.
Released way back in 2006, P!nk has often referred to the emotionally-charged Who Knew as her favourite song, although the subject of the song has changed over time...
"I wrote it 12, 13 years ago and it's just taken on different meanings. For a while I wrote it about my friend and then it was about somebody else and then I was thinking about my grandma and then I was thinking about my soon-to-be ex-husband and then my husband again and then another friend passed away. It's never lost it's meaning."
And the feels kept on coming when she sang Try
You write hundreds of awesome songs and your mum's favourite turns out to be the one that you didn't write. Typical, huh?
I write my own material but I'm smart enough to know that sometimes you have to get out of your own way

Pink
OK, not a totally relatable conundrum but a conundrum nonetheless. Written by Busbee and Ben West, Try was released five years ago and it's up there with some of the singer's classics. (In our eyes, at least...)
"This is the classic case of my mum's favourite song of every album is the one song I didn't write. I write my own material but I'm smart enough to know that sometimes you have to get out of your own way. I grew up singing other people's songs. That was one I had to have and I'm so glad because that video is a video that needed to get made."
Mums aside, Pink's a pretty well-decorated superstar, as far as awards go, bagging 7 Billboard Music Awards, 1 Brit Award, 1 Emmy, 3 Grammys and countless others (100, in total). Speaking to Clara, P!nk revealed that her husband creatively cushions the blow when she loses...
"I've lost way more awards than I've won and every time I lose Carey makes me a Moon Man or a Grammy out of tinfoil. I have a collection of tinfoil Grammys that are almost prettier than the real ones."
Before finishing off beautifully with Sam Smith's Stay With Me
We're done. Our emotions can't hack it anymore. We're all out of tissues.
It was only a little while ago that Sam Smith revealed some pretty epic news while chatting to Grimmy: he's part of this year's Live Lounge Month!
Clearly the love for Sam Smith transcends boundaries and extends all the way to the USA, because P!nk had a whole lot of love to lavish upon the Brit fave:
"I love his voice so much. I love his songs. I actually was having a little Twitter conversation with him the other day which was very timely. I wanted to tell him but I didn't. There are songs that come out once in a while that you wish you wrote, and that was one of them."
Collab please, guys?
Say hey to our extra special Live Lounge Month guest...