Main content
Radio 3 Carol Competition 2019
Do you love Christmas music?
And have you ever thought about writing a carol of your own?
If so, Radio 3's Breakfast Carol Competition is your chance! Now in its sixth year, our competition is an opportunity for amateur composers to try their hand at writing a brand new carol for the festive season.
This year, we're challenging you to set to music the words of Go to the Child, a beautiful new poem written especially for the competition by Imtiaz Dharker. You can read the poem and hear it performed by Imtiaz on this page.
We're looking for new carols of up to four minutes and 30 seconds (4'30), set for SATB choir, with or without piano accompaniment.
Please note that our competition is strictly for amateur composers – so if you have had a piece of music commercially published within the last five years, we're afraid you are not eligible to enter. You must also be at least 16 by the competition closing date, 5 November 2019. For more information about who can enter, please read the Terms and conditions of entry.
The competition opens on Monday 2 September 2019. When you've written your carol, you can send us your score by post or upload it to our website. Full details of both methods can be found in the Terms and conditions of entry.
After the closing date, a panel of judges will whittle the entries down to a shortlist of six. These carols will be performed live on Radio 3 by the BBC Singers in December before we turn it over to listeners to vote for an overall winner. The winning carol will be played on Radio 3 as part of our festive celebrations.
The closing date for entries is 11.59pm on 5 November 2019 – so get composing, and good luck!
Listen to last year's winning carol
How to enter
How to enter and T&Cs
Privacy notice
Go to the Child by Imtiaz Dharker
Rise and go on a bitter night
when hope lies frozen in the ground,
hushed and hidden out of sight,
no living thing for miles around.
Even though the tears of the earth
have turned to crystal, rise.
Take the road that leads to a birth.
An infant calls and the heart replies.
See in the eyes a blazing star,
a spark of something newly born,
feet already walking on air,
holding a lifeline in the palm.
When at last you see the face
and feel on your cheek the baby's breath;
when you have known the grace
of a beginning, being blessed,
look up at the hungry bowl of the sky
and empty your pockets to fill it,
see where the water is rising
and lift your hands to still it,
turn to a world that is still unborn
and raise your voice to sing it,
go to the child who is not your own
and open your heart to save it.
See in the eyes a blazing star,
a spark of something newly born,
feet already walking on air,
holding a lifeline in the palm.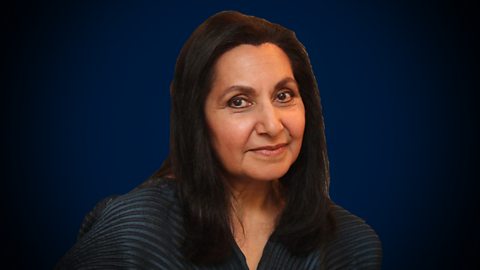 Imtiaz Dharker reads her own poem, commissioned for the Breakfast Carol Competition 2019.